Chapul Launches Cricket High-Protein Baking Flour and Protein Powder
ANAHEIM, Calif. (March 10, 2016) – Chapul, the first-to-market creator of cricket energy bars, launched two new cricket protein products at the 2016 Natural Products Expo West. The company is adding a protein cricket powder and an all-purpose, high-protein baking flour to their sustainable, nutrient-dense,cricket-powered food line.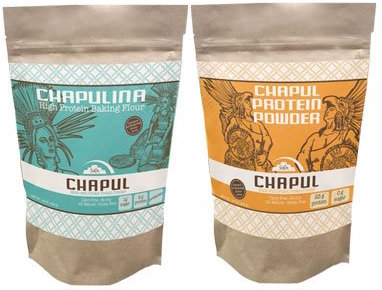 Crickets are a complete protein that are rich in omega-3 acids, with 15% more iron than spinach and as much vitamin B12 as salmon. In brief, crickets are a viable, alternative protein to traditional beef, pork and chicken because they are: healthy, humanely raised and sustainable for the environment.
Chapul's New High-Protein Cricket Baking Flour: Simply substitute it 1:1 fortraditional baking flour in your favorite recipes. It has 6 grams of protein ––double the protein of traditional baking flour. Also, it's gluten-free & non-GMO.Suggested retail price: $19.00.
Chapul's New Cricket Protein Powder: Made from 100% crickets with 23grams protein and 2 grams of carbs per 35 gram serving. Chapul's protein powder is non-GMO, gluten-free, dairy-free and paleo-friendly. Suggestedretail price: $39.00.
"We started 2016 with a bang –– a second appearance on ABC's Shark Tank andlaunching two new products," said Chapul's Founder and CEO Pat Crowley."The cricket flour and protein powder are just one of the many exciting productswe're adding to our line-up of cricket-powered alternative protein. We're seeing consumers are excited to try a new protein that's healthy for their bodies –– and the planet. Chapul's growth is exceeding what we've ever imagined."
Chapul will continue to showcase it's first-to-market Cricket Energy Bars: Four flavors in 1.8 oz. single-serve bars with a suggested retail price of$3.49:  Matcha: With Matcha, Gogi & Nori, Aztec: With Chocolate, Coffee & Cayenne Pepper, Thai: With Coconut, Ginger & Lime, Chaco: With Peanut Butter & Chocolate
About Us: Chapul is dedicated to creating a delicious, alternative protein source that is viable for the environment and future generations. Founder, Pat Crowley, while working as a water management and conservationist specialist, saw how livestock agriculture water usage is steadily depleting the Colorado River. Inspired by a TEDTalk on the global consumption of insects, he knew crickets could change the water equation. "It's really livestock agriculture, not people, that's so water intensive. To make a difference, I knew I had to create a protein solution that's available commercially. When I heard the TEDTalk, it all clicked. Frankly, we thought the whole thing was about ten years too early, but we've found big demand –– consumers are ready to try something new and that makes a difference. Chapul's growth is exceeding what we've ever imagined. We're all ready for something that works –– and works now."