Hershey Introduces Brookside Fruit and Nut Bars
HERSHEY, Pa.–(BUSINESS WIRE)–For generations, The Hershey Company (NYSE: HSY) has been known and loved for a wide range of great-tasting confection products such as Hershey's, Reese's and Twizzlers. Hershey understands people desire more snacking options in addition to confection – including wholesome snacks and protein on the go – and want the foods to be made with simple, familiar ingredients. Driven by these insights, Hershey is bringing the delicious tastes people love to a new range of snacks offerings.
Building on the success of Brookside Dark Chocolates, Hershey is introducing Brookside Fruit & Nut Bars, made with wholesome ingredients including whole roasted almonds, real fruit pieces and delicious Brookside dark chocolate.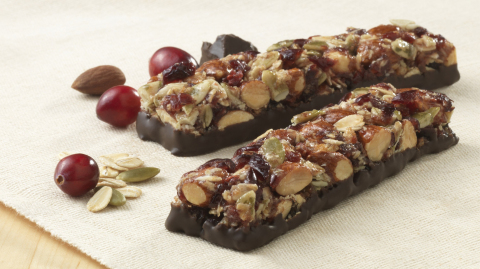 "People love to snack throughout the day and want a broader range of wholesome options," said Tony Tyree, Vice President, Snacks & Grocery for The Hershey Company. "They also want to know what's in their food, how it's made and where the ingredients come from. Inspired by our consumers' wholesome snacking preferences, we've developed Brookside Fruit & Nut bars which are crafted from simpler ingredients to create an extraordinarily delicious eating experience that can be enjoyed at any time of day."
In addition to its wholesome ingredients, Brookside Fruit & Nut Bars are gluten free, contain no artificial flavors, are a good source of fiber, a good source of antioxidant vitamins A, C, and E, made with real fruit, and are low in sodium, cholesterol free, and have zero grams of trans-fat.
Packaging for Brookside Fruit & Nut Bars furthers the promise of transparency, boasting a clear packaging window through which consumers can see the texture and ingredients of this latest snacking innovation.
Brookside Fruit & Nut Bars come in three delicious varieties:
Brookside Fruit & Nut Cranberry with Blackberry Flavor
Brookside Fruit & Nut Cherry with Pomegranate Flavor
Brookside Fruit & Nut Blueberry with Acai Flavor
Each variety will be available in a 1.4-oz. bar (SRP $1.69), while the Brookside Fruit & Nut Cranberry with Blackberry Flavor and Brookside Fruit & Nut Cherry with Pomegranate Flavor are also available in a four-count multipack (SRP $4.99). All three varieties are available in select club stores nationwide and will be found in the wholesome snack bar aisle at select retailers beginning in August.
For more information, visit www.brooksidesnacks.com or www.thehersheycompany.com.
About The Hershey Company
The Hershey Company (NYSE: HSY), headquartered in Hershey, Pa., is a global confectionery leader known for bringing goodness to the world through its chocolate, sweets, mints and other great-tasting snacks. Hershey has more than 22,000 employees around the world who work every day to deliver delicious, quality products. The company, which has more than 80 brands around the world that drive over $7.4 billion in annual revenues, includes such iconic brand names as Hershey's, Reese's, Hershey's Kisses, Jolly Rancher, Ice Breakers and Brookside. Hershey is focused on growing its presence in key international markets while continuing to build its competitive advantage in North America. Additionally, Hershey is poised to expand its portfolio into categories beyond confectionery, finding new ways to bring goodness to people everywhere.
At Hershey, goodness has always been about more than delicious products. For 120 years, Hershey has been committed to good business by operating fairly, ethically and sustainably to make a positive impact on society. This means contributing to a better life for its employees, consumers, communities, and ultimately, creating a bright future for children in need. This commitment is exemplified by Milton Hershey School, established in 1909 by the company's founder and administered by Hershey Trust Company. The children who attend the school receive education, housing, and medical care – thriving as direct beneficiaries of The Hershey Company's success.
Like what you're reading?
Subscribe to BevNET+NOSH Today
Subscribe today and get access to the leading industry resources in the food &amp beverage industries. News, trends, industry data, expert analysis and much more.
Access all of these benefits:
Unlimited access to all content on BevNET.com and NOSH.com
Exclusive access to hundreds of educational videos
Watch subscriber-only live programs such as Office Hours