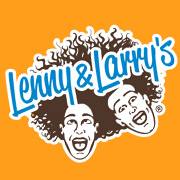 Company: Not specified
Social:
Overview
Lenny & Larry's makes The vegan Complete Cookie, Muscle Brownie, Muscle Muffins and other delicious snacks! Visit LennyLarry.com for more. One day while having coffee after a morning workout at Gold's Gym in Venice, California, two friends had the crazy idea of putting protein in muffins. Combining a fitness background with an interest in nutritional baked goods and promotional fun, a former American Gladiator ("CYCLONE") and a good friend decided to create and market high-protein muffins, cookies, and other all-natural baked goods.
---
The Complete Cookie
The Complete Crunchy
1.25oz
Request Access to Edit
A battle over the facts — nutrition facts that is — has come to a close. This week better-for-you snack producer Lenny & Larry's agreed to settle a lawsuit over whether its cookies contained the advertised amount of protein.
Lenny & Larry's, the creators of the original protein cookie, has introduced its newest freshly-baked Complete Cookie flavor straight out of the oven—White Chocolaty Razzberry.
Lenny & Larry's, the originators of the protein cookie, have put their own spin on one of America's beloved dessert— Apple Pie.
Submit News