Lenny & Larry's Reveals Berry Sweet New Complete Cookie Flavor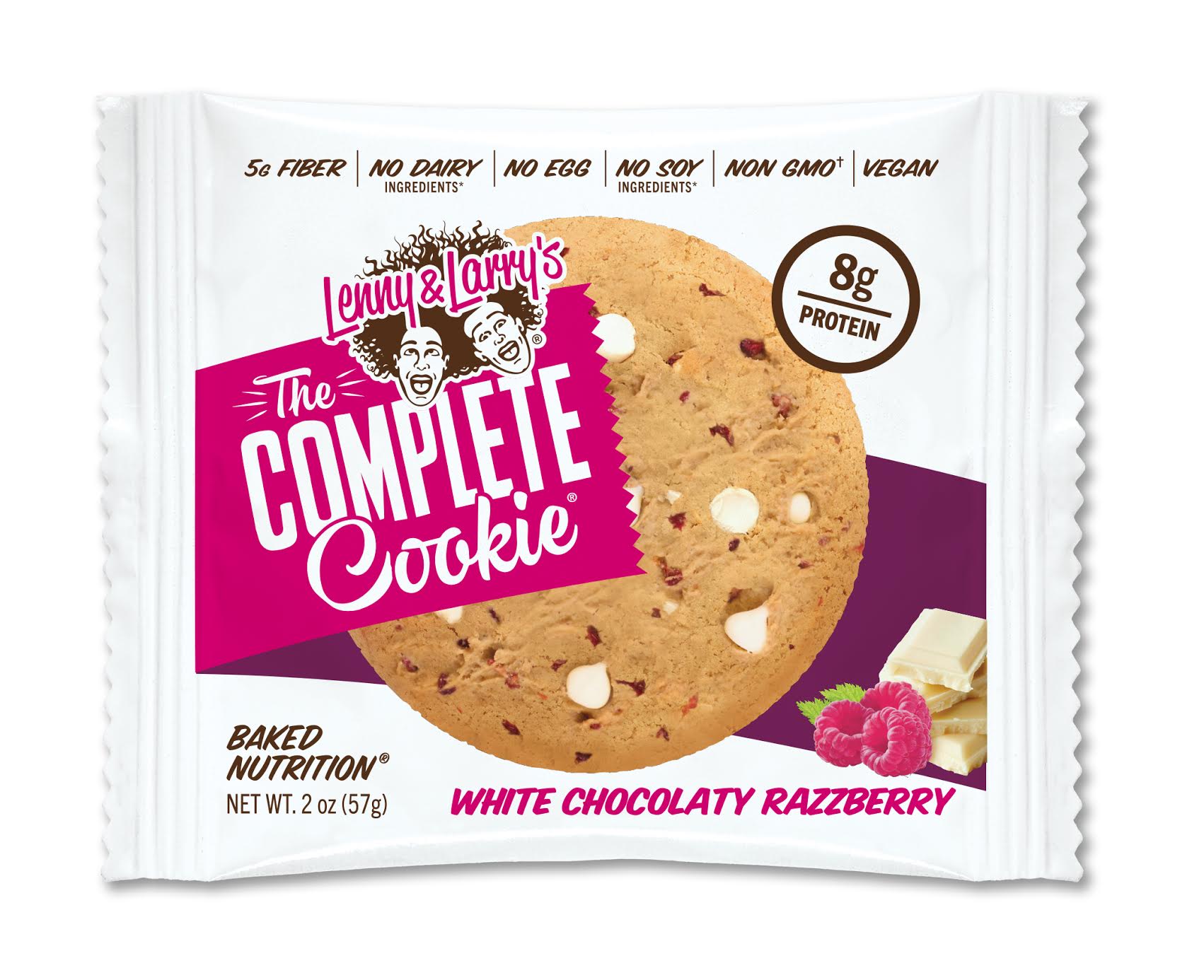 LOS ANGELES  – Lenny & Larry's, the creators of the original protein cookie, has introduced its newest freshly-baked Complete Cookie flavor straight out of the oven—White Chocolaty Razzberry!  Available for a limited time from now through December, this indulgent treat will have consumers stocking up on this better-for-you snack before it's out of season.
Lenny & Larry's White Chocolaty Razzberry melds the buttery-smooth components of rich white chips and delectably sweet and tart dried raspberries to make every bite better than the last. The zany protein cookie creators have developed a snackable delight sure to cure any sweet tooth craving while still packing the protein punch and fiber that Lenny & Larry's enthusiasts love. This new limited-time offered, mouthwatering vegan-friendly snack is available in 4 oz. and 2 oz. sizes which delivers at least 8 grams of plant-based protein and 5 grams of fiber in each cookie.
"Lenny & Larry's thrives on inventing playful new Complete Cookie flavors while still giving them a better-for-you option that everyone can enjoy," says Lenny & Larry's CEO Apu Mody. "We cannot wait for fans to get their hands on White Chocolaty Razzberry, it's the perfect flavor to transition us from summer to fall."
As with all products in The Complete Cookie line, White Chocolaty Razzberry is fresh-baked, contains no artificial sweeteners or sugar alcohols, and is made without GMO ingredients, soy, or dairy to suit to a wide array of dietary needs.White Chocolaty Razzberry Complete Cookies can be found online on Lenny & Larry's website and at GNC and CVS stores nationwide. SRP for The Complete Cookie in the original 4 oz. size is $2.29 while the 2 oz. size is $1.29. For more information, visit www.lennylarry.com.
About Lenny & Larry's:
Amidst a sea of tasteless and boring protein bars, Lenny & Larry's was founded in 1993 by two bodybuilders who revolutionized the snacking industry by developing the original protein-enhanced cookie. The first to re-imagine a dessert as beloved as the cookie, Lenny & Larry's has developed quite the cult following—since pioneering the protein cookie category, the brand has continued to lead the pack in sales for 20+ years.
Lenny & Larry's produces a wide array of nutritious snackable sweets, offering consumers a convenient source of plant-based proteins that shows hunger who's boss and tastes downright delicious. Through creating a range of yummy and exciting flavors, Lenny & Larry's takes a real approach to snacking with their fresh-baked Complete Cookies which are made with non-GMO ingredients and free of soy, dairy, and sugar alcohols to accommodate a variety of dietary needs. For more information, visitwww.lennylarry.com.