Lenny & Larry's Releases Apple Pie Cookie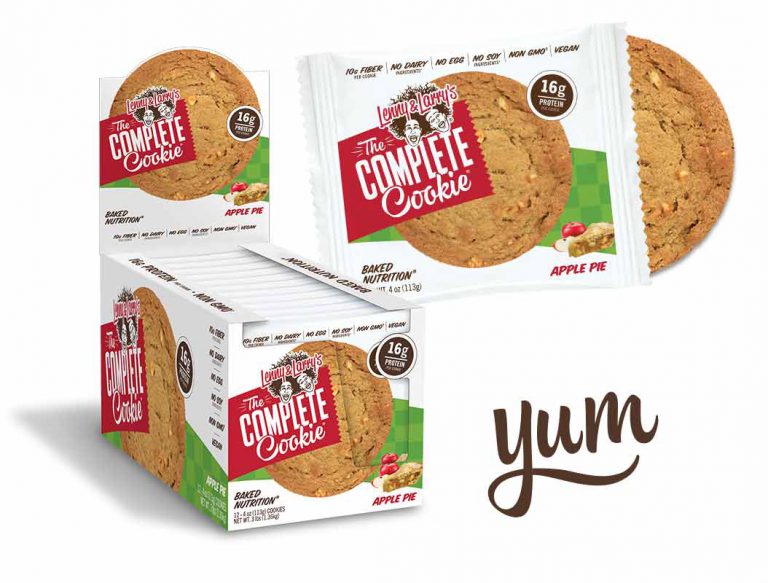 LOS ANGELES — Lenny & Larry's, the originators of the protein cookie, have put their own spin on one of America's beloved dessert— Apple Pie.  Available for a limited time from now until September, this freshly-baked delight will allow pie lovers to indulge their cravings in the convenience of a great tasting and healthy cookie.
Lenny & Larry's Apple Pie captures the nostalgia of homemade pie sans the prep and fork for a quick and easy snack consumers will fall in love with after one bite. The mixture of the fresh baked aroma and the rich taste of apple cinnamon will have consumers' minds feeling tricked as they hold onto a piece of cookie that tastes just like a pie. Packed with 16 grams of plant-based protein and 10 grams of fiber in each 4 ounce cookie, Lenny & Larry's fans can now enjoy their favorite sweet treat like never before while fueling up on-the-go.
"Creating innovative ways to take classic desserts and turn them into delicious nutritious cookies is one of the many things we love to do here at Lenny & Larry's," said Lenny & Larry's CEO Apu Mody.  "We love to delight our fans and are thrilled to launch our Apple Pie flavor that surprises the senses with the taste of summer in a cookie."
Like all products in the Complete Cookie line, Apple Pie is fresh-baked, contains no artificial sweeteners or sugar alcohols, and is made without GMO ingredients, soy, or dairy to appeal to a wide array of dietary needs.  Apple Pie Complete Cookies will be available exclusively in the original 4 oz. size and can be found initially online and at Vitamin Shoppe and GNC nationwide. SRP for The Complete Cookie in the original 4oz. size is $2.29. For more information, visit www.lennylarry.com.
About Lenny & Larry's
Amidst a sea of tasteless and boring protein bars, Lenny & Larry's was founded in 1993 by two bodybuilders who revolutionized the snacking industry by developing the original protein-enhanced cookie. The first to re-imagine a dessert as beloved as the cookie, Lenny & Larry's has developed quite the cult following—since pioneering the protein cookie category, the brand has continued to lead the pack in sales for 20+ years. Lenny & Larry's produces a wide array of nutritious snackable sweets, offering consumers a convenient source of plant-based proteins that shows hunger who's boss and tastes downright delicious. Through creating a range of yummy and exciting flavors, Lenny & Larry's takes a real approach to snacking with their fresh-baked Complete Cookie which is made with non-GMO ingredients and free of soy, dairy, and sugar alcohols to accommodate a variety of dietary needs. For more information, visit www.lennylarry.com.