SweeGen's BESTEVIA Reb D Stevia Leaf Sweetener Successfully Commercialized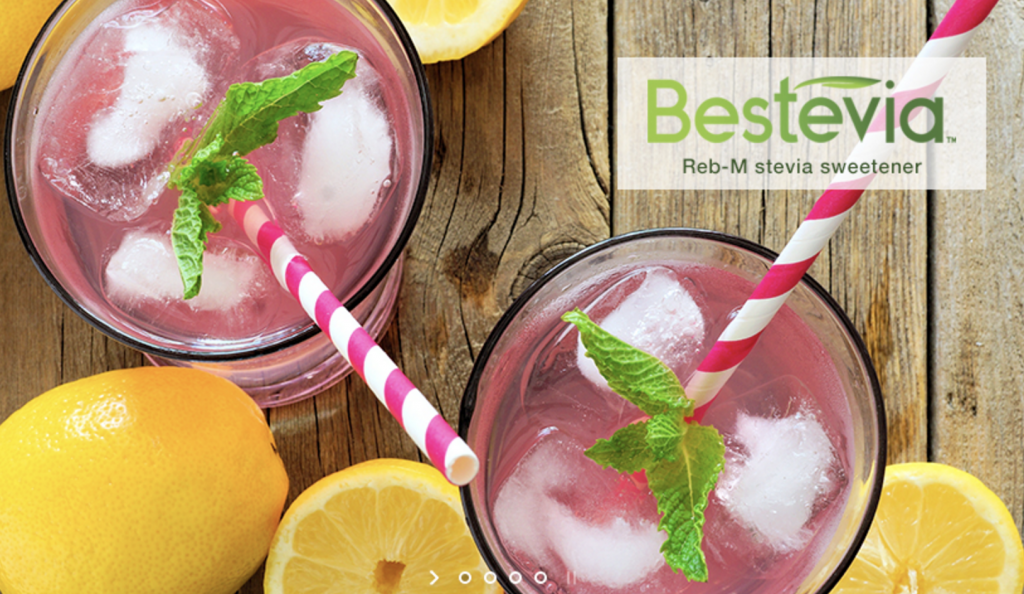 RANCHO SANTA MARGARITA, Calif. and WESTCHESTER, Ill.– SweeGen Inc., a provider of nature-based sweeteners, and Ingredion Incorporated, a leading global provider of ingredient solutions to diversified industries, announced today a new addition to its line of stevia leaf sweeteners with the successful commercialization of BESTEVIA™ Reb D as another option for sugar reduction in foods and beverages. BESTEVIA™ Reb D provides additional flexibility for formulators looking to match the time intensity response curve of sucrose.
Rebaudioside D (Reb D) and Rebaudioside M (Reb M) are steviol glycosides found in the stevia leaf that can be used as sweeteners in food and beverage applications. Unique patented processes that start with the stevia leaf enabled SweeGen to introduce BESTEVIA™ Reb M and now BESTEVIA™ Reb D to the beverage and food industries as alternatives to sugar and artificial sweeteners.
In February 2017, SweeGen successfully commercialized BESTEVIA™ Reb M, the company's first FDA GRAS approved stevia leaf sweetener. BESTEVIA™ Reb M has been well received by major food and beverage companies in the US, Europe and Asia. The BESTEVIA™ Reb D GRAS self-affirmation was completed in June this year and was immediately submitted to the FDA for review.
Steven Chen, the company's CEO, commented, "Our growing sweetener platform offers our industry partners an expanding choice to replace caloric and artificial sweeteners in consumer products. SweeGen's sweetener portfolio offers great-tasting, non-caloric and nature-based alternatives for the global consumer." He added, "The introduction of BESTEVIA™ Reb D represents yet another strong achievement for SweeGen in the natural sweetener market."
"We can now offer an additional option for sugar reduction without compromising taste," said Oscar Gutierrez, senior global director, sweetness innovation, Ingredion. "We are excited to expand our stevia portfolio to meet customers' sugar reduction needs."
Ingredion is SweeGen's distribution partner for both Reb M and Reb D, excluding the People's Republic of China and SweeGen's House Accounts. This collaboration enables both companies to benefit from each other's strengths and to attract a diverse mix of food and beverage companies world-wide.
About SweeGen
SweeGen (OTC: SWEE) is dedicated to the development, production and distribution of non-caloric sweeteners for the food, flavor and beverage industries. SweeGen's robust product pipeline, intellectual property portfolio, and dedicated manufacturing capacity and R&D provide the Company its foundation for innovation and delivery of high-quality sweeteners. For more information please contact info@sweegen.com and visit SweeGen's website, www.sweegen.com.
About Ingredion
Ingredion Incorporated (NYSE: INGR) is a leading global ingredient solutions provider. We turn grains, fruits, vegetables and other plant materials into value-added ingredients and biomaterial solutions for the food, beverage, paper and corrugating, brewing and other industries. Serving customers in over 100 countries, our ingredients make crackers crunchy, yogurts creamy, candy sweet, paper stronger and add fiber to nutrition bars. For more information please contact Janelle.lirtel@ingredion.com or visit Ingredion's website, www.ingredion.us.