Sweets & Snacks Expo, Specialty Coffee Expo Cancelled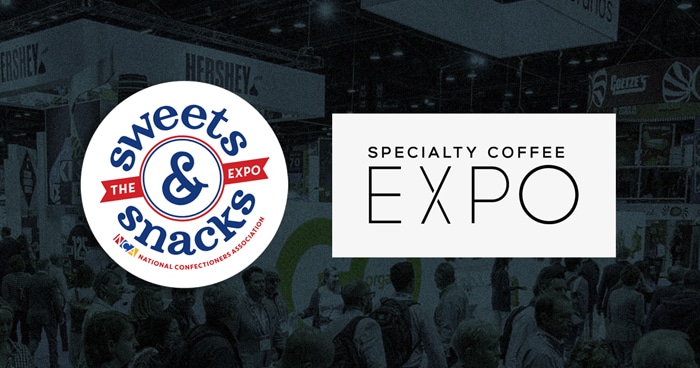 As it becomes more unclear just how long Americans will have to embrace social distancing, two more food and beverage conferences have decided to change course. Both the The Sweets & Snacks Expo, which was scheduled May 18-21, as well as Specialty Coffee Expo, which was scheduled for April 24-26, have been cancelled
Set to be held in Chicago at the McCormick Place convention center, the Sweets & Snacks Expo had nearly 15,000 attendees in 2019, with over 800 exhibitors across a variety of categories including confection, salty snacks, cookies, crackers and more.
The move comes less than a day after The National Restaurant Show, which was also to be held in McCormick Place May 16-19 announced its own cancellation. The Sweets & Snacks Expo, which is organized by The National Confectioners Association, will not be rescheduled for later in 2020 and instead will hold its next event in May 2021 in Chicago.
"The cancellation is unavoidable due to a combination of factors including state and local stay-at-home orders and travel bans and restrictions from our member companies, retail partners and other attendee organizations," Lauren O'Toole Boland, Director of Communications for the NCA, wrote in an email announcement. "It is not the outcome any of us wanted."
On an online FAQ page the NCA stated that all badge fees will be refunded and that it is working on a plan to allow exhibitors to either roll over booth fees as a credit for the 2021 show, or seek a refund. Refunds for sponsorships and show guide advertising, however, will be "handled on an individual basis." Exhibitors in the newer "CBD Gallery" will also receive refunds.
Hotel rooms booked through the conference's official provider, OnPeak, will also be refunded.
Meanwhile, the Specialty Coffee Association (SCA) announced the cancellation of the Specialty Coffee Expo and its sister conference the Re:co Symposium (which was scheduled for April 22-23), both of which were to be held in Portland, Ore. The SCA had already postponed its World of Coffee Expo, which was to be held in Warsaw, Poland in June, to October 15–17.
Information about refunds and credits have been emailed to exhibitors, a notice online stated.
In recent days the SCA has been transparent about it's desire to postpone or cancel the event, but said in an email last week to attendees that it was stuck in limbo regarding options. While the Centers for Disease Control (CDC) had stated that events with 50 or more people scheduled for the next eight weeks should be postponed, at that time, the State of Oregon had issued orders that only cancelled events until April 14.
In an online update about the cancellation, SCA CEO Yannis Apostolopoulos explained the group's dilemma and how a path forward was decided.
"When it became clear that it would not be possible to find new dates for later in the year in Portland, our negotiations with these partners focused on ending these contracts without putting the SCA, a nonprofit association, in danger of legal retribution from these businesses, who are also experiencing similar difficulties amid this crisis," he wrote.
Both the Specialty Coffee Expo and Re:co will next be held in New Orleans in April 2021.
As the spring and summer conference and trade show season has slowed, one event still moving forward — as of today — is The Summer Fancy Food Show, organized by the Specialty Food Association.
Held in late June, questions as to the feasibility of the event have been raised by food and beverage providers due to the fact that the trade show is scheduled to be held in New York City's Javits Center — a location currently being reappropriated as a makeshift hospital. In an update posted online on March 23, the SFA stated it was monitoring the situation.
"We are working very closely with the Javits Center in particular to understand how recent developments may affect the planning of the Show," the letter states. "We are moving as rapidly as possible while also taking care to comply with our legal obligations and protect the sustainability of the SFA."