ZeeZees Uses Education — and Fun — to Grow Platform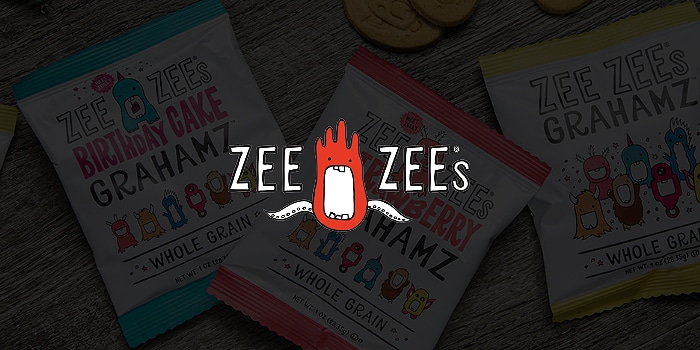 Michigan-based wholesale distributor National Food Group (NFG) first brought better-for-you foods to school cafeterias in 1990. But kids and parents wanted its convenient, healthy snacks outside the cafeteria; thus the company launched ZeeZees, a CPG brand that sold online in 2017 and entered brick and mortar retail last year.
Though NFG's strength is historically in foodservice, the company is aiming to double ZeeZees' retail presence this year. To do that, the brand recently launched a slew of uniquely-flavored snacks to differentiate from bigger brands and private label offerings. The goal is to use zany flavors, a colorful, kid-friendly brand identity and an interactive online platform to stand out — and please (notoriously picky) kids and their parents.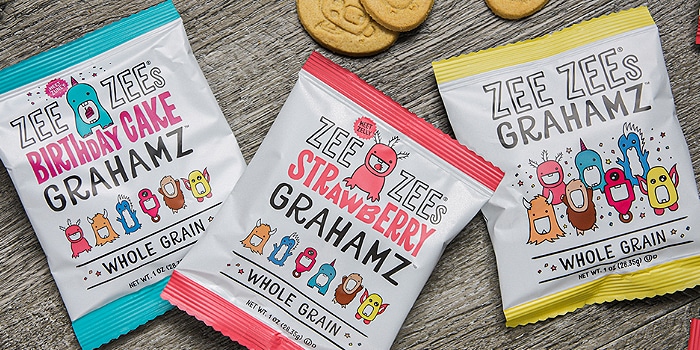 NFG provides millions of packaged snacks to schools across the U.S., including bars, graham crackers, roasted sunflower kernels, dried fruit and fruit cups, hummus, applesauce and recently launched freeze-and-serve individual juice pods. The snacks fit school nutritional requirements; all contain fruit or vegetables and are low sodium, low sugar and free from peanuts, tree nuts and high fructose corn syrup.
Introducing the snacks in school first helped establish loyalty with the brand's customer base, said Kristine Buyers, NFG's creative services team leader. The company had received requests from parents asking for the products in stores, she added.
ZeeZees is currently in about 1,500 doors including Meijer, Albertsons and Kroger, which recently added ZeeZees in 11 more states. As NFG's only CPG brand, Buyers noted that ZeeZees is more of a "reverse startup," which retailers often see as an advantage: with proven traction in foodservice and feedback from student surveys, ZeeZees is far ahead of most emerging brands, Buyers said.
"Some of the startups just haven't been around as long to have that kind of discussion with them," she said.
So what were the challenges for the brand to cross into consumer retail, as opposed to the academic channel? While buyers for schools see ZeeZees' products more as components of a nutritionally-balanced meal, at retail they are seen as healthy snack options. Though the recipes barely changed from foodservice to retail, a "significant investment" of time was spent reconfiguring pack sizes to stack up against other brands' offerings, Buyers said. For ZeeZees, that process even required finding some new suppliers, she noted.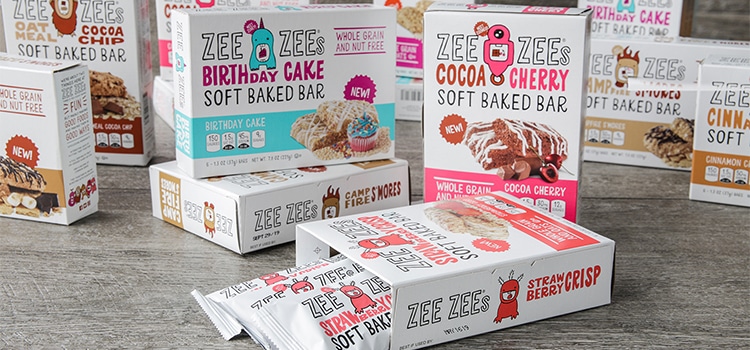 Additionally, different channels have different expectations: While a 2.2 oz ZeeZees bar meets school nutrition standards based on the United States Department of Agriculture (USDA) food guide, the product was adjusted to 1.3 oz for retail, more in line with competitor pricing and calorie counts.
"Both from a nutritional and product cost perspective, it makes sense to match what consumers are used to," she said. "Tactically that's where we've had the most learning and difference [versus foodservice.]"
After years of foodservice — and various packaging designs — the company also had to invest in a cohesive, captivating brand identity, Buyers told NOSH. To engage kids of all ages beyond lunchtime, the company took a bright, playful approach: each product features a character from 'Planet Z,' said to have traveled to Earth via 'applesaucer.' The eccentric stories extend to ZeeZees' interactive online platform with activity kits, coloring sheets and more to keep kids connected to the brand at home and on-the-go. Although using a character to capture young consumers isn't new, inventing a cast of 50 characters with original stories is uncommon, Buyers told NOSH.
"We looked at who we're going to sit by and how to differentiate," she said. "[We] have our own brand, look and feel and our own audience."
It's not the first time a brand has taken what it learned at school to the shelf: better-for-you school lunch company Revolution Foods formerly offered a line of related packaged goods in retail, but it was discontinued last July.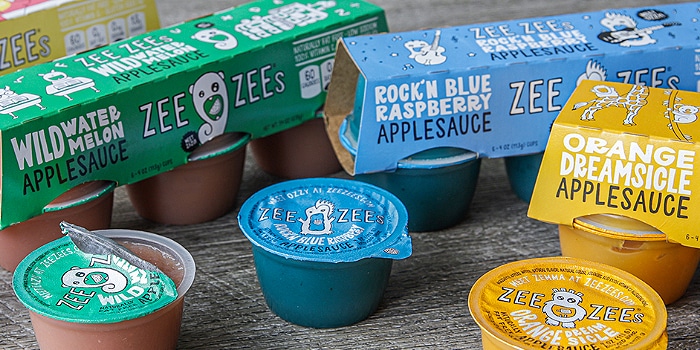 Part of the issue, Buyers said, is that standing out on the snack shelf isn't easy. To differentiate, ZeeZees prioritizes uncommon flavors, she told NOSH. For example, with back-to-school a key season for new launches, the company this year released Orange Dreamsicle and Wild Watermelon applesauce in Kroger. By featuring innovative flavors, ZeeZees hopes to distinguish itself from more ubiquitous offerings like cinnamon applesauce, Buyers noted.
"Innovation is a big part of any product line, especially to keep kids' attention," Buyers said. "It's not only the kids we have to keep interested, but also the decision makers on both the foodservice and retailer [and] buyer sides. [But] diversity of line is a strength of ours."