Sans Crickets, Exo Founders Try to Revamp Cereal
It's time to return to the days of our youth. Today Exo co-founders Gabi Lewis and Greg Sewitz are trying to bring back the tradition (or at least the memories) of big bowls of cereal accompanied by Saturday morning cartoons with the launch of their newest endeavor, Magic Spoon. According to the pair, who have since left their first company, the goal is to do for cereal what Halo Top did for ice cream: revamp an "outdated" indulgence product type with engaging branding and a strong macronutrient profile.
After selling Exo, their cricket-protein bar brand, in early 2018 to Aspire Food Group, Lewis and Sewitz decided they couldn't go back to "normal jobs," and instead began searching for their next business venture. Cereal, a stale yet massive category, caught the duo's attention. Research firm Mintel estimates that despite slowing sales, the category will hit $11.1 billion in sales this year. And although the segment is dominated by three large players, General Mills, Kelloggs, and Post, Lewis and Sewitz believe that their understanding of today's consumer will give them an edge despite their considerably smaller budget.
"A lot of people see this massive market dominated by these three huge incumbents," Lewis told NOSH. "[But] when you look at the products that they are all putting out, pretty much everything in that cereal aisle today is high sugar, high carbs and full of junk, which is counter to every consumer trend we're seeing."
Launching in four flavors (Fruity, Cinnamon, Cocoa, and Frosted) Magic Spoon will initially be sold online for roughly $10 a box, with a four-box minimum order. Monthly subscribers receive a 10 percent discount and free shipping. Each serving has 12 grams of protein and 3 grams of net carbs — the antithesis of the high-carbohydrate, high-sugar offerings typically found in the cereal aisle. The brand also avoids artificial ingredients and sugar alcohols by using a blend of stevia, monk fruit and allulose for sweetness along with a blend of whey protein isolate and milk protein isolate for protein.
General Mills, Post and Kellogg's have each tried to adapt their classic SKUs by cutting back on using artificial colors and flavors or lowering sugar content, but consumers have generally disapproved. For example, when General Mills revamped Trix for a slightly better-for-you nutritional deck, the response was so negative the company soon reverted back to the original recipe.
Now, Lewis said, big cereal brands are leaning into indulgence, with Post's chicken and waffle cereal or Kellogg's' Peeps cereal as examples. However, he added, these releases only cater to current cereal consumers, while Magic Spoon hopes to capture shoppers who have already left the aisle for more nutritious options.
The pair believe it's a consumer set that's similar to the one they cultivated at Exo — but without the headache that comes with trying to convince Americans to eat crickets.
"Coming off of Exo, where it was so focused on educating the consumer, and starting with this idea that 99 percent of people thought was totally crazy… we wanted the opposite challenge," Sewitz said. "We thought it would be fun to take a super mainstream product that literally every single person had interacted with and see if we could update [it]."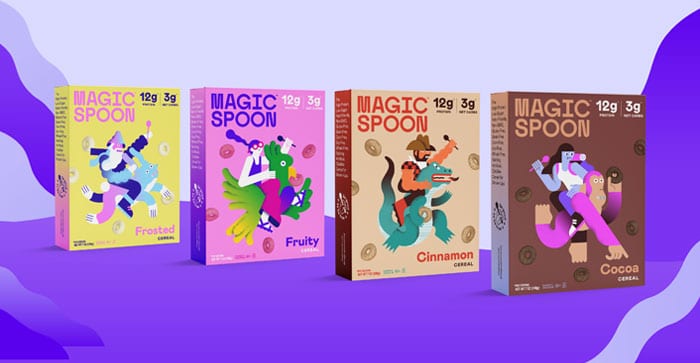 One thing the brand is keeping in line with traditional cereal is the concept of fun and whimsy. Created by design firm Gander, Magic Spoon's packaging sports bright colors and even a maze on the back of each box. Sewitz said the team purposely avoid the typical tropes used by natural cereal brands, such a product closeup of one puff or a shot of the farmer who grew the grain.
The hope is that by looking like a traditional cereal brand, Magic Spoon can also convert current cereal consumers. According to Mintel, even current cereal customers are dissatisfied, with 61 percent of cereal eaters stating that they wish cereals kept them full longer.
But current shoppers won't find Magic Spoon next to their Fruity Pebbles. With low shipping costs, the brand will stay as a direct-to-consumer offering for now. While retail isn't off the table, this model allows the brand to experiment with limited-edition flavors, Sewitz added, and avoids the promotional costs associated with in-store retail.
Lewis and Sewitz are also backed by some notable investors. Last year Magic Spoon closed a seed round with former Exo investors Collaborative Fund, Wild Ventures and hip hop mogul Nas. The founders of retailer Thrive Market, Native deodorant, and Biotrust nutrition, along with influencers Kelly LeVeque, Katie Wells (aka "The Wellness Mama") and Elana Amsterdam also took part in the round.
Using influencers is a key part of Magic Spoon's marketing strategy. Soon after Halo Top entered the marketplace, other producers and store brands launched their own high-protein, low calorie options, taking market share from the brand. For Magic Spoon, Lewis told NOSH he believes that influencers and "thought-leaders" can help the cereal company avoid a similar situation and cement it as the must-have, better-for-you brand — regardless of other entrants.
"We're focusing on creating an incredibly strong brand that resonates with modern consumers," Lewis said. "[We're also] getting thought-leaders and influencers as supporters of the brand so that we're the primary product in the high protein/low carb cereal category in consumers' minds."