PepsiCo Acquires PopCorners Maker to Expand Portfolio of Healthy Options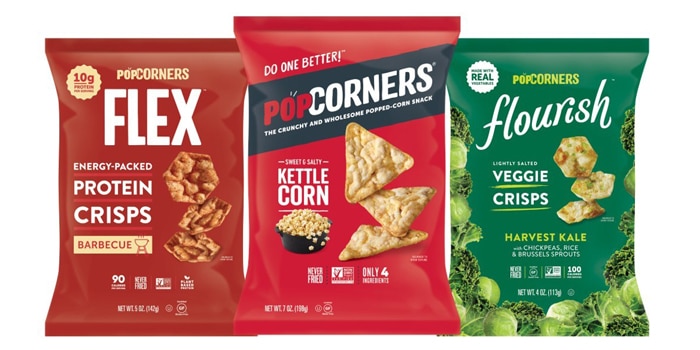 Today PepsiCo announced its intent to acquire better-for-you snack producer and co-packer BFY Brands, the maker of PopCorners snacks, from private equity firm Permira. Upon closing, BFY will roll into PepsiCo's Frito-Lay North America division. Exact financial terms of the deal were not disclosed.
In a release, the company noted that BFY's production facilities will remain in Middletown, New York, and Liberty, New York and that current CEO Paul Nardone and President and Chief Commercial Officer Dan Morgan expect to remain on with the brand to help "continue its current expansion plans." The company currently has 750 employees.
The deal, PepsiCo stated in an announcement, will further build out the global brand's portfolio of better-for-you snacks — which already includes Smartfood popcorn, Sun Chips, Off the Eaten Path vegetable puffs (which are manufactured at BFY's facilities), Imagine yogurt crisps and bare fruit and vegetable crisps. Within that group, Bare was the company's most recent acquisition, in May 2018.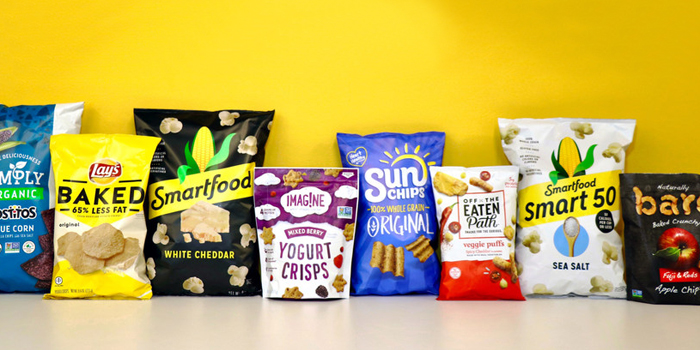 "BFY Brands offers distinctive products that deliver the great taste and ingredients consumers are looking for," said Steven Williams, CEO, PepsiCo Foods North America. With the company adding in the release that the acquisition will "further deliver on its 'winning with purpose' vision to offer consumers more positive nutritious options."
BFY brands was formed in 2015 when Permira acquired both Medora Snacks, LLC, producer of PopCorners, and Ideal Snacks Holding Corporation, a leading contract manufacturer specializing in popped snacks. Permira then brought in Nardone, who was previously served as the CEO of Immaculate Baking Company, Stirrings and Annie's Homegrown. Since the acquisition, the company has doubled its workforce, and is sold in over 40 countries and territories around the world.
Permira reports that that PopCorners — which also includes Flex Protein Crisps and Flourish Veggie Crisps alongside its flagship brand — is "the fastest growing brand among better-for-you salty snacks in the U.S."
Despite the strong consumer interest in the popped snacks category, BFY has somewhat struggled with the identify for its branded products. The company in 2016 created a consumer facing brand identity — Our Little Rebellion — in an attempt to platform the company and allow it to grow beyond the Popcorners moniker. However, in a reversal, less than two years later the company pivoted back to the original name. What BFY thought might prove to be confusing to consumers — the prefix pop — actually was appealing and already had a strong brand recall.
"I think we're at a stage in our category evolution where it's become very competitive," Nardone told NOSH at the time. "You really have to work harder and smarter to stand out."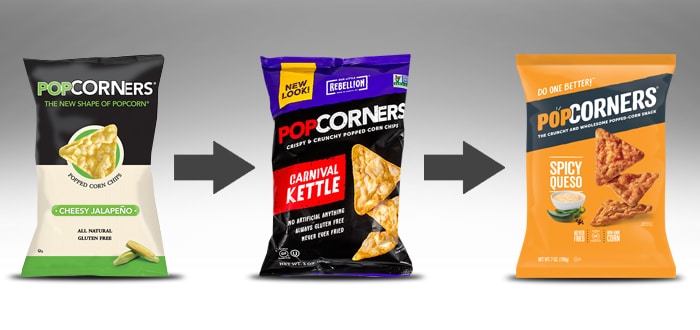 For Pepsi, it appears that there's still room for the brand to grow. For example, despite being a leading salty snack, PopCorners only entered Whole Foods chain-wide in September 2019.
BFY's branded business is balanced, though, by its robust copacking business — which produces "popped" snacks for retail (private label) and branded CPG companies. BFY already produces PepsiCo's Off the Eaten Path's popped snacks — which should create cost efficiencies.
Moving forward it's yet to be seen how PepsiCo will differentiate PopCorners from Off the Eaten Path in terms of product assortment — there are some similarities in product type and ingredients. For example, both brands currently offer a puffed chip with a base of peas and black beans — Off the Eaten Path's contains rice flour while Flourish contains yellow corn.
But the company seems to have big plans for both brands. According to a recent PepsiCo job posting on LinkedIn for a marketing manager for premium and better for you snacks transformation, the company hopes to have Off the Eaten Path reach $120 million in revenue by 2023 and "become the [better-for-you] snack of choice for curiosity-seekers worldwide." Since launching in the U.S. in 2015 — the same year Permira formed BFY — the brand has since expanded its distribution into the United Kingdom, France, Spain, Belgium, Netherlands, and Australia. The posting further elaborates that the brand has grossed more than $20 million in sales "without media spend and with limited distribution in 2018."