To Take Over Salty Snacks, PopCorners Forms A Rebellion
The past year has been busy for contract manufacturer Ideal Snacks and PopCorners producer Medora Snacks. In July 2015, the two brands, which were formerly owned by entrepreneur Zeke Alenick, but independently operated, were acquired by global private equity firm Permira. Later that summer, CPG industry expert Paul Nardone came aboard as CEO.
After consolidating the two companies under the moniker Better For You (BFY) Brands, Nardone, Permira and the BFY Brands team are now unveiling their newest strategy — a global, consumer-facing identity.
The new brand, Our Little Rebellion, will house five year-old PopCorners (a line of popped corn chips) along with two other brands.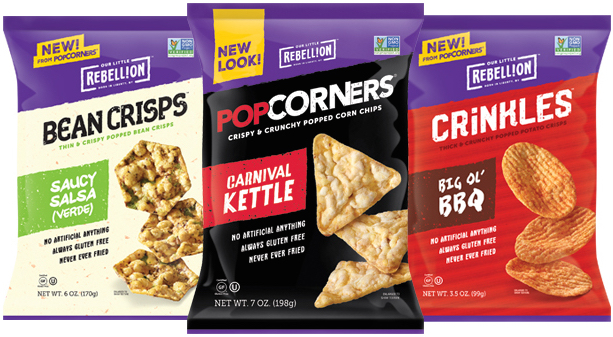 Naming the brand came about after months of research and testing. "Our consumers want a brand with some personality," Nardone told NOSH. "There's also a theme of them wanting to be part of a movement that dares to do something differently. And that's where the rebellion theme came from."
BYF Brands did consider utilizing the "Pop" prefix for its consumer facing brand or naming scheme, but research revealed that shoppers were confused by the term. Consumers didn't know exactly what a "popped" snack was nor did they associate it with a better-for-you product.
However, the "popping" technology that's at the heart of the company is still extremely valuable to BFY Brands. The patented process is being used to develop two other Our Little Rebellion sub-brands that will launch this summer: Bean Crisps (a popped bean chip) and Crinkles (the first non-fried, ridged, popped potato chip).
The line extensions will launch in key partner accounts including Stop & Shop, Von, Sprouts, ShopRite and Giant Food Stores. By fall, the line should be in approximately 2,000 retailers.
By having multiple products under Our Little Rebellion, BFY Brands is able to make a bigger impact in stores and with consumers.
"I think you can be a successful single product line and there's a lot to be said about focus," Nardone said. "But I think like so many other anchor brands that start with one platform, along the way consumers want to see you continue to innovate. That leads to you spreading your wings a little bit and spreading out into adjacent categories."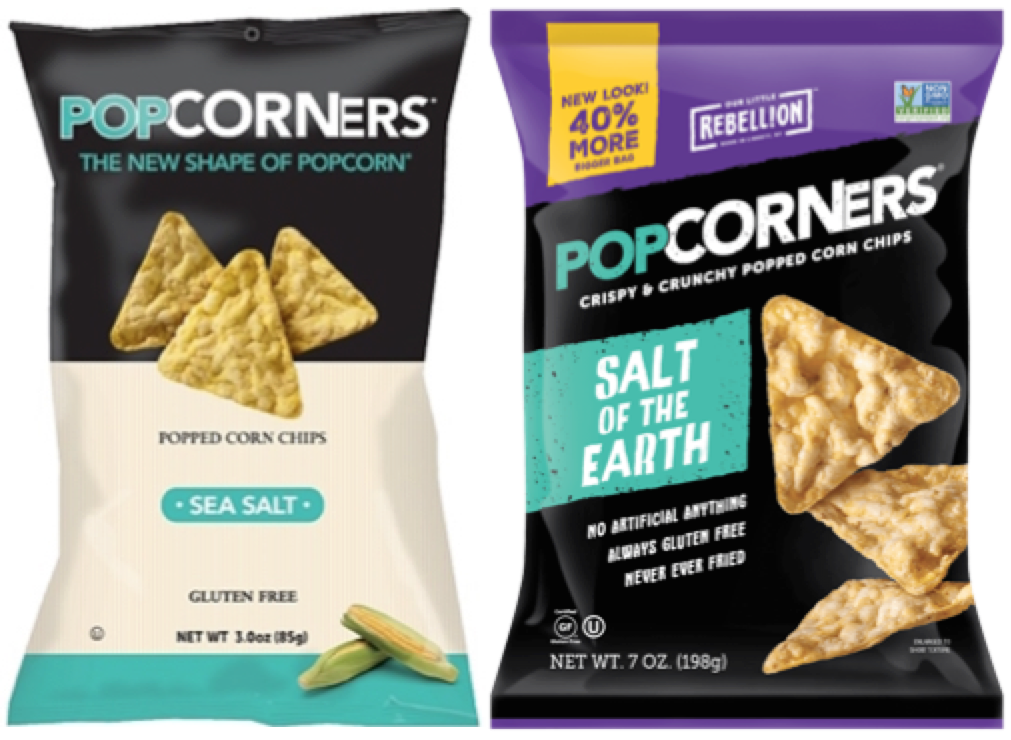 While exact plans are still under wraps, the snacking innovation isn't stopping with the launch of Our Little Rebellion.
PopCorners will also release two seasonal flavors (snickerdoodle and double chocolate) in winter-themed packaging and with a smaller chip size for the holiday season.
BFY Brands also recently built a larger R&D center that's investigating several new categories, including, Nardone teased, products that may be sold in other parts of the store outside of the salty snack set.
Nardone also hinted that a fourth Our Little Rebellion sub-brand slated to hit shelves later this year will aim to capture the protein-seeking consumer. "I don't think there's been a protein snack in the salty snack category that's really appealed to the mainstream consumer," Nardone noted. "Both from a taste profile and an accessible price point."
Finally, while a huge focus of BFY Brands will be launching Our Little Rebellion, the company is also actively exploring other acquisitions that can fold under its wings.
It's this drive for innovation and excellence that also prompted the brand to change their ingredients when launching Our Little Rebellion. Consumer research indicated shoppers wanted Non-GMO Project certified snacks, so Better For You Brands turned to their producers for the solution.
Nardone reports that due to the tens of millions of pounds of corn the company buys, they were able to get two of the largest U.S. corn companies to offer a new, non-GMO corn product.
"We really have turned the corn supply chain up on its head, that's one our biggest victories," Nardone said. "That we refused to take no for an answer."