Caulipower Introduces a 'New Chick on the Block'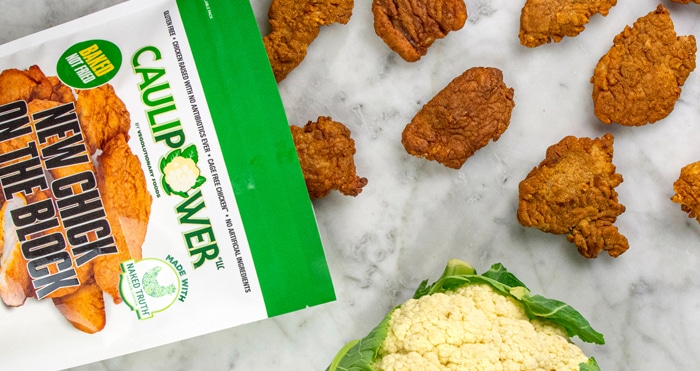 After selling millions of cauliflower pizzas, vegetable-focused food brand Vegolutionary Foods (and its subsidiary Caulipower) is ready to enter a new freezer door. The company announced today the launch of Caulipower's new frozen cauliflower-crusted chicken tenders to join its lines of cauliflower based frozen pizzas and tortillas.
The new Caulipower line will launch in original and spicy flavors, both packaged in a 14 oz bag that will retail for $8.99 to $9.99. While the brand is not disclosing retailers at the time, founder and CEO Gail Becker said that the line will roll out in September in roughly 4,200 mass and natural stores including some "very large retail partners."
Becker told NOSH that, similar to her experience with the pizza crusts, this latest launch was inspired by watching online trends . The Caulipower team observed consumers on social media, blog posts and recipe sites air-frying or baking better-for-you chicken tenders, in recipes that often required copious amounts of effort.
"What we're doing is just bringing all the meal hacks that people are already doing and we're just making them easier for folks. It's that intersection of convenience, taste and better for you," Becker said. "At the end of the day, this is about why do people have to sacrifice time for taste and better nutrition."
According to Becker, the brand's idea was to innovate within a large category that represented "classic American comfort food." At the same time, she added, the company also wanted to create a new item with a short, clean ingredient list.
Each bag of chicken tenders has only 450 calories thanks to being baked not fried and a crust of dried cauliflower, corn flour, rice flour and rice starch. The chicken is free-range, antibiotic and hormone free and comes from the chicken breast. Caulipower has partnered with Naked Truth as both a meat supplier and co-packer for the tenders line.
"The goal of Caulipower and the overarching brand Vegolutionary foods is really to revolutionize vegetables and america's favorite comfort foods and to make them healthier and better," Becker said. "And to bring people back to the freezer aisle where it's been overtaken by heavily processed, fried and sugar loaded foods."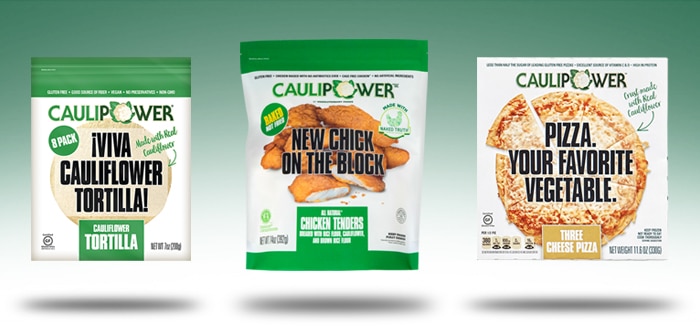 To support this innovation, along with increased distribution, marketing and sales support, Caulipower closed a roughly $8.1 million dollar round of funding at the end of last year. Becker told NOSH that previous investor Boulder Food Group was the sole backer of the round.
The chicken tenders will be Caulipower's main new product launch for the year. Currently, Becker said, Caulipower's frozen pizzas account for 90% of the company's sales. In 2018, the company's first full year in business, Caulipower sold over 10 million pizzas across all 11 SKUs, generating $45 million in revenue. But, despite seemingly having the magic touch with cauliflower, Becker said she plans to be selective with new product development.
"We're never going to do innovation for innovation's sake… or just because it sounds cool. We're always going to do something that people need and want and are asking for," Becker said. "We didn't come up with [this idea], other people online did. We just brought it to life. The need, the demand, the desire was already there tenfold."