Can Earnest Eats Turn Pop-Tarts 'Pro'?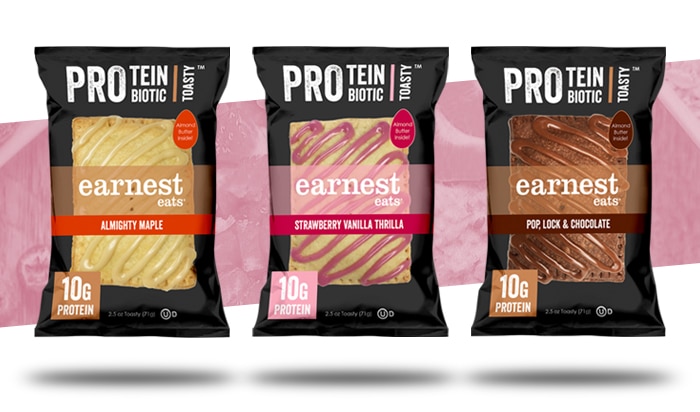 Despite consumers' insistence that they want to eat healthier, classics like Kellogg's Pop-Tarts have remained popular — the company claims to produce billions of the breakfast pastry every year and is even planning to roll out a Pop-Tarts cereal.
Earnest Eats is hoping to offer consumers a better-for-you take on the classic with the launch of the Pro Toasty, a breakfast pastry that it believes can bring health benefits to the category.
The line of breakfast pastries is filled with almond butter, probiotics and collagen protein, for a total of 10 grams of protein per pocket. Available in pop, lock & chocolate, tap that maple and strawberry vanilla thrilla, the pastries will retail for $3.99 each. The line will launch in March.
Co-founder and president Andrew Aussie told NOSH that the inspiration for the line was drawn from the brand's flagship product, PRO, a protein and probiotic enhanced oatmeal. After consumers responded positively to that concept, Aussie looked to other categories that had the same focus on portability but a lack of nutritional benefits.
"A lot of the traditional breakfast options that are in packaged food are carbohydrate-driven because carbohydrates are super cheap, but that's a lot of empty breakfasts," Aussie said. "So many just aren't real sustenance."
Calling other breakfast pastries, even better-for-you organic versions, "diabetes attacks," Aussie said he decided to start over from scratch when creating the line. That included developing new production methods, he said, as traditional toaster pastry lines limit filling viscosity, type and amount. Instead, Earnest Eat's Toasties are hand rolled with an "artisan" look and have a thicker filling thanks to the almond butter.
Certainly the use of collagen and nut butters may sound like Earnest is simply playing to trends in the marketplace — according to investment bank Silverwood Partners, food and beverages with collagen are projected to grow at 7.2 percent year-over-year.
The company will also launch a CBD oatmeal in the spring.
The question remains, however: will consumers pay $3.99 for a nutritionally-enhanced Pop-Tart, or are they conditioned to view the category as a cheap snack. Aussie says he's optimistic that consumer behavior can be changed, citing the success of the PRO line, which led the company to 60 percent sales growth last year.
Going forward, Aussie said, Earnest may expand to other categories beyond breakfast, but that's the focus for now.
"I don't see us as a breakfast company, but certainly where we are living today is in better breakfasts," Aussie said. "Having these adjacent categories is easier from a go-to-market strategy."