Banza Raises $20M to Focus on Food Service & Brand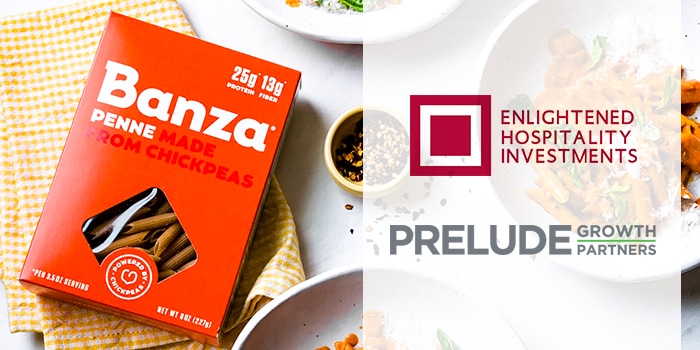 Alt-carb brand Banza announced today the close of a $20 million round of funding co-led by Enlightened Hospitality Investments (the growth equity fund associated with restaurateur Danny Meyer's Union Square Hospitality Group) and fund Prelude Growth Partners.
As part of the investment, both firms will gain seats on Banza's board. The brand previously raised $7.5 million from investors in 2017.
When Banza launched in 2014, the concept of bean-based pasta alternatives was new and fairly untapped. Now, with plenty of companies also selling these offerings, Banza feels its time to focus on their brand.
"Much of what we've done to-date has been really scrappy, we haven't really done traditional forms of marketing," Brian Rudolph, CEO and co-founder of Banza told NOSH. "Most people still have no idea that bean based pasta even exists. Our household penetration is still extremely low. So our goal in this fundraise is to really gear towards building more awareness."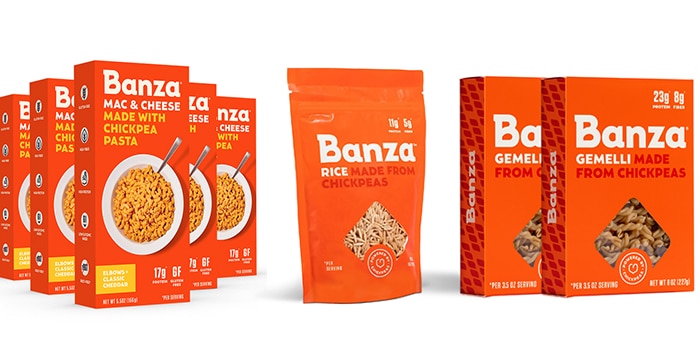 Although Rudolph expects the look and branding of Banza to remain fairly constant, the company plans to hone its messaging. As part of this effort, the company is hiring for a VP of marketing along with a VP of sales. Currently Banza has a two-person sales team to support its network of brokers.
Despite the small team, Banza has seen early success, with a line of high-protein pastas in 12,000 stores. Since launching this March, the brand's rice-alternative (which Rudolph said is still being fine tuned) has expanded into 2,000 retailers. Banza is also the "fastest-selling" pasta brand in both Whole Foods and Target, Rudolph said, in terms of dollars per total distribution points (TDP). That's proof, he added, that the brand can resonate with both natural and mainstream consumers.
Moving forward the company plans to keep anything made with corn, wheat or rice open as an expansion possibility, but in the near-term, will focus on its line of pastas. In 2019 alone, the company added five new pasta shapes, including classics such as lasagna noodles and bowties.
But where Rudolph perhaps sees the most opportunity — and he believes Enlightened Hospitality Investments will give the company a leg up — is in food service. With bean-based pasta now a proven and established category in retail, there's no reason restaurants, schools, cafeterias and other food service ventures shouldn't also add the product to their menus, Rudolph believes. Union Square Hospitality is seen as a leader in creating, developing and managing successful restaurant concepts — ranging from Shake Shake to New York City's Gramercy Tavern — with 28 James Beard Awards to show for their efforts.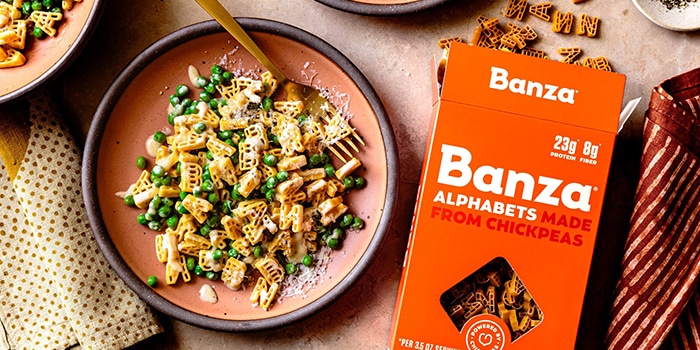 "There are few folks as Enlightened that I think could be as strong of an endorsement to have on our side," Rudolph told NOSH, explaining that the firm will help Banza create a go-to-market strategy for entering food service.
The move to foodservice has long been a goal for Banza, but until now, the brand has been unable to keep up with demand, he said. In fact, the bulk of capital raised to-date has gone towards Banza's manufacturing facility and equipment. But that should no longer be an issue, Rudolph said. Last year the company installed a line to increase the capacity of "short" pastas (such as penne and rotini) by tenfold and this year it will do the same for its "long" goods (such as spaghetti and linguine).
"We've been capacity constrained for the majority of our existence," Rudolph said. When you have retailers that you can't keep up with their [purchase orders] it's hard to start expanding into other channels that would take away from that."