Thrive Creators Build Mission With Venture Arm & Alliance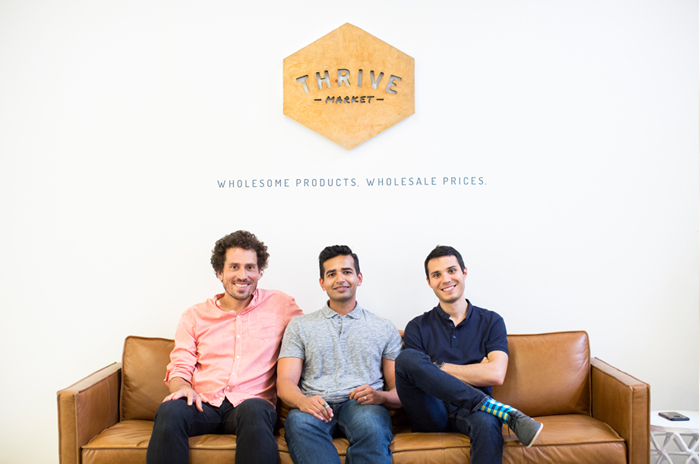 The creators of Thrive Market are working to build more than just their customers' basket sizes.
In the past month, the three co-founders — Gunnar Lovelace, Nick Green, and Sasha Siddhartha — have announced two platforms to improve the food system and the planet. After launching Thrive Market Ventures (TMV), an investment vehicle for better-for-you brands, earlier this month, the trio announced last week the creation of a philanthropic community called Alliance for Good (AFG).
"Everything for us, starts with our mission: We want to make healthy living affordable and accessible to everyone," Green said. "At it's core, that's what both of these ventures drive towards. Throughout the history of the business we've seen new opportunities to expand the breadth of what that mission looks like and to focus it in different ways"
TMV officially launched at the start of 2017 as a one-year pilot program. During the test phase, TMV will invest in roughly a dozen businesses with checks of under $100,000. Green said the company is using this time to ascertain what size companies they should invest in and where the Thrive team can add the most value. Their hypothesis, he said, is that early stage brands who are either raising seed funding or their first round of capital from outside investors will benefit most. Currently, there is no plan to bring in outside capital specifically for the fund.
The first two investments from the fund, Square Organics and Beekeeper's Naturals, both fit the TMV mold of companies that are promoting health and wellness as well as focusing on sustainability in the food system. Green said TMV was drawn to the companies' sales performance, mission and founder stories.
Green said TMV has an advantage over other funds as Thrive Market itself provides insight into a brand's potential success.
For example, Green noted, if the company's data team sees that Thrive users are searching for a product category, such as bone broth, that is not currently available in the marketplace, it could be an indicator to seek out brands to meet that demand. Additionally small brands that rapidly sell out may be a sign that with a capital addition, the company could see strong returns. Thrive's community of influencers, including Mark Sisson, Vani Hari aka the "Food Babe" and Dr. Mark Hyman, also have called attention to possible rising stars.
"The hope is that we prove out a model where, given our unique place in the ecosystem, we can see great brands early, where we can influence the outcome of how those brands perform and we can de-risk investment that for your traditional investors would be too risky," Green said. "We think it's a great way to accelerate change in the space and get behind brands that are doing something really special."
Being rejected because of risk is something Green knows about. He told NOSH that Thrive was passed over by more than 50 venture capitalists who felt the concept was too risky. Instead, the company's first $8.5 million investment came from individuals, such as the aforementioned influencers, who aligned with the company's mission.
"One of the pain points that we saw with a lot of these brands was getting funding and that was something we related to on a personal level," Green said. He added that TMV realized that many of these brands, early on, are not capital intensive but are too innovative and new for "status-quo, middle of the fairway" venture capitalists. By investing, Thrive is able to provide "value add" and "value aligned" capital.
In creating the Alliance for Good, Green said he, Lovelace, and Siddhartha wanted to find a way to give back to communities. Through their research, they discovered the concept of a donor-advised fund — which operates similar to a savings account. Individuals can set up a fund and place either capital, shares or securities, which may or may not be liquid yet, into the fund. That capital can either be allocated out immediately, or allocated out one day in the future.
Unlike TMV, the capital in the funds can only be donated to nonprofits. There's also no expectation of a return on investment.
Together, the Thrive co-founders placed roughly $12.7 million of their own net worth into donor-advised funds before forming AFG and inviting individuals who agree to start their own $1 million dollar funds to join as co-founders. The group is also open to other members who cannot meet the co-founder financial commitment.
By forming AFG, Green and his co-founders hope to simplify the process of creating a donor-advised fund and create a framework for dialogue. To pursue the latter goal, AFG will hold an annual Solutions Summit in which all co-founders will assemble to exchange ideas.
While the three founders are committed to nonprofits focused around healthy food accessibility and good stewardship of the Earth, other individuals can donate to whatever causes they like. Green, Lovelace and Siddhartha have already donated $250,000 worth of Thrive Market products to community organizations in both Houston and California after their respective natural disasters.
"We started Thrive with a mission… and that's the business mission but it's also our personal mission," Green said. "We've been incredibly fortunate to get so much support from so many directions because of that mission and we all felt a lot of conviction that whatever personal benefit we get from the business, some significant amount of that we want to go back into that mission."