Three Ways Blue Apron Plans to Achieve Revenue Growth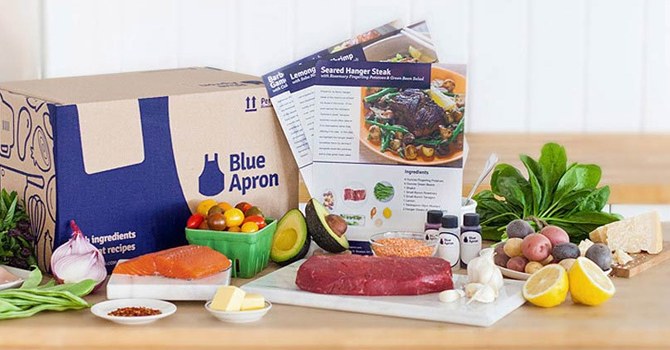 Meal kit company Blue Apron is ready to tackle revenue. So said CEO Brad Dickerson at today's Canaccord Genuity 38th Annual Growth Conference held in Boston. Dickerson told the audience that the brand has spent much of 2018 refining its operations and supply chain, and it is now ready to think about consumers and offerings.
"[We] are in a much better place then we were a year ago," Dickerson said. "Now we're really focused on building a great business going forward and how do we get back to revenue growth.While we were focused on operations, we weren't necessarily as focused on things like new products rolling out and product innovation and also the overall end to end experience for the customer."
Here are three ways the company plans to tackle those goals.
Give Consumers an "on demand" option
Dickerson told the audience that no matter how tasty Blue Apron's offerings are, there are some consumers for whom the current ordering model will never be the right fit. The meal-kit company currently requires consumers to order their meals six days in advance.
"A big friction point for a lot of customers is the subscription business itself," Dickerson said. "[The feedback from customers] is that 'the subscription business in general is keeping me away from this. It's just too much work and I have a busy lifestyle and I don't know how to fit this into my lifestyle.'"
In order to target these users, Blue Apron plans to roll out an "on demand" offering that would allow shoppers to order a Blue Apron kit and have it delivered within a few hours. The company, Dickerson said, will test the product in a still to be named West Coast and East Coast city. While meals will be sold through the Blue Apron site — as opposed to a third party service such as GrubHub — the company will partner with a third party for delivery of the kits.
Dickerson said the the test will occur in the second half of 2018. At first, he added, the company will focus on determining if consumers are even interested in such a product before worrying about tackling the logistics of rolling out such an offering nationwide.
Blue Apron also rolled out pre-packaged kits in select Costco locations this year, and Dickerson said the company will also expand its relationships with retailers to offer similar meal solutions. But, he added, Blue Apron believes only a few retail partners can potentially meet their quality standards..
The hope is for both on demand options to expand the company's customer base beyond its current pool.
"We don't see a lot of cannibalization with this. We see more a core customer who has a consistent ordering pattern that wants multiple meals per week to put in their refrigerator to cook when they want," Dickerson said. "And we see another customer who wants to access all the great things about our brand and our product that wants to do it on our terms on when they feel like it and where they feel like it."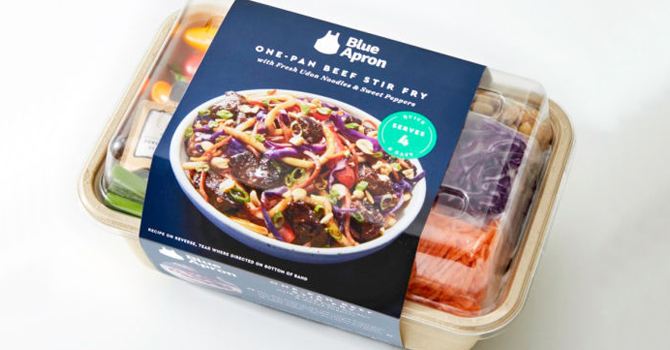 Expand the Current Online Product Offerings
Another reason customers "churn" — or cancel after subscribing — is because they don't find Blue Apron recipes that meet their eating and cooking habits, Dickerson said. One area where this is apparent is offering recipes that meet more dietary needs, he added. The other is in recipes and kits that require less preparation and cooking time.
"Our prep times and cook times tend to be a little longer. And that's been great for our enthusiast customer who loves that experience of cooking," he said. "But sometimes with customers on a Tuesday [they] might want something quick and on a Saturday [they] may be willing to take something that is a little longer and have more of an experience."
As a result, the company will add kits that take less time to get dinner onto the table, roughly 20 to 25 minutes.
Adding quick prep recipes won't just require adding more options to the site, Dickerson told the audience that Blue Apron will add more quick prep options to the site, but will also look to work with more supplier and co-packers who can provide kit ingredients such as pre-chopped onions.
"The biggest part [of quick prep recipes] is doing some of the work for the customers," Dickerson said. "So in that, leaning on maybe some suppliers who can do some of that up front, so that when it gets to our fulfillment center, it's more dropping into a box. That is obviously a value add to our customer, because it removes prep time and cook time, but it's also a value add to us in some degree because it removes labor in our fulfillment center."
Focus on the Right Consumer
In addition to churn, Blue Apron has struggled to get the "right" visitors to their website. This has only become more difficult with the increasingly competitive marketplace of other meal kit solutions. While shoppers may be intrigued enough to check out the company, converting them to paid customers who remain with the brand has proved challenging at times, Dickerson said.
Specifically, shoppers who do "churn" are an added expense because they generally have received discounted boxes. The good news, he added, is that the retention curve drops quickly and then it's very "solid."
Dickerson said as a means of improving the conversion funnel and better utilizing marketing dollars, the company will increasingly focus more on attracting customers that are "sticky" rather then trying to target all consumers in general. This has required the company to recognize that they may not be the right solution for everyone. The consumers who are would be most apt to churn will be directed towards on-demand offerings.
"The idea going forward for us is How do we understand the attributes of that sticky customer, who has been with us for a year, two years, three years and orders a lot from us — a high LTV customer," Dickerson said. "How do we start to focus more of our marketing dollars towards that type of customer for the subscription business?"