The Checkout: Was There a "Whole Foods Effect" in the Midterms, Raley's Reimagines the Cereal Aisle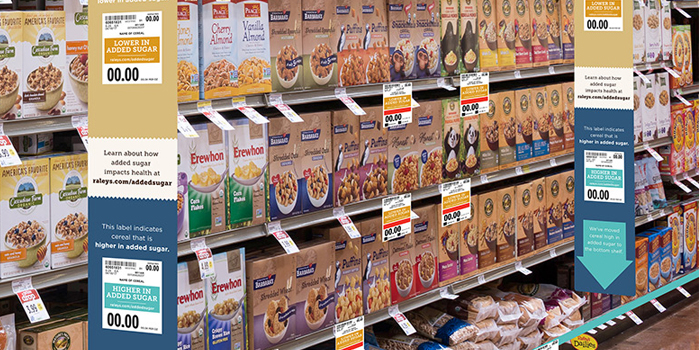 Welcome to The Checkout: an express lane for weekly news you need to know, always 10 items or less.
This week a retailer decided to make it a little harder to get your sugar fix, while another may have had an interesting connection to the midterm elections.
Raley's Reimagines the Cereal Aisle
The next time you look for Lucky Charms or Fruit Loops on the store shelf, you may have to look a little lower. West Coast grocery chain Raley's announced this week that cereals with 25 percent or more of its total calories coming from sugar will now be stocked on the bottom shelf. Eye level slots — or "prime placement" as the retailer calls it — will go to cereals with less added sugar.
The 83 year old retailer currently has 123 stores in California and Nevada.
In addition to the shift in shelf position, the retailer partnered with Label Insight to review all products sold in the set and developed a "sugar filter equation" to guide a new signage campaign. After evaluation, cereals that are higher in added sugar will receive red shelf tags while lower in added sugar will receive gold shelf tags.
"We know that the changes in Raley's stores can positively influence our customers' choices," Keith Knopf, Raley's president & CEO, said in a release "Our team has thoughtfully developed a system to evaluate added sugar in cold cereals. We believe between education and product placement, we can help more customers identify and avoid added sugar."
While Raley's is committed to transparency in labeling, the shift will also potentially help their bottom line and draw shoppers into an aisle that sometimes can be skipped due to negative associations with sugar. According to a release by Raley's, 22 percent of households are restricting sugar intake and 52 percent are actively trying to avoid artificial sweeteners.
Is There a Connection Between Whole Foods and the Midterm Elections?
Media company USA Today found that perhaps a "Whole Foods effect" can be seen in the midterm elections.
USA Today noted that in the 37 GOP districts where Democrats either flipped a seat from Republicans or were leading in an ongoing election, 70 percent contained a Whole Foods Market. The paper attributed Democratic wins to "women and well-educated voters who [are benefiting] from the booming economy" — both demographics that echo those of Whole Foods shoppers.
"Whole Foods locates its stores, in part, based on educational attainment data. They locate their stores in areas with high levels of college graduates. And that's a good proxy for the places where Democrats are gaining vote share in the Trump era," Dave Wasserman, the U.S. House editor at the Cook Political Report told USA Today. "Some Democrats react to this statistic by saying they just need to build more Whole Foods markets. It's not that simple, because Whole Foods tends to follow its demographic as much as its demographic follows it."
Whole Foods currently operates 474 stores in the U.S. The retailer's CEO, John Mackey, has previously described his own political affiliation as Libertarian.
Of course, not everyone agrees on using Whole Foods as a measuring stick for election results.
Matt Angle, a Democratic strategist and director of the political action committee Lone Star Project, told the Austin Statesman that using the "Whole Foods effect" as an electoral factor was "just silly."
Beyond Meat Could See New Retail Competition
While for years Beyond Meat has held the crown as hottest plant-based burger in retail, the venture backed brand may soon have competition on store shelves. This week Impossible Foods — maker of the Impossible Burger — announced that it would be bringing its own meatless burger patty to retail in 2019.
Until now, the Impossible Burger has been sold exclusively in food service and restaurants. The company said in a statement that the burger is available in all 50 states in a total of 5,000 locations — and that 13 million burgers have been sold since it hit the market in the summer 2016.
While Beyond Meat has also focused on on-premise dining — its burgers are sold in restaurants ranging from high end dining establishments to TGI Fridays and Del Taco — it certainly has had a jump on Impossible in retail. The brand's line of of frozen meat substitutes, burgers and sausages are sold in thousands of retail locations. Impossible also differs from Beyond Meat in its use of GMO ingredients.
In a statement, Impossible CEO and founder Dr. Patrick Brown said that the impetus to go into retail was to continue to improve access to the product.
"By far the No. 1 message from fans on social media is, 'When will I be able to buy and cook the Impossible Burger at home?'" Brown said. "We can't wait until home chefs experience the magic and delight of the first plant-based meat that actually cooks and tastes like meat from animals– without any compromise."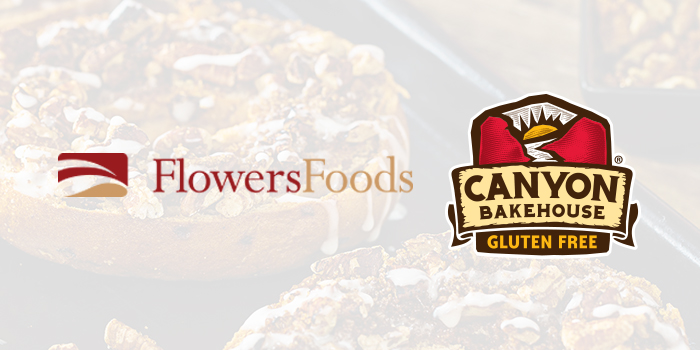 Flowers Foods Acquires Canyon Bakehouse
Every burger needs a bun, and now Flowers Foods has a whole lot of them to go around. The producer of baked goods announced this week that it had acquired Canyon Bakehouse, producer of gluten-free baked goods. Canyon Bakehouse was acquired for $205 million, including a performance-based contingent payment of $5 million. The deal is expected to closer later this year.
Founded in 2009, the baked goods producer currently offers 21 SKUs including breads, buns, bagels and English muffins. — 90 percent of which are distributed frozen. According to a release from Flowers Foods, Canyon Bakehouse has an annual net sales growth rate of 45 percent since 2014 and is the top gluten-free loaf brand in natural and specialty stores. Across all retailers, the company holds the number two slot in the overall gluten-free loaf category.
Flowers Foods' last acquisitions were Dave's Killer Bread for $275 million and Alpine Valley Bread Company,both in 2015. Allen Shiver, Flowers' president and CEO, said in a statement that Canyon Bakehouse will offer the company a new segment in gluten-free shoppers.
"Canyon Bakehouse is an innovative leader in a growing segment of the bakery category, which closely aligns this acquisition with our strategic goals," Shiver said. "We see opportunities to leverage Flowers Foods' distribution network and retail partnerships to drive growth by bringing Canyon Bakehouse products to more consumers across the country."