Sejoyia Shifts Focus to Snackable Sweets with Coco-Thins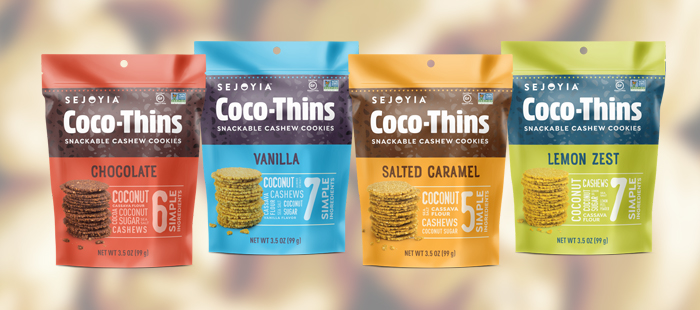 Cookies. The average person will eat about 35,000 of them in their lifetime. But as consumers embrace healthier choices, they're being more selective about the treats they choose for their moments of indulgence. Sejoyia Foods doesn't see that's as a problem, though. Insead, the maker of Coco-Roons sees it as white space in the cookie aisle that the team is ready to win.
Sejoyia's newest innovation, Coco-Thins, launched during the Winter Fancy Food Show in San Francisco yesterday. It marks the first product since the company, which was acquired by Colorado-based incubator Fresca Foods in October 2015, rebranded and narrowed its overall R&D focus to sweet snacking.
The embrace of "thin" can already be found across the cookie aisle. The number of bakery launches using the product description "thin" — think Cookie Thins, Brownie Brittle, Dessert Thins or Cookie Chips — has doubled from 2012 to 2017, according to market insight firm Innova. Even conventional brands like Chips Ahoy and Oreos have hopped on the trend. But Sejoyia thinks its grain-free line can stand out in this crowded space because of the product's limited and understandable ingredient list, which includes coconut, cashews and cassava flour.
"There is an unwillingness to compromise taste for something that is just better for you, and that demand is driving innovation," Taylor Harrell, brand manager at Fresca Foods, told NOSH. "You can see that with beef jerky and crackers and chocolate with Barkthins. I think it's about getting out there and giving consumers what they want and what I truly think they deserve in the cookie aisle. It's making sure they are not compromising indulgence for something that is truly guilt-free, that you can just dig your hand in and snack on."
The cookies first made their debut in Costco last year for a trial period on the East Coast and in the Bay Area under the name Sweet Snaps. The company then took feedback from those consumers to minorly reformulate — they added cassava flour to prevent cookies from breaking easily — before launching under their own brand.
Todd Dutkin, CEO of Fresca Foods, said he doesn't expect to face difficulty getting Coco-Thins on shelves. Currently, Coco-Roons are sold in over 5,000 stores with major retailers including Walmart, Safeway, Kroger, Harris Teeter, Costco, Whole Foods Market and Sprouts. Though Dutkin would not disclose with what retailer, he said Coco-Thins will hit shelves nationally in mainstream supermarkets and natural channel stores in March. They'll retail for $4.49 to $4.99 for a 3.5 oz. package and be available in four flavors: chocolate, vanilla, salted caramel and lemon zest.
With the new line, Sejoyia also announced a refreshed look, designed by Freelo Design. The rebranding is already showcased on Coco-Thins packaging and will rollout to Coco-Roons in March to promote cohesiveness throughout the brands.
The rebranding and launch of Coco-Thins arrives on the heels of some line departures, as well. Sejoyia announced that it is retiring its salty snack lines, Brussel Bytes and Snip Chips, after "undergoing a period of self-reflection."
"It is with sadness that you retire one of your best friends," Dutkin said. "We really had to lean in to what our consumers were telling us they wanted and where we thought the opportunity us. And it made us make some hard decisions. We're a startup company and we have to put our resources and focus into the things our consumers are directing us to, which is our sweets lines."
Sejoyia still owns the formulas and the properties around both lines and Dutkin said he "wouldn't be surprised" if in the future the company decides to bring back the products in some capacity. For now, however, the brand sees the innovation opportunity in sweets, and specifically in coconut.
"It's amazing what we have learned to do with coconut," he said. "That is not to say at some point in the future we wouldn't deviate from it, but we have used all aspects of the coconut in the manufacturing and formulation of these products, and we think it is very versatile and that we haven't actually gone past the innovation in which we can use it."
The concept for the brand's thin and crispy coconut cookie was conceived and executed into an on-shelf product within six months, according to Dutkin. He credits that speed to the symbiotic relationship between the brand and Fresca, and expects the efficiencies to continue as the brand launches more sweet innovations in the future.
"I think that when you have a brand management company working directly with an innovation and manufacturing company, you can see how much power that creates between the synergies between those two. It sets up a paradigm that is fairly unique in the industry," Dutkin said. "When it is all self contained under one roof, it not only shortens the time it takes to get things done, it also eliminates a lot of the costs that are involved in that process, and in doing so we can get new products out very quickly."
Sejoyia marked Fresca Brands Innovation Group's first wholly-owned subsidiary. Since then, the company acquired Open Road Snacks in February 2017. It also invested in Denver, Colorado-based cracker producer 34 Degrees in October. Dutkin said as of now, there is "nothing immediately on the horizon" in terms of future acquisitions or investments from Fresca, at least for the next fiscal quarter.
"We have had a great run with acquiring some brands over the last couple years and we have developed some really good partnerships with brands that we work with. Most of that has been opportunistic and we have developed a corporate development group to really go and be thoughtful and purposeful about what companies really work well with our ethos broadly as a business to nourish people's lives," Dutkin said. "So we will certainly be looking for opportunities in the marketplace after these launches, and we will be doing that actively."