Rising Keto Interest Leads to Explosive Growth for FBOMB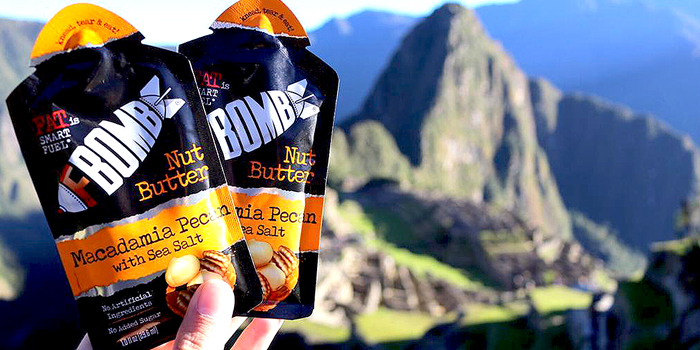 A rising keto-friendly snack brand is cashing in on everyone's favorite "F" word: fat.
FBOMB hit shelves in October 2015 with its line of portable high fat, low carb nut butter and oils that catch consumers' eyes. While it was a slow start for the company, FBOMB has seen exponential growth as of late thanks to a rising interest in keto-friendly products and a majority stake investment made last year by Disruptive Enterprises.
As leading conventional and sports nutrition retailers are building out their own keto sets, FBOMB, which has caught buyer's attention for its tongue-and-cheek branding — has added over 5,000 stores this fall alone. Last month, the brand went nationwide in all Vitamin Shoppe stores, and this month the brand will be added to 2,000 GNC stores. In terms of grocery and drug, the nut butters will be sold in 200 H-E-B stores this month and 3,200 CVS pharmacies in January.
"We're especially excited to see that so many retailers are adding special keto-friendly sections or products to their stores," Ross Taylor, the brand's "Chief Fat Officer," told NOSH. "This is a good sign that it's not perceived as a fad and may bode well for our collective health."
Taylor added that he doesn't expect the brand's growth spurt to slow down anytime soon. He said the company is currently completing the on-boarding process with Whole Foods Market and delivered products to their first store with the natural retailer this week. The initial partnership was slow because Whole Foods requires that any new vendors become third-party certified by UL Everclean, which the brand achieved late last month.
FBOMB, said Taylor, will be able to meet the demand of these new retail accounts because all of the manufacturing is done in-house. Early on husband-and-wife co-founder team Ross and Kara Taylor invested their savings into equipment because the team didn't want to have to buy a huge quantity of product to meet an order minimum with a co-packer. Instead they wanted to launch with a variety of SKUs and with a control on quality. Ross Taylor said the facility has evolved from a tiny manual pouch filling line with a capacity of about 1,200 packs per day to a custom-built horizontal form fill seal machine with a reliable capacity of 2,400 packs an hour.
As the company grows — and quickly — the capital backing by Disruptive Enterprises has allowed the FBOMB founders to focus on scaling this in-house manufacturing component, as well as innovation. The brand will be rolling out a new baked cheese snack this year called FBOMB Keto Krunch and plans to expand its line of oils and nut butters with new seasonings and flavors.
"Disruptive Enterprises has allowed us to maintain control where important, such as our clean ingredients and manufacturing and product development focus," Taylor said. "We've really been very pleased with the relationship and it's allowed us to accelerate our expansion in the keto and healthy-food market."