Report: How To Be a 'Genius' in Digital Grocery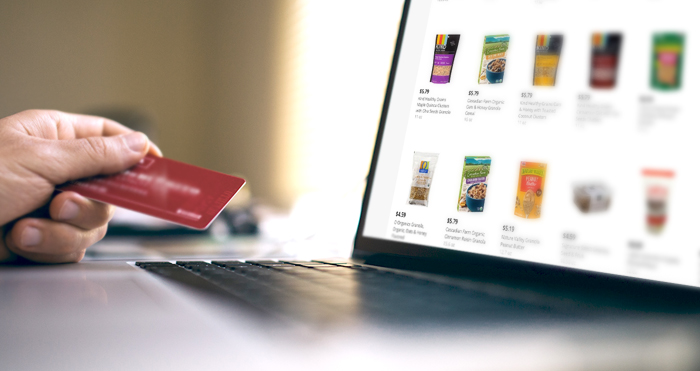 Grocers have spent decades perfecting their in-store merchandising to best attract and retain consumers. However, in today's digital age, shoppers no longer have to walk in the door in order to get their groceries, forcing many retailers to evolve and create strategies to compete in this new online retail environment. According to digital analysis company L2 Inc., some retailers are faring better than others.
The L2 report, which was published last week, evaluated the digital performance of 60 grocery retailers operating in the US. The report looked at brands' strengths and weaknesses across four digital categories — site and e-commerce, digital marketing, social, and mobile — and ranked them on a scale ranging from digital "genius" to digitally "feeble."
Amazon and Walmart are considered genius retailers, while Market Basket, ShopRite, Trader Joe's were ranked the lowest on the scale. Though it may seem like retailers such as Trader Joe's are faring just fine without a digital focus, ignoring this key part of the business now may have massive business implications in the future. Over half of the indexed grocers with brick-and-mortar locations now offer proprietary pickup or delivery, and L2 estimates that within five to seven years 70 percent of consumers will shop for groceries online, spending up to $100 billion annually. That's a big piece of retail pie to be missing out on.
"Amazon has been quick to reset consumer expectations with a high bar for online product discoverability and fulfillment in the US, forcing grocers to quickly advance their digital sophistication or risk defeat," Tom Gehani, director for client strategy at L2 Inc., said in a statement.
Whether you are an entrepreneur looking to better understand how your retailers are faring in the online space or a retailer looking to up your digital game, here are four main takeaways about the state of U.S. digital grocery, according to L2 researchers.
1. It's hard to go from physical to digital.
When considering new product, what is the first thing many consumers do? Look to the Nutrition Facts label. However, across the 60 reviewed retailers, only 55 percent of grocers offer nutrition facts on their online product pages, the report noted.
In the transition to online shopping, consumers also lose the opportunity to see all the options in each category. Nor are they reminded of items that they might be forgetting — simply by passing by an aisle — or tempted by impulse purchases featured on end caps. When it comes to online, however, the report found that many retailers haven't figured out the best way to replicate these experiences. Only 50 percent of retailers cross-sell on product pages, and just 27 percent display sponsored products on grid pages — the digital equivalent of an off-shelf display.
One retailer, the report noted, that is ahead of the rest is Kroger. In October, CEO Rodney McMullen announced the Restock Kroger initiative — a plan to more effectively use data to create personalized customer experiences online and improve the in-store shopping experience. Albertsons followed suit later that year, announcing Albertsons Performance Media, which gives them the ability to sell display ads to manufacturer brands.
2. Many retailers are pushing private label online.
In-store, private label products often win customers because of price competitiveness. Now there's an opportunity for these brands to win online thanks to the ability to boost or bury products to drive gross margin. This is one reason why Target's private labels accounted for 11 percent of listings surfaced by 1,975 food-related queries on Target.com, according to the report.
Private label is also playing a bigger role in Amazon's strategy. While the online giant's private labels accounted for under one percent of analyzed Amazon listings in homepage search, online sales of its newly acquired 365 private label through Whole Foods continues to grow.
3. Instacart is the MVP.
Don't have the capabilities to win in the online retail space? Hire someone who does. Fifty-eight percent of indexed grocers have done just that, according to the report, allying their brick-and-mortar locations with Instacart. And for good reason: Instacart has sophisticated cart building features and category page filters that would be costly for a retailer to build on its own.
The ability to tag products with key search terms, in particular, is a major win for retailers when it comes to private label. When grocers tagged their private label products as "Store Choice" items, those products won on 44 percent of tested searches. Researchers recommend in the report that retailers continue to manage product classification and merchandising on Instacart so that the highest volume and highest margin products show as the first search results as often as possible.
But not all retailers are taking full advantage of the opportunities Instacart offers, the report found. All 29 index grocers that partner with Instacart incorporate product images and cross sell related items, but "few consistently list nutrition facts, product ingredients, and warnings that would be readily available on product packaging in stores," according to the report. This could stem from the fact that much of this very information is also missing from the retailers' own websites.
4. It's time to for retailers to get social.
Individual brands have long embraced the power of social media, using influencers and brand partnerships to boost online sales. Retailers now are also realizing there is a meaningful — and profitable — way for them to play in this space, too.
Currently, researchers found that grocers primarily leverage social media as a vehicle for mass engagement and a venue for meal content and recipes. However, all struggle to convert customers to sales for specific grocery products online. When it comes to which platform this content lives on, however, it depends on what consumer the retailer is trying to reach. It also can be difficult for retailers who do not have centralized marketing teams to balance providing local content with broader, company-wide initiatives.
For Whole Foods, which targets millennial consumers, researchers found that Instagram has proven to be a successful platform. On Instagram, Whole Foods accounts for 93 of the 100 grocery posts earning the most interactions in 2017 and earns three times as many total interactions as all other indexed supermarket brands combined. Kroger, however, is the leader on Facebook, a site that is known to attract an older, more financially focused audience. In catering to this consumer, the retailer posts a wide variety of content, from feel-good stories to ClickList promotions, earning 90 percent of engagement from promoted posts, according to the report. This then builds loyalty with the consumer, but also encourages them to shop on- and off-line.