Popcorn Rebrands Aim to Take Snacking Spotlight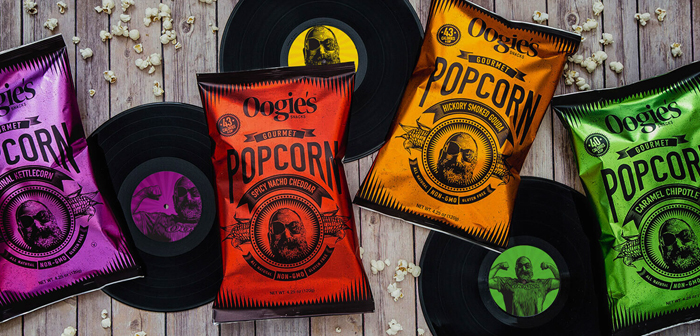 Sensing a rising consumer interest in healthy snacking, a pair of formerly private label and commodity brands are trying to take on the specialty retail market.
Both ready-to-eat brand Oogie's Gourmet Popcorn and kernel and seasoning brand Urban Accents debuted new packages and identities at the Winter Fancy Food Show in San Francisco last week in an attempt to attract specialty retailer interest.
The game is afoot in the popcorn space already: Chicago Custom Foods LLC, the maker of popcorn seasoning Kernel Season's, was sold earlier this month by VMG Partners to middle-market private investment firm Highlander Partners. Ready-to-eat popcorn brands like Skinny Pop and Quinn have moved into the microwave space; and global confectionery leader The Hershey Company announced at the end of last year that it agreed to acquire Skinny Pop maker Amplify Snack Brands for more than $920 million.
Isn't there too much popcorn already? Eric Thier, founder of Oogie's Gourmet who has worked with numerous retailers in formulating their own popcorn lines, said he's seen the number grow in recent years, but at the same time, snacking is taking off as well. Better-for-you snacking is a $33 billion industry, according to Nielsen, and popcorn — with its healthy halo — falls right into this niche market.
Still, how do you create a premium aura around something that consumers have long bought either at home or on the cheap?
"Nobody has ever gone shopping at a supermarket and said 'I'm here to pick up popcorn, but I might as well also get some milk and eggs," Thier said. "You have to give someone a reason to want to take the bag. Nobody needs it. But people are going to get snacks and people do want to get something healthy… and they want to feel special. There is no reason you can't cover all that criteria."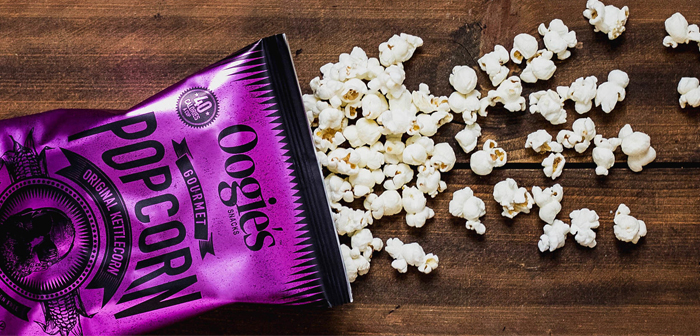 Oogie's is, indeed, trying to cover it all. Now in colorful metallic bags, the brand is embracing its inner Jim Croce with a rock singer/songwriter motif and a new, fableistic character, Oogie, a musician from the 70's who is making his "comeback" as a snack maker. He's featured on both the packaging and the company's website. Oogie's has also updated its flavor offerings, keeping traditional favorites like movie theater butter and kettle corn, but adding bold punches to its portfolio like spicy nacho and chipotle caramel corn, which retail for $2.99 per 4 oz. bag.
It's Thier's second real bite of the kernel. Oogie's initially launched in 2005 with a branded line, but switched its by 2007 to private label production and reduced the branded line's store count to 500 retailers. With 90 percent of the company's business in private label, Their said he's seen profitable growth each year.
Now with a focus back on the brand, the company has added more than 1,000 points of distribution with retailers like King Soopers, Ross, TJX & TJX Canada, Vitamin Cottage and Sprouts — all of which have embraced the new look in picking up the line. Their said he hopes to see the branded line account for about 30-40 percent of the company's overall sales in the future.
But there's competition aplenty.
"The first time we did this show in 2005 there were two ready-to-eat popcorn companies," Thier said. "Three years ago there were 49 in the same show. But we also saw that was cresting so we started thinking about when would be a good time to go back into [the branded space. We wanted to have something that would check every box [so] no buyer would have a reason to say no."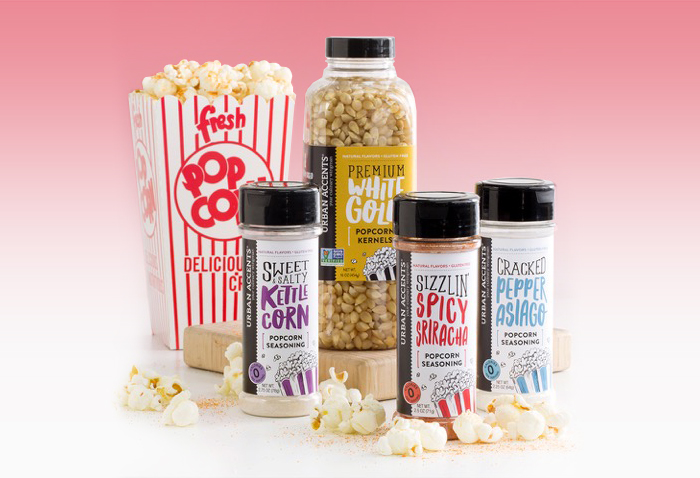 Specialty spice and food platform Urban Accents also launched a new look for its line of kernel and seasoning lines during the Fancy Food Show last week. With a pop art influence, the original design downplayed the brand's name in favor of a focus on flavor and product. Now the company's name is front and center along with a whimsical personality expressed through its hand-drawn, kernel bag design. The goal, Urban Accents president Tom Knibbs said, is to remind consumers of the company's natural, small-batch process.
The brand has products in numerous categories, and the popcorn products are the last to take on the rebranded look. Knibbs said all of its products since being rebranded have seen "substantial" sales growth. Popcorn is expected to do the same, according to Knibbs, who expects that with the packaging refresh the popcorn line will see over 50 percent growth in 2018.
Urban Accents Chief Creative and "Flavorista" Jim Dygas said the company focuses on the specialty channel, rather than grocery, because of the difficulty in educating conventional consumers about why their products are different and cost more. Not only is Urban Accents non-GMO certified, but the lines use a variety of red, blue and golden kernels — all of which pop white, but are slightly different in size, texture and taste. Currently the kernel and spice lines are sold in over 1,000 stores across the nation, mainly in the specialty retailers like Crate & Barrel.
"It is hard to compete in a grocery space in popcorn because there are so many mainstream players and people don't understand the value of a non-GMO brand vs a six-pound sack of popcorn," Knibbs added.