PepsiCo to Buy Bare In Snacking Play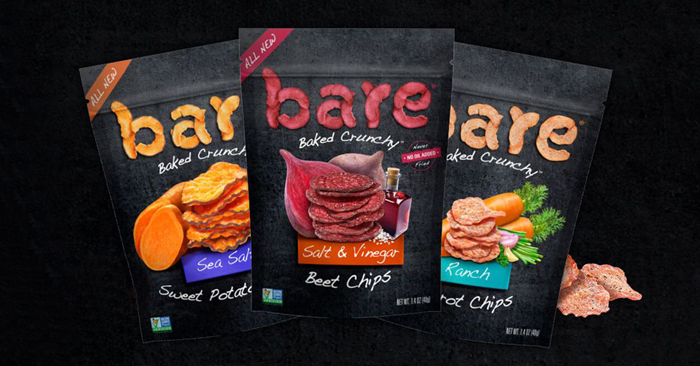 Today, PepsiCo Inc. announced it will acquire baked fruit and vegetable chip maker Bare Foods Co., better known as Bare Snacks. Terms of the deal were not disclosed.
The addition of Bare Snacks will further expand PepsiCo's portfolio of healthy and better-for-you snacks. Current "good for you" snack brands within the global conglomerate's portfolio include Quaker, Naked, Sabra and Kevita.
The company has increased focus on this segment as it looks to transform its offerings to better meet changing consumer tastes and wants. In early 2017 PepsiCo CEO and chairman Indra Nooyi noted that PepsiCo's everyday nutrition products — those that include "positive nutrients" such as grains, fruits, vegetables or protein, and PepsiCo products such as water and unsweetened tea — accounted for 25 percent of the company's portfolio by net revenue.
"For nearly a dozen years, PepsiCo has been committed to Performance with Purpose, our vision of making more nutritious products, while also reducing added sugars, salt, and saturated fat. Bare Snacks fits perfectly within that vision," Indra Nooyi, chairman and CEO of PepsiCo, said via a release. "The Bare Snacks leadership team has done an outstanding job building a top-tier organization and a strong brand with authentic roots."
Founded in 2001 by a family-owned organic apple farm in Washington, Bare Snacks has evolved from selling packaged baked apple chips in local farmers' markets to becoming a key player in produce-based snacks. To further its growth, the brand saw investment from VMG, NGEN Partners, Avrio Capital and Silas Capital. The company broadened its focus to baked vegetable chips during this year's Natural Products Expo West and just this week launched its newest SKU: a fruit medley consisting of bananas, pineapples and strawberries.
Bare declined NOSH's request for comment on the deal, but a release did note that the company will continue to operate independently from its headquarters in San Francisco. The brand's leadership team, including current CEO Santosh Padki, will report to Frito-Lay North America, a division of PepsiCo. Vivek Sankaran, president and COO for Frito-Lay North America, said in a statement that he is excited to work with the team on new product innovation and ultimately expanded distribution.
PepsiCo is not the only global food leader trying to better meet consumer needs through M&A. Earlier this month, Mondelez International acquired premium crispy cookie maker Tate's Bake Shop for $500 million. Late last year, The Hershey Company acquired the maker of Skinny Pop, Amplify Snack Brands, for more than $920 million, and in October Kellogg's bought clean label bar brand RXBar for $600 million.
SaveSave