People Moves: Smart Sweets Adds COO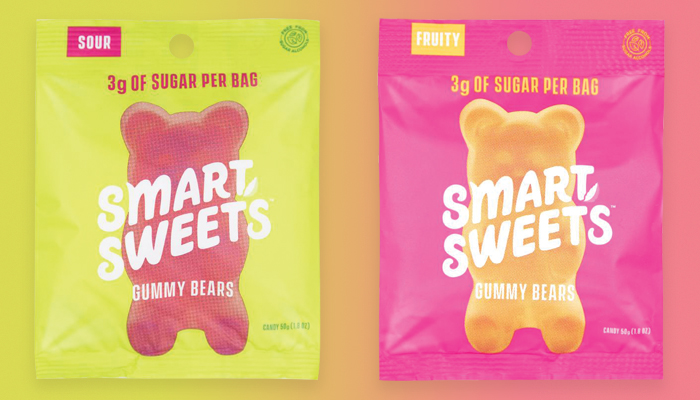 From changes within an upcycled ingredient company to sweet additions for a rising candy company, here is the latest hiring news within natural food.
Smart Sweets Adds COO
First SmartSweets grew its wallet; now it's growing its team. Coming off of a $3 million raise, the low-sugar, high-fiber gummy maker announced last week that it has brought on Cindy Bokitch as COO. Bokitch formerly served as General Manager at youth clothing line ivivva by Lululemon, and as the VP of western Canada at Starbucks prior to that.
Tara Bosch, Smart Sweets founder and CEO, told NOSH that the company wanted to add the COO role in order to round out the Smart Sweets team and skill set. Bosch added that the appointment will allow her to focus more on mission and strategy for the company while Bokitch dives into execution, top-line growth and "bulletproofing" the company so it can scale rapidly.
"SmartSweets was started and has grown by being part of tech accelerators," Bosch said. "From that, I've learned that having new perspectives from verticals outside the food world is invaluable to applying new ways of doing things to an otherwise traditional food model."
Coffee Flour Hires Industry Vet as CEO
Upcycled food maker Coffee Flour has brought on new leadership to help the brand grow and increase its environmental impact.
Last month, the brand appointed food and beverage industry veteran Tom Clemente as CEO. Prior to Coffee Flour, he held executive leadership roles at multinational companies, including Starbucks, Coffee Bean & Tea Leaf and Smith Tea Maker. Dan Belliveau, the founder of Coffee Flour, will remain on the board of directors and the executive team in an advisory capacity. Clemente will report directly to the board of directors.
"Our sustainable product has the power to offset this waste by transforming the fruit into a nutrient-dense ingredient that can be enjoyed by everyone" Clemente said.
Coffee Flour, which launched in 2014, is sold online on Nuts.com, Marx Pantry and Algerian Coffee Stores. It also is an ingredient used by brands such as Alvarado Street Bakery Breads, Earnest Eats, Seattle Chocolates
Lucky's Creates Director of Local Foods Position
Colorado-based natural foods grocer Lucky's Market announced this week that former regional director of operations Tim Overlie will assume a newly created position: director of local foods. Overlie will oversee local products for all departments across the retailer's 28 stores and expand the assortment of local options.
Though Overlie has been with Lucky's as the regional director of operations for seven years, he brings to this role more than 40 years of experience as a product developer, purchaser, operator and merchandiser for companies such as Wild Oats Markets, Haystack Mountain Goat Dairy and Alfalfa's.
"Our goal at Lucky's is to not only sell groceries, but to help people connect with their community," Overlie said via a release. "Stocking our stores with locally-grown produce and locally-produced items is the best way to connect with our communities and neighbors."
Overlie's hiring comes a time when some grocers are looking to boost their locally sourced product portfolio in an attempt to differentiate themselves from the growing number of competing retailers and shopping experiences that consumers have to choose from
UNFI Undergoes Organizational Restructuring
Leading natural food distributor United Natural Foods (UNFI) announced on Monday that it's shaking up its leadership team in August.
Chris Testa, who currently serves as president of the Atlantic Region, has been promoted to president of UNFI. Paul Green, the president of the Pacific Region, has also moved up the ranks as Chief Supply Chain Officer. Green will focus on driving operational standards and overseeing the newly created Warehouse Automation group.
Eric Dorne, the company's Chief Administrative Officer and Chief Information Officer is also adding a new role to his already lengthy title: president of strategic business units. As part of the company's succession plan, Sean Griffin will retire from his role as Chief Operating Officer and transition into the role of strategic advisor.
Other notable natural food hires include:
Grocery delivery service Instacart has brought on David Hahn to be the company's new Chief Product Officer. Hahn formerly served as the President and Chief Product Officer at GoFundMe, and prior to that he worked on the executive team at LinkedIn.
Green Space Brands, a Canada-based food producer and the parent company to non-dairy cheese producer Go Veggie, announced on Tuesday that the Company's CFO, Keith Jackson, has resigned. Cindy Leung, who is currently the sitting VP of Finance, will serve as interim CFO.
Last month, Amanda Luke was named VP of Marketing at bone broth company Bonafide Provisions. She previously served as the Senior VP of Marketing and Innovation at frozen food company Luvo Inc.
Natural organic meat brand Applegate saw leadership changes last month. John Ghingo, most recently president of plant-based foods and beverages at The WhiteWave Company, was named president. Applegate's Senior Director of Mission, Gina Asoudegan, has been promoted to VP of mission and innovation strategy.
Actress celebrity cook and author Ayesha Curry joined the Back to the Roots team as an investor last month. The indoor garden and cereal maker said Curry will work as a brand ambassador for the company.