People Moves: Bill Shen Named Managing Director at Encore Capital
Forget "new year, new me." In the natural food industry, the mantra is "new year, new team." Here's what you need to know about the latest leadership changes in the natural food industry.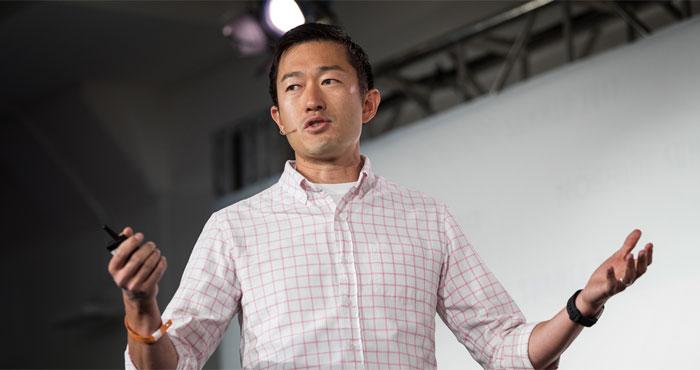 Encore Consumer Capital Promotes Bill Shen to Managing Director
After nearly 10 years with private equity firm Encore Consumer Capital, Bill Shen has been promoted from Director to Managing Director, the firm announced in a statement earlier this week.
In a statement, Encore noted that Shen played a vital role in the firm's exit from Duke's Meat producer Thanasi Foods, which was acquired last year by Conagra Brands. Shen currently serves on the boards of Ancient Harvest, Brownie Brittle, California Splendor and Navitas Organics. Prior to Encore, Shen worked at Swander Pace & Company, advising clients in the consumer products industry.
"Bill has been a key contributor to Encore over the last 10 years," Robert Brown, managing director of Encore, said in a statement. "He is a leader in the natural foods industry as a trusted advisor and partner to entrepreneurs."
Last year at NOSH Live Summer, Shen spoke about the role of private equity firms in scaling and selling businesses. He noted that while there is more money and competitors for investing in the food space than ever before, he still is excited by the potential in the natural food industry.
"If we didn't believe we could continue to be successful in this space, we wouldn't be here," Shen said on stage. "It's not changing our behavior, just encouraging us to get out there and communicate more and communicate better about our story and why we are a great partner."
Nicole Wescoe Appointed President of Whole Foods Market Northeast Region
Longtime Whole Foods Market veteran Nicole Wescoe was appointed president of the natural grocer's Northeast region earlier this week. The move marks a return to the region, where Wescoe previously served as VP.
Wescoe most recently served as regional VP for the Mid-Atlantic region, overseeing 15 new stores, four relocations and 10 renovations during her tenure.Her work at the grocer spans 24 years, where she moved up the ranks from team leader in the bakery, specialty and grocery departments to a variety of leadership roles. As president, Wescoe will be responsible for 41 stores located across New York, New Jersey and Connecticut, in addition to the soon-to-open Brooklyn, New York, 365 by Whole Foods Market — the East Coast's first location of the millennial-focused chain.
"I am beyond excited to return to the Northeast to lead the region in partnership with our accomplished team," Wescoe said in a statement. "The Northeast is a Whole Foods Market leader when it comes to operations and culinary innovation and the opportunity to build on that existing strength and elevate the customer experience in our stores is incredibly inspiring."
On The Border Parent Company Names Lisa Walsh as CEO
Truco Enterprises, the parent company of tortilla chip maker On The Border and portfolio company of Insignia Capital Group, announced earlier this week that Lisa Walsh was named CEO, effective January 3. In this new role, Walsh's top priorities will be to expand the distribution of On The Border and accelerate the company's growth, according to the release.
On The Border, produces tortilla chips and dips that are sold nationally through grocery retailers, club stores, mass merchandisers and c-stores. The brand entered the natural world earlier last year with the launch of its organic line of blue and yellow corn tortilla chips, as well as an organic salsa.
"With On the Border currently the fastest growing and highest velocity tortilla chip brand, the Board is confident that Lisa can leverage her skillset to take the company to the next level," David Lowe, Chairman of the Board of Truco, said in a statement.
Walsh has 25 years of CPG experience, 18 of which were spent at PepsiCo. She most recently served as the Senior VP of PepsiCo Sales where she was responsible for a portfolio that included Frito-Lay, Quaker Foods and all of PepsiCo's beverage businesses.
Other notable industry leadership changes include:
Dean Foods Names CPG Vet as CFO: The Dallas-based dairy giant, named Jody Macedonio as CFO effective February 26, the company announced today. She succeeds former CFO, Chris Bellairs, who departed the company in September.
SPINS Adds Molly Hjelm as VP of Marketing: Consumer analytics and insights leader SPINS announced today that it has added Molly Hjelm as its VP of Marketing. Hjelm, who most recently worked at consumer insights company IRI's Media Center of Excellence, will focus on leveraging and communicating SPINS research in its respective markets to drive value for clients and partners.
Katie Bond Joins Amin Talati: Leading food and beverage regulatory and litigation law firm Amin Talati Upadhye this week announced that it has brought on advertising and marketing attorney Katie Bond to join its Washington, D.C. team.
MyWebGrocer Hires New Senior VP of Client Engagement: On Wednesday, the enterprise software and digital media company announced its appointment of Rob Christian as Senior VP of Client Engagement. Christian has over 30 years of experience leveraging data with companies including Procter & Gamble, Johnson & Johnson, Dannon Yogurt, and dunnhumby.
Dawn Foods Optimizes Organization with Chief HR Officer: Bakery manufacturer and ingredients supplier Dawn Foods announced Wednesday that it had brought on former Walgreens and Coca-Cola executive Stevens J. Sainte-Rose as the company's Chief HR and Transformation Officer, effective immediately. In this new role, Sainte-Rose will be responsible for overseeing current and future business leadership transformation efforts, as well as with building the company's business capabilities to accelerate its growth.
Daily Harvest Brings On CMO: Last week, the New York-based subscription service Daily Harvest announced the hiring of Patrick Yee as CMO. Yee most recently worked as the CEO of Laird + Partners, a leading branding and creative agency in fashion and beauty. The addition comes as the service, which specializes in frozen, plant-based, one-step-prep foods, recently closed $43 million in Series B funding.