Why Norseland Is Embracing the 'Snackification' of Cheese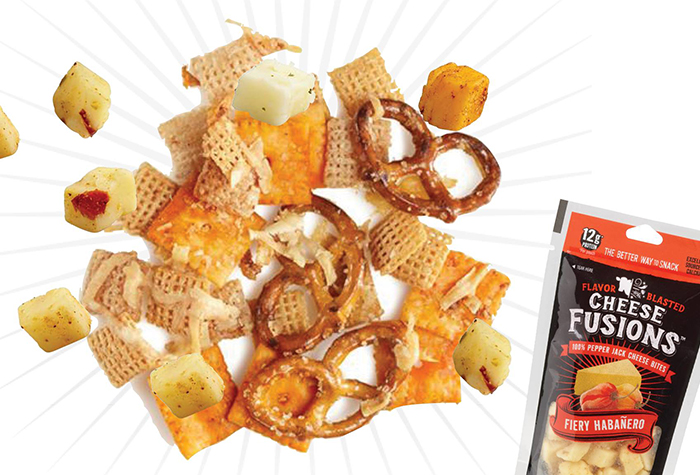 Norseland Cheese has joined a growing group of dairy brands that want to hit consumers when and where they snack.
Over the past year, Norseland Cheese, the leading global cheese importer and seller of the U.S.'s No.1 best-selling specialty cheese brand Jarlsberg, has started to turn some of its specialty cheeses into product lines that correlate with the country's $33 billion individual snacking market. From flavor-blasted fusions to pre-cut-bars, the goal is to capture some of the dollars that are going into traditional snack categories like chips, crackers and salty snacks, and to get into new distribution channels like convenience, where their presence was minimal at best prior to the strategic shift.
"Snacking is no longer a trend. It is an everyday experience and it's part of every day eating habits," Valerie Liu, global marketing manager for Norseland, said. "We knew we needed to be in the space and offer all of the health benefits consumers are looking for, as well as more eating times."
Prior to the strategic shift, the company focused mainly on the exportation of Jarlsberg, which is manufactured in 20 lb wheels and 10 lb loaf forms, and is made from pasteurized cow's milk. They also have created a product range of unique specialty cheese brands and represent other global producers like García Baquero Spanish cheeses, Old Amsterdam aged gouda and Gabriella & Suprema Italian cheese in the U.S. sales.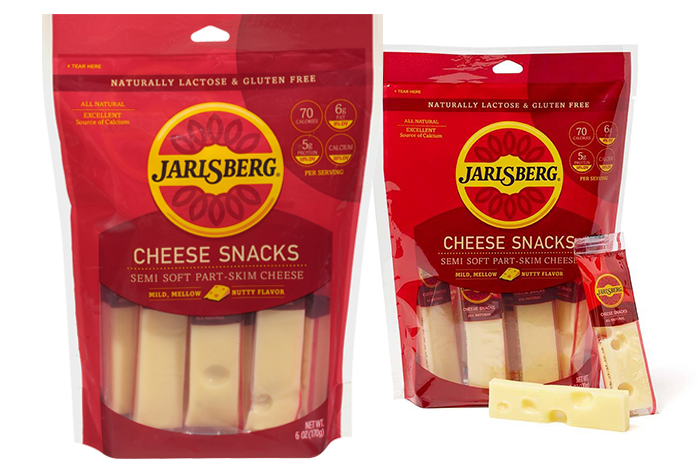 Norseland's push for snacking innovation can, in part, be attributed to breakthroughs in packaging, which have allowed the brand to make individual, portable servings of some of their their premium products without sacrificing on quality. This is true for Jarlsberg Cheese Snacks, Old Amsterdam Premium Aged Gouda Bites and most recently Parmissimo Parmigiano Cheese Bars.
Then there are the lines that innovate in ways beyond packaging. Early last year Jarlsberg launched Jarlsberg cheese crisp crackers in popular "chip-like" flavors, including chipotle and sour cream and onion. And in the brand's most recent addition, flavor blasted Cheese Fusions, cheese was brought to the center of the salty snack arena. The cubes themselves are 100 percent cheese, are dusted with four intense flavors — chipotle, buffalo, habanero and sour cream and onion — and packaged in 2-oz. bags. Norseland also partners with other brands like Lotito Foods, to supply Jarlsberg cheese for innovative snacking and meals solutions like Folios, a no-carb cheese wrap meant to be eaten just like a tortilla.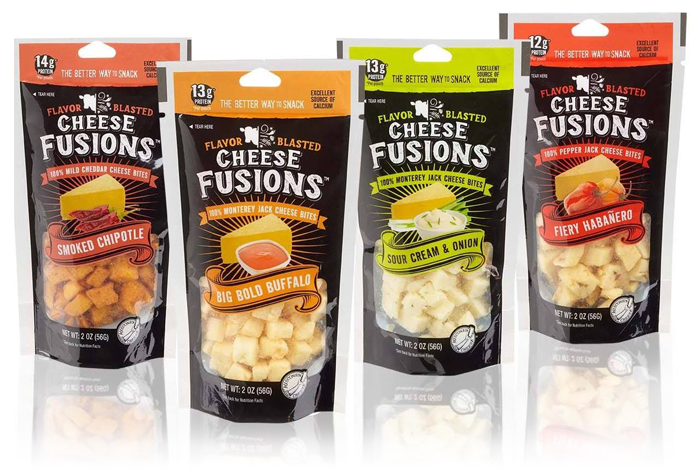 Norseland isn't the only one trying to snackify its products. At the recently concluded Fancy Food Show, other specialty producers are capitalizing on the snacking trend as well with new products like Carr Valley Cheese's Cranberry Chipotle Cheddar Cheese Stix and portable Bread Cheese, Schuman Cheese's Whisps and BelGioioso's Provolone Cheese and Genoa Salami Snacking Rolls.
In Wisconsin, snack is a big deal for the U.S.'s top cheese making state, too. Patrick Geoghegan, senior VP of corp communications and industry relations for the Wisconsin Milk Marketing Board, told NOSH he thinks the cheese industry's shift toward snacking is rooted in consumer desires to eat more cheese, more regularly.
"Looking at the snack category is a tremendous opportunity for us," Geoghegan said, noting that 90 percent of the state's dairy goes into cheese production. "And while there are plenty of opportunities in the more traditional usage of cheese as an ingredient or for eating a specialty cheese by itself, certainly the way Americans eat today is evolving constantly so snacking makes all the sense in the world."
But Norseland's makeover isn't about snacking occasions alone, it's also about the snackers themselves. The NPD Group reports that cheese is the fastest-growing savory snack between meals, and according to a report from market research firm Zion, the global cheese market is expected to reach above $124 billion in 2022. The category's perceived potential, Norseland executives said, is rooted in the millennial consumer that is demanding bolder flavors and textures in their high protein, functional and "fresh" snacks.
"Today, we know that younger consumers in particular are snacking outside the home, and almost half of their nutrition is coming from these occasions," John Sullivan, Norseland president and CEO, said. "We saw innovation in the potato chip and cheese dip category adopting bold new flavors. We thought, why can't we bring that to cheese? We know that over 80 percent of snackers are motivated by flavors they're in the mood for, coupled with convenience."
For future product innovations, Sullivan said Norseland is considering partnering with meat companies to create more snacking solutions and potentially even meal replacement offerings.
Beyond product innovation, Norseland is working to increase its presence in additional channels, like convenience, to reach millennials where they are shopping and seeking out fresh snacking options. Currently cheese fusions are sold in about 2,500 doors with retailers like Stop & Shop, Shaw's and Target, but the brand said this year their goal is to focus on boost their distribution in the convenience channel.
"Convenience used to be 'that's not premium,' but that is changing," Liu said. "The consumers — especially the millennials that are shopping at convenience stores — are looking for higher quality items so we need to be in that space and have those kinds of offerings where it's going to be one-stop shopping."