Under New Ownership, Hat Creek Provisions Rebrands to Barrel Creek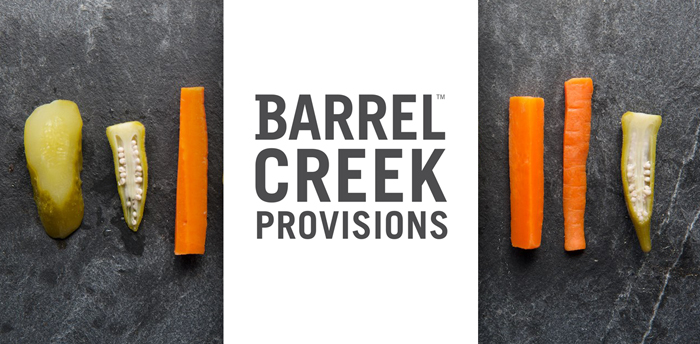 Hat Creek Provisions is looking to give fermented foods a facelift. But to do so, the company decided to give itself one first.
The Austin-based fermented vegetable maker announced last week that it has rebranded — its first major change since gaining new ownership in August. CEO Nick Benz, of start-up advisory Leaven Brands, said the brand now will be known as Barrel Creek Provisions and will sport a new look, but will continue to make its same lineup of probiotic-rich products.
The new ownership team includes Barrel Creek founders Tim Klatt and Adam Blumenshein, venture capital firm MSeven8 and Leaven Brands. Terms of the deal were not disclosed, but Klatt and Blumenshein's main role moving forward will be focused on innovation and improving the company's overall fermentation process.
"Like many founders in this space, to continue to grow you need capital, and the thing that I really respect about those guys is that they also know the limits of what they are able to do to get to the vision they are trying to achieve. That's when they came to us," Benz said. "It was an opportunity that we couldn't pass up."
Barrel Creek Provisions — formerly known as Hat Creek Provisions — was launched in 2013 by the two fermenting enthusiasts who partnered with Austin-based Hat Creek Burger Company to create a quality pickle for the chain's restaurants. Over the years the company has grown its distribution to over 200 stores in retailers such as Whole Foods Markets and Sprouts, and expanded its offerings to include fermented jar and pouch products including sauerkraut, kimchi, fermented carrots and okra, and a beverage line called "Gut Love."
Benz told NOSH that the goal of this new leadership is to build on Klatt and Blumenshein's love of fermented foods by taking a modern approach to the farm-to-table concept. The first step in doing that was to create its own brand identity. Hat Creek Burgers and Barrel Creek are both in expansion phases, according to Klatt. Because of this he described the rebrand as a perfect time for the "natural break."
"Everyone is still really happy with each other, but we thought it was really important to claim our own identity so we went the route of Barrel Creek Provisions, which we think has a little more of the farm-to-table connotation for the products that we have," Klatt added.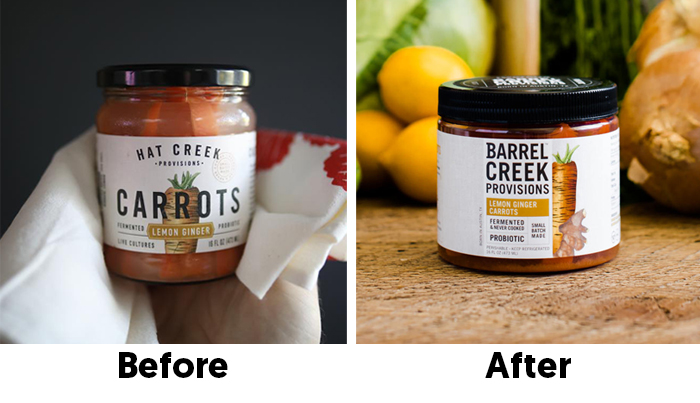 To get better brand recognition there was also a need to update packaging, according to Benz. The new look, which was developed by brand consultancy Sparkfire Ventures and New York design agency Pencil Worx, better emphasizes the brand's name and downsizes the product name while still keeping the vegetable as the visual focal point. The packaging also works as an educational tool, explaining on the side of the jars and pouches everything from what fermentation is and why Barrel Creek products need to be refrigerated, to their step-by-step batch process.
The changes are all in the name of helping the brand position itself as a "fermentation expert." But in order to be an expert, the company realized it needs to widen its pool of consumers. For the remainder of this year, Benz said the company is using a majority of its funds to grow the brand's retail footprint, launch its first digital direct-to-consumer platform and ramp-up its marketing initiatives. Digital and social media marketing strategies in particular, he noted, will be exceptionally crucial for the brand's success moving forward.
"There's only so many Tims. There are only so many Adams, and there are only so many times you get the opportunity to be right in front of a consumer, and say 'this is why you should buy this product,'" Benz said. "So it is going to be hard for us to be successful if we can't convey that messaging without each one of those individuals being involved. That is one of the main uses of funds that have and will continue to be deployed over the next few months to continue to build off of that."
Innovation is another key pillar for the company's strategy moving forward. Before the end of the year, Benz said, the brand will be coming out with a new product line, but did not disclose it. In terms of the future, Klatt and Blumenshein said they are both excited to be able to focus more on what they love — innovation around all things fermented — and to see how the new leadership team can help them better promote the benefits of their probiotic powerhouse products.
"The power of fermentation is just so compelling and has the ability to revolutionize and revitalize the entire food chain as we know it, starting from the guys growing the vegetables and spices we use all the way down to the consumer and how people eat," Klatt said. "That has been the vision since day one and we are just looking to evolve and take it to the next level. We think this is really important to the new food chain, which is not just focused on commodity foods but things people have been eating for millennia and that we need to reclaim."