Fora Closes Funding to Bring Vegan Butter to Retail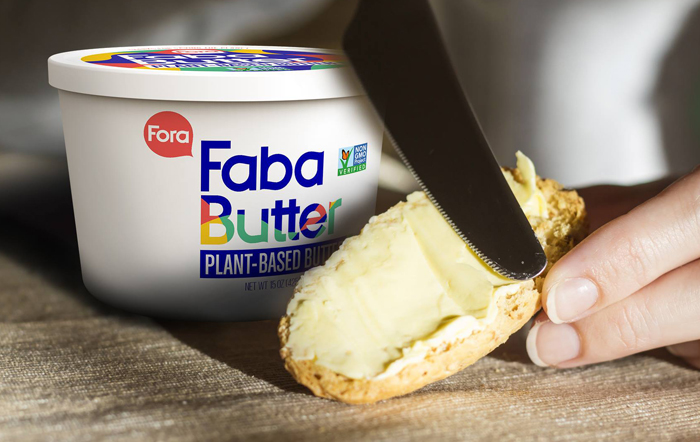 Less than a year after its founding, vegan butter maker Fora announced today the close of a $1.4 million round of capital. New Crop Capital and Blue Horizon led the round, which closed earlier this month. Other investors in the round include Baleine & Bjorn Capital and Everhope Capital, as well as several angel investors including real estate developer John Sobrato and Sebastiano Cossia Castiglioni, of Vegan Capital.
This funding follows the company's April Kickstarter campaign, which raised roughly $26,000.
Fora uses aquafaba — a liquid byproduct from soaking chickpeas that has recently gained popularity as a vegan substitute for egg whites — and coconut to make a dairy-free butter that is a one-to-one replacement for traditional butter. The ingredient gained national exposure when premium condiment maker Sir Kensington's launched a vegan mayo line using aquafaba. The company is sourcing this liquid from an unnamed hummus manufacturer.
"We think that we have this ubiquitous kitchen staple that is a better and more affordable product than anything on the market," Fora co-founder Aidan Altman told NOSH. "We want to bring a new conception of what the plant-based space has to offer."
Fora co-founders Altman and Andrew McClure told NOSH they were interested in partnering with New Crop Capital and Blue Horizon because of the firms' reputations for being at the helm of the plant-based movement, having invested in brands like Beyond Meat, Good Catch, Kite Hill, Memphis Meats and Ocean Hugger.
The capital will be used to help Fora launch the product line, enter brick-and-mortar retailers and solidify its proprietary supply chain around aquafaba. Fora is launching into Eataly's five U.S.-based stores — its first retailer as of tomorrow. The product will retail for $7.49 for a 15-ounce tub.
New Crop Capital Senior Venture Partner Dan Altschuler Malek told NOSH that the firm was excited by the product's potential and founders' commitment.
"I saw two very energetic, enthusiastic entrepreneurs with a great product that has great potential across multiple distribution channels," Altschuler Malek said. "All the different ways we can think a consumer will use a traditional butter, they can can substitute for a plant-based option with this product. Substitute, not sacrifice for."
Altman and McClure said the brand thought Eataly would be a fitting launch partner because it reaches "foodies" who are willing to pay a more premium price for quality products. However, the company plans to target food service accounts and high-end restaurants before rolling out its full retail campaign in order to build buzz and, hopefully, save money on marketing dollars. The company's earlier kickstarter campaign was also launched as a mean to increase brand awareness, while gaining extra cash.
Despite its vegan origins, Altman and McClure think FabaButter will be welcomed by consumers of all culinary backgrounds. Although some butter alternatives have struggled to connect with shoppers who are increasingly looking for more clean-label items, Altman said that the company's use of aquafaba will differentiate it from brands such as I Can't Believe It's Not Butter and Smart Balance. The success of vegan butters brands such as Myokos Creamery, which closed a $6 million round of investment last year, also helps to prove there is consumer want for these kind of products. Unlike other vegan brands within this category, however, Fora said its use of aquafaba allows for not only the taste and texture of dairy butter, but also a longer shelf-life and higher smoke point (450 degrees) than butter.
"We are not really targeting vegans here," Altman said. "We are really for the flexitarians in the same way that Impossible Foods and Beyond Meat is doing with their food. To sell a product to these people, it has to taste good and it has to function well. We are selling the experience of butter."