Distribution Roundup: Delighted By Brings Dessert Hummus to Over 1,200 Stores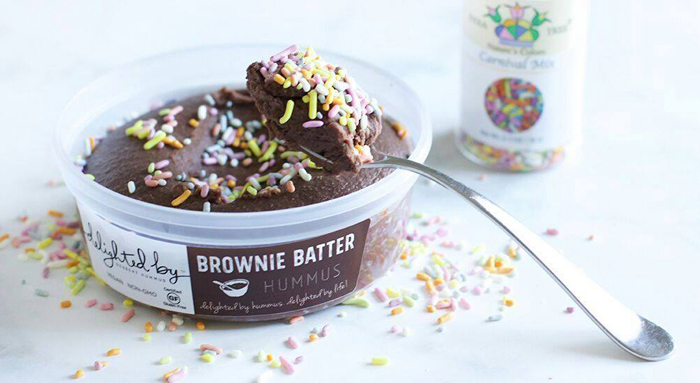 From a dessert hummus company's national expansion, to a low-sugar candy company's seasonal play, here is your latest in distribution news.
Delighted By Brings Dessert Hummus to Over 1,200 Stores
Delighted By founder Makenzie Marzluff told NOSH that it's always been her dream to be the first dessert hummus to hit shelves nationally. This fall, that dream became a reality. The hummus brand is adding over 1,200 stores in the next month, including Stop & Shop and its first national account, Target.
Prior to the growth the brand was in over 3,700 stores including Publix, Jewel Osco, and Wegmans. This fall the brand also launched a seasonal Pumpkin Pie flavor, and a Red Velvet Cake flavor is expected to hit stores in December.
Marzluff added that the company's focus for the rest of the year is to make sure that it supports the current retail partners through marketing and education campaigns that engage with consumers.
"There is a certain level of education that goes into our product and most customers still have yet to try a dessert flavored hummus," she said. "Once a customer is able to try the product and see how functional it is they tend to be repeat customers and that is where we want to focus our energy in the fourth quarter."
Seasonal Treats Brings Growth for Smart Sweets
Sugar and Halloween no longer need to be synonymous, according to low sugar candy maker SmartSweets. The company announced that it has launched new Halloween fun size packs of both its gummies and recently launched Blast Buddies in Whole Foods nationwide, as well as on Amazon and SmartSweets.com
"In a Holiday that is traditionally centred around sugar, we are very proud to be innovating with the message of, 'Hey, you should be able to still enjoy all the fun of Halloween…now there's now a smarter way to do it,'" founder Tara Bosch told NOSH.
The Canadian-based company launched in 2015 with the mission to create a low-sugar gummy that was free of sugar alcohols and artificial sweeteners. Earlier this year, the brand announced a $3 million round of funding and its launch in Whole Foods nationwide.
To stand out from its conventional competitors which dominate promotional plans, SmartSweets has also developed a new interactive feature. For one month, online build-a-box orders will come with a vinyl sheet of stick-ons to allow customers to put a "costume" on their SmartSweets bags — and hopefully share on social media.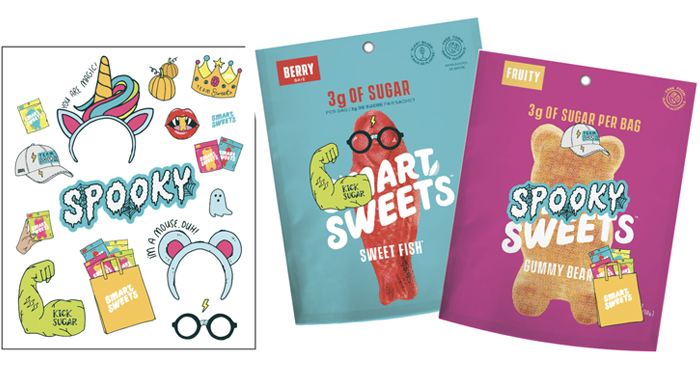 BOU Expands Distribution with Soup Cups
BOU, a better-for-you line of cooking ingredients, is making a move into the value-added space. The company announced earlier this month that it had launched its new line of soup cups in several national and regional retailers including Whole Foods, Sprouts, Wegmans, Jewel Osco, Shaw's and Dave's Marketplace.
The cups — which come in four flavors: classic chicken and noodle, garden tomato and quinoa, harvest vegetable and grain, and shitake mushroom and beef — are packaged in recyclable and microwavable single serve containers. Though they've been on some shelves since a soft launch in August, the cups are now in over 1,500 doors.
"Our plan is to sell the soup cups in both conventional and natural and specialty stores as well as corporate and college campuses," BOU founder and CEO Robert Jakobi. said. "This will allow us to reach a diverse audience across multiple markets."
As for its original line of broth and spice cubes, the brand is introducing miso cubes to the market this fall at Jewel Osco, Safeway/Albertson's and Shaw's.
Feel Good Foods Reaches Millennials with Target Addition
Target is heating up the frozen food aisle by adding Feel Good Foods' gluten-free snacks and small meals to 500 of its locations.
Founded in 2011, the Brooklyn, New York-based brand is sold in 5,000 stores in addition to Target, including nationwide distribution at Whole Foods, Sprouts and Albertsons/Safeway.
"Seeing as the majority of Target's guests are parents as well as the decision makers of their households, Target's clientele mirrors Feel Good Foods' nicely, and we believe that we offer products that Target shoppers will be excited about," Feel Good founder and CEO Vanessa Phillips said. "This partnership also allows us to reach customers we were not in front of previously such a millennials."
The frozen food category has seen volume growth for the first time in five years, much of that stemming from millennial consumers peaked interest in frozen foods as a convenient, "fresh" option.
A Cajun Life Spices Up Seasoning Offerings in New Stores
Premium spice maker A Cajun Life has doubled its store count with new retailers and a new single-serve line of seasonings and rubs.
The brand recently added over 1,000 stores with retailers such as Meijer, Spartan Nash, and Safeway coming online. In addition, the company also began exporting to 200 stores in Canada. The single-serve line — which retails for $1-$1.25 — has particularly driven retailer interest for the brand. The SKUs were originally designed for Dollar Trade, however the brand decided to roll the line out wider in order to drive trial with new shoppers.
"I think the seasonings category has been dominated for so long by one or two big players that customers (and retailers) are begging for something new and different," Chris Fontenot, president and founder of A Cajun Life, said. "Couple that with consumers looking for more and more diverse cuisines largely driven by millennials and their eating preferences, and we slid right into a nice hole in the market."
Other notable distribution news includes:
Kuju Coffee Gains Nationwide Presence: Kuju Coffee is bringing its single-serve pour over brand to REI stores nationwide. The company has also been added to 254 Academy Sports locations. The brand's goal is to provide an alternative to instant coffee for consumers leading active lives.
Red Duck Deepens Whole Foods Distribution: Expanding on its relationship with the natural retailer, the condiment maker will expand from its current distribution in Whole Foods' Pacific Northwest region to Whole Foods stores nationwide.
Birch Benders Wins With Walmart: The brand's best-selling keto-friendly paleo mix will now be stocked in 582 Walmart stores. Prior to this, Birch Benders products were available in more than 8,000 stores including Whole Foods, Sprouts, Ralphs and Safeway. While the brand has some presence in the conventional channel, this addition will deepen its presence in that channel.
Skinny Pizza Lands Conventional Retailers: The clean frozen pizza brand, which launched seven months ago, can now be found Shoprite, HEB and Giant Eagle stores. The brand told NOSH that it has grown from selling 300 units per week to 700 units per week thanks to the new distribution.
Love Good Fats Enters U.S.: Canadian high-fat, plant-based bar brand, Love Good Fats, will make its entrance into the U.S. this January. The brand has been added to Whole Foods stores nationwide, as was announced by the NOSH team from the floor at Natural Products Expo East last month.