Distribution Roundup: Baking Aisle Gets Supernatural, Fishpeople Swims into New Stores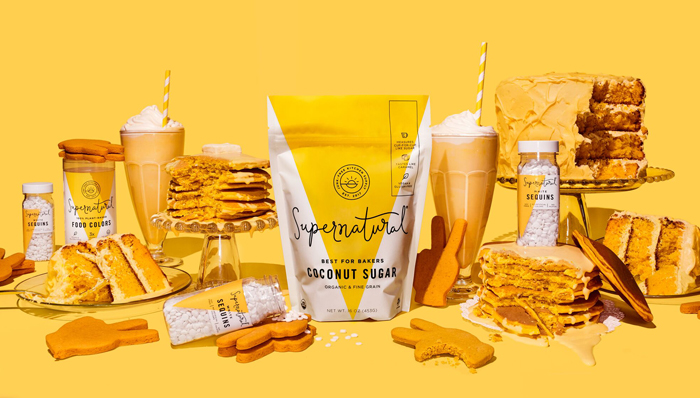 With Valentine's Day around the corner, some of the country's biggest retailers are showing a lot of love for natural brands by adding innovative new products to store shelves.
A Supernatural Exclusive
Tired of having to use artificial colors with questionable ingredients in her baked goods, Carmel Hagen decided to take matters into her own hands. After some wizardry in the kitchen, Hagen launched last month her new baking brand, Supernatural.
The line recently rolled out in all Whole Foods Markets in the Northeast region and on Amazon. It will expand to other retail partners this month.
Supernatural is a a refresh of Hagen's previous line, Sweet Revenge, which had a single SKU of coconut sugar. The new Supernatural line includes plant-based, heat-resistant food dyes, allergen-friendly sprinkles — called "sequins" and "starfetti" — and organic coconut sugar. Currently the company is 50 percent funded via investors and 50 percent self funded.
Hagen, a former Pillsbury Bake Off winner, told NOSH that she created Sweet Revenge as a test of the market and herself.
"When I first left the tech world to start a food company in 2015… I started Sweet Revenge as a very aggressive, real-life way to learn the ropes," Hagen told NOSH. " Starting with a single product was complicated enough to learn the important lessons, yet simple enough to handle everything, from operations to accounting…I needed the foundation before I could pursue the bigger vision."
Hagen believes there's plenty of white space to explore, noting that 99 percent of conventional items found in the baking aisle don't have a natural alternative. The goal is to, over time, create that alternative. That said, Hagen wants to create natural versions of America's favorite bakery items that don't require consumers to sacrifice on fun, flavor or looks. For example, she said, many of the natural food colors on the market turn to a pastel shade once baked. Hagen's food colors remain bright,thanks to their plant-based ingredients such as beets and carrots.
"Chefs know they're only as good as their ingredients," Hagen said. "[These] are the answer to some of my own baking conundrums, and there are so many more ingredients to rethink. We're just getting started."
Ocho Launches New Flavor with Albertsons
Chocolate company Ocho has released its eighth flavor, peanut butter and jelly, in an exclusive launch with Albertsons stores. The new chocolate bar will roll out in the checkout lanes of over 1,500 Safeway, Albertsons, Acme, Vons and Jewel Osco stores.
"Albertsons is pleased to be the very first retailer to rollout OCHO's new PB&J bar," Terry Fowler, National Confections Buyer at Albertsons, said. "We're proud to be a leader in introducing innovative products and is excited to present this original, high-quality organic candy bar to our product mix."
The bar consists of peanut butter and raspberry jam enveloped in a milk chocolate coating. Ocho's other classic chocolate bars and minis are available in dark and milk chocolate and contain fillings of peanut butter, caramel and peanuts, coconut and peppermint,
The Oakland, California-based company's chocolates are currently sold in over 10,000 retail locations including Target, Whole Foods, Kroger and ShopRite.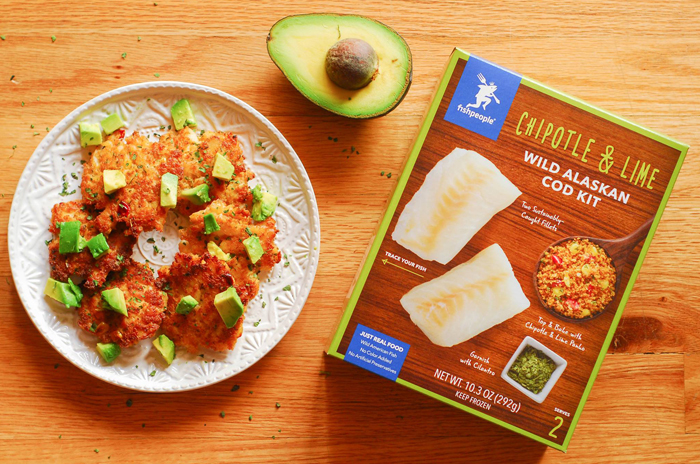 FishPeople Swims into New Retailers
Sustainable seafood company Fishpeople has a few more retailers joining its school. The Portland, Ore.-based company has launched its frozen seafood kits in all West Coast Kroger locations as well as New Seasons and Fred Meyer stores in their hometown. The stores will carry all four SKUs of Fishpeople's dinner kits and merchandise them in the seafood department.
In the first quarter of 2018, the brand will be featured as part of a Sam's Club display of Lent-friendly brands. This will add an additional 650 doors to the brand's distribution.
In total, the brand added roughly 800 doors in the last quarter of 2017, for a total of over 5,000 retail locations.
Better Together Bakes Up Success with Kroger
Better Together Bake Shop, which sells a line of indulgent frozen brownies, has launched into roughly 900 Kroger locations The stores, which are primarily located in the South, Mid Atlantic and Midwest, will carry the brand's dark chocolate espresso brownies, chocolate chip cookie brownies and sea salt and caramel brownies. Each box of five brownies will retail for an MSRP of $5.49.
Better Together seeks to provide consumers with a natural alternative to other frozen desserts such as Pepperidge Farm and Marie Callender's.
Previously the line was sold in under 100 retailers, including some Whole Foods Markets in the Mid-Atlantic region and Mom's Markets.
In the second quarter of this year, Better Together will release its newest flavor, Cake Batter and Sprinkles, which will remain a Whole Foods exclusive until May 2018. The company, said founder Todd Kelly, will also be undertake R&D to determine other lines of products to launch beyond brownies.
In other distribution news:
Explore Cuisine's top four SKU's of bean pasta are now available in over 550 Kroger locations as well as Ralph's and HEB.
Paleo-friendly brand BeeFree is now selling its line of gluten-free snacks in over 200 Jewel Osco stores in Indiana and Illinois.
In the first quarter of 2018, Candy brand Torie & Howard plans to add over 2,000 retail locations for its new stick packs of Chewie Fruities.
Cusa Tea will launch nationwide with outdoor retailer REI in the first quarter of 2018.
Classic Louisiana brand Camellia will launch its line of dried beans in Publix stores in six states as well as in Tom Thumb stores in Texas. The brand recently added all Winn-Dixie locations and HEB to its list of retailers as well.