Creation Nation Wins NOSH Live Pitch Slam 5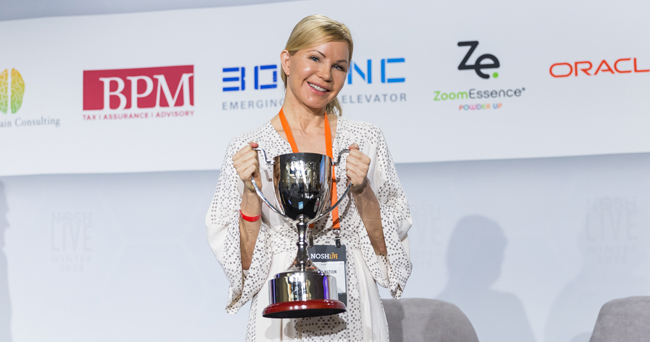 Creation Nation, a maker of no-bake protein bar and bite mixes, emerged as the winner of the NOSH Live Pitch Slam 5 product competition held during the two-day NOSH Live Winter 2018 conference on November 29 and 30 in Santa Monica, Calif.
Creation Nation bested five other emerging better-for-you packaged food brands, including premium granola maker Bumble & Butter, sweet potato snack maker Spudsy, children's non-dairy yogurt brand Tiny Giants, cashew milk cheese brand Kotatsu and Greek breakfast biscuit company Olyra.
Following the competition, Creation Nation founder and CEO Karen Nation said she was still caught up in "all the excitement and the whirlwind" of winning.
Sponsored by General Mills venture arm 301 Inc., NOSH Live Pitch Slam 5 featured leaders from those six participating companies giving three-minute presentations before a panel of judges that included Angie Bastian, co-founder of Angie's Boomchickapop; Bryan Freeman, chief executive of Real Good Foods and managing partner of Slingshot Consumer Partners; Pete Speranza, business development principal at 301 Inc.; and Alexander Duong, chief merchant at The Goods Mart.
Creation Nation sells three flavors of no-bake protein bars — PB & Jelly Get in My Belly, Whey Hip Chocolate Chips and Peas Love & Cocoa — as well as two energy bite mixes — Cocoa for Coconuts and Oat Yes! Chocolate Chip — that can be made at home in minutes.
"We saw an unmet consumer need for that product and how they're filling a gap on both what's currently available on shelves and how they could pretty rapidly scale that business," Freeman told NOSH after the competition.
Freeman added that the judges envision a long runway for Creation Nation as it moves into other functional baking foods.
"They could roll into muffins or actually already made products," he said.
During her pitch, Nation said the brand was born from her own desire to make healthy homemade protein bars. She added that Creation Nation seizes on an opportunity for consumers to customize their protein bars and energy balls to their own tastes.
Prior to announcing the winner on stage, Bastian said the judges considered each product's concept, innovation and competitive landscape in choosing a winner.
"There was nothing else like it in the marketplace," Bastian said of Creation Nation. "You're new but you have so much traction."
Speranza added that Creation Nation's "creativity and conceptualization were second to none."
However, Bastian did offer a piece of constructive criticism, noting that Creation Nation's packaging "needs some help" due to "architectural" issues. But the judges acknowledged that packaging evolution is a "constant process."
Following the competition, Nation told NOSH that she plans to continue to grow the brand's distribution footprint and customer base, while also introducing new flavors and line extensions.
"We want to help people have a better tasting, better quality, healthier experience with their snacking," she said.
In taking the title as NOSH Live Pitch Slam 5 champion, Creation Nation claims an industry awareness advertising package valued at $10,000. The brand also joins past NOSH Live Pitch Slam winners Watermelon Road, TRIBALI Foods, Bronx Hot Sauce, and YuMaMi's Go-Dip Snacks.