The Checkout: It's All About a Good Diet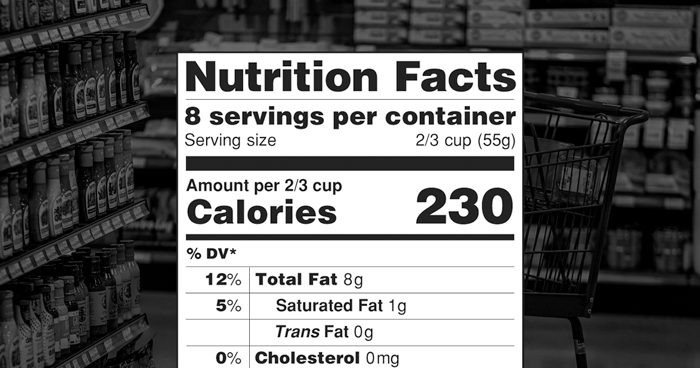 Welcome to The Checkout: an express lane for weekly news you need to know, always 10 items or less.
With the transition from winter hibernation to active summer lives, it's no wonder diet is top of mind. But it's not just consumers who are talking calories, weight loss and better-for-you options.
This week, everyone from the Food and Drug Administration (FDA) to jerky brands and wellness gurus were offering consumers new ways to drop the weight and learn what's in their food.
Get Ready For Calorie Counts
Never wanted to know how many calories are in that slice from the Whole Foods pizza bar? After next week consumers will no longer be able to feign ignorance. Starting Monday, vending machines and chain restaurants, grocery stores, movie theaters and amusement parks with 20 or more locations operating under the same brand will be required to clearly display calorie content for food and beverage items.
After last year's delays under newly appointed FDA commissioner Scott Gottlieb, the "Menu Labeling" rule passed under the 2010 Affordable Care Act will finally go into effect, despite complaints from some industry leaders.
This week in a keynote address at the 2018 Food and Drug Law Institute Annual Conference, Gottlieb told attendees that the FDA wanted to better assist consumers in making healthier choices about what they eat. For the industry, he said, enforcing the rule will create a more competitive marketplace among packaged food companies, restaurants and prepared food options.
"Whether firms are formulating food to be sold at grocery stores for meals people prepare themselves, or for meals served in restaurants, they should have the same incentives to compete on delivering healthy, affordable, and tasteful options," Gottlieb said. "Food producers should have a level playing field when it comes to disclosing the nutritional content of their product."
Nutritional Panel Changes Get Extension
While the FDA may be enforcing new labeling rules for some, it's delaying regulations for others. Gottlieb announced this week that the FDA decided to issue another year-and-a-half extension for food and beverage manufacturers to comply with new nutrition panel rules. Food producers with over $10 million in sales will need to be in compliance by 2020 now and smaller producers will have until 2021.
One of the biggest overhauls to the nutrition panel in decades, the updates include changes to serving sizes, added sugar callouts and how calorie counts are displayed.
The FDA originally proposed the changes in October 2017, but, according to protocol, was required to allow a 30-day period for public comment. After analyzing the 50,000 responses, the administration today published a final decision in the Federal Register. The document not only details what the changes to the ruling are, but also explains why the FDA made these choices — particularly in extending the timeline of release.
"We understand that manufacturers' ability to meet the original compliance date is affected by many factors and that not all manufacturers are able to meet the original date," the document states. "We have determined that additional time would help ensure that all manufacturers covered by the rules have guidance from FDA to address, for example, certain technical questions we received after publication of the final rules."
Modern Pop Takes Investment to Makeover Popsicles
Frozen fruit bar brand Modern Pop aims to make popsicles part of a healthy diet. To support that goal, the brand announced this week that it has closed a round of funding. Investors in the round included Cambridge Companies SPG, Rocana Venture Partners and Steelpoint Capital.
While the ice cream novelty category has seen increased competition in recent years, Modern Pop believes it's use of clean, simple ingredients will resonate with consumers.
The investment will also help the brand increase their distribution, which has now hit 3,000 doors nationwide including Kroger, Safeway, Publix, Whole Foods,and Wegmans.
Big Fork Founder Goes on Jerky "Cleanse"
Forget fasts and juice cleanses. When Big Fork Brands founder Lance Avery wanted to slim down, his mind went to one place: jerky. In April, Avery decided he'd consume up to eight packs of his Big Fork Brands' pork jerky for 21 days or until he dropped 20 pounds — whichever came first.
During this experiment, Avery allowed himself one side of vegetables (under 300 calories) every evening, in addition to coffee, water and a multivitamin. At 100 calories and 11 grams of protein per jerky pack, Avery stayed under 1,100 calories per day. The result: At the end of 21 days the founder dropped 13 pounds.
Goop Shares Secrets to Wellness
While jerky cleanses may work from some consumers, the loyal followers of Goop founder and actress Gwyneth Paltrow will likely stick to juice cleanses and vitamins.
The media property and ecommerce site launched a "starter kit" (or trial box) entitled "How Goopy Are You: Vol 1." While plans for a more regular, subscription box have not been announced, the use of volumes indicates there may be more of these curated boxes to come.
Included in the $325 box are 10 of Paltrow's favorite products, including a selection of powders from juice brand Moon Juice that contain "potent organic herbs, adaptogenic plants, and bioactive minerals." Consumers will also receive GoopGlow Morning Skin SuperPowder, which contains grape-seed proanthocyanidins, vitamins C and E, and CoQ10.