The Checkout: FDA to Hold Meeting About Cultured Food Products
Welcome to The Checkout: an express lane for weekly news you need to know, always 10 items or less.
Whether it's artisanal cheese or lab grown steaks, consumers are paying attention to where their food comes from and how it's made — and the industry is taking note. Here's the news you need to know about new categories, new growth and new endeavors in the natural food industry.
FDA Issues Statement about Clean Meat
Today, U.S. Food and Drug Administration (FDA) commissioner Scott Gottlieb and deputy commissioner Anna Abram issued a statement to announce an upcoming public meeting about "cultured" food products or "products that are intended to resemble conventional meat, poultry and seafood" that are "generally made from cells collected from animals that are multiplied using non-traditional food technologies."
The meeting, scheduled for July 12, will include a discussion of topics such as: manufacturing, food safety, unique hazards that may exist with cultured food products, new control measures, evaluating the substances used in the creation of the products, and labeling.
There has been discussion in the industry as to which federal agency will oversee jurisdiction for these products. Currently, the USDA is responsible for inspection of products made with red meat, while the FDA supervises products made with poultry or eggs.
In the statement, Gottlieb and Abram noted that the FDA already oversees the microbial, algal, fungal cells used in ingredients. Given that history, as a "starting point," both the substances used in the manufacturing of cultured food products as well as the product themselves will be subject to the FDA's "jurisdiction and applicable statutory and regulatory food safety and food labeling requirements."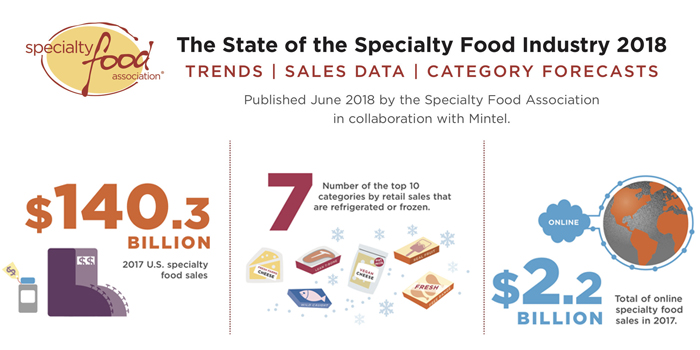 Specialty Foods Association Issues Category Report
Based on this year's State of the Specialty Food Industry report, presented by The Specialty Food Association (SFA) in partnership with research firm Mintel, the future of the segment is looking bright.
According to the report, total sales of specialty food jumped 11 percent from 2015 to 2017, rising to over $140 billion last year along. The SFA attributed that growth in part to product innovation and improved access to of specialty foods.
While 65 percent of shoppers purchase specialty foods, the largest segment was "iGens" — defined as those ages 18-23 — at 79 percent, followed by Millennials — those ages 24-41 — at 67 percent.
In terms of sales of specialty food, the online channel saw the largest amount of growth from 2015-2017, but it is unclear if that is due to more consumers shopping online or more specialty food companies embracing e-commerce.
"The specialty food industry is a business that is constantly evolving," Phil Kafarakis, president of the Specialty Food Association, said in a release. "Consumers of all ages are embracing specialty foods and making purchases everywhere they happen to be – from convenience stores to big box retailers to online, as well as in traditional gourmet shops and groceries.
The top categories that saw the highest dollar growth included refrigerated ready-to-drink tea and coffee, jerky and meat snacks, water, and rice cakes. This array speaks to the opportunities natural and better-for-you brands have within the specialty category as many of these categories are dominated by natural, healthier players.
However, while these categories are largely shelf stable, in terms of total growth, perishable products made the biggest gains. Of the top ten categories by retail sales, 7 contained products that are refrigerated or frozen.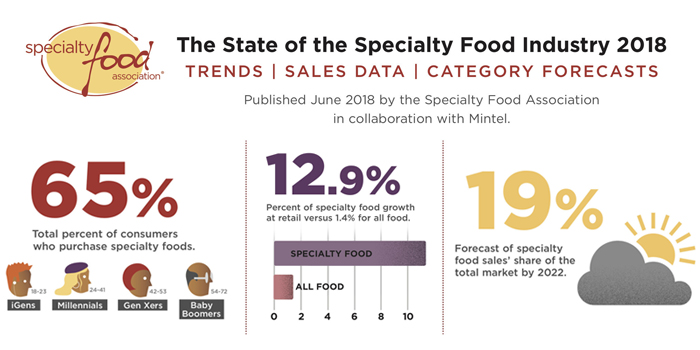 Bulletproof Spins off Labs
Less than a year after launching its "human upgrade center" Bulletproof Labs, performance food, drink & supplement company Bulletproof Foods is spinning the endeavor off into a new organization that will be known as Upgrade Labs. The CEO of Bulletproof Labs, Martin Tobias, will remain on as CEO of the new venture.
The original, and currently only, lab location in Santa Monica, Calif. will retain the Bulletproof Labs name. Although the company has a new domain, www.upgradelabs.com, that currently redirects to the website for Bulletproof Labs.
Bulletproof also currently operates three coffee shops.
Bulletproof closed a $19 million series B round of funding in early 2017 led by CAVU Venture Partners. According to the release, Upgrade Labs will also seek financing.
"With the success of our initial location in Santa Monica and support of the Bulletproof team, we are now well positioned to expand the Upgrade Labs brand, focus on a new mission, and raise new funding," Martin Tobias wrote in a release. "While we now have a new name, we will always be a part of the Bulletproof family."
Smoothie King Partners with Premama
Prenatal nutrition company Premama announced this week that it has partnered with smoothie franchise, Smoothie King, on a line of prenatal smoothies. The smoothie, which contains fruits, vegetables and Premama's prenatal supplement, will be sold in all Smoothie King locations nationwide.
Premama closed a $3.25 million series B round of financing in March of 2017. At the time, the company was expanding into the larger category of "maternity wellness" and adding sku's centered around fertility and lactation.