The Checkout: Chobani Incubator Talks New Food Tech Residency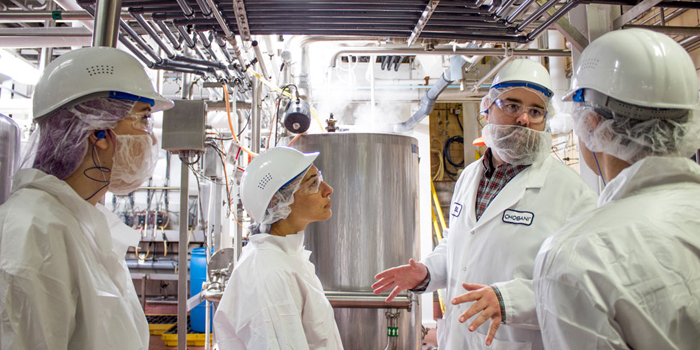 Welcome to The Checkout: an express lane for weekly news you need to know, always 10 items or less.
Brands, retailers and incubators are looking beyond their core offerings and mission to foster innovation. From Chobani's new food tech residency program to new playbooks at major retailers, here's what you need to know in natural food news this week.
Why the Chobani Incubator is Interested in Food Tech
This week, the Chobani Incubator, which previously only open to food and beverage companies, announced that it will allow food tech startups to apply for a residency that will run parallel to the traditional incubator. Food technology companies considered will be working to solve challenges within the food and agriculture supply chain, from waste reduction to food safety, according to incubator director Jackie Miller.
The Food Tech Residency, which will accept up to three companies, will consist of tailored programming similar to the Incubator program — which includes visits to Chobani manufacturing facilities, offices and workshops — and a joint Demo Day for investors and mentors. The fall incubator will run from September to December 2018.
Food tech companies will not receive the same $25,000 equity-free grant as incubator CPG companies, but at the end of the program they will have an opportunity to pitch investors for funding, Miller told NOSH.
"We are obviously eager to support the next generation of like-minded brands, but we also know that there are challenges all along the food value chain – brands are only one part of the ecosystem," Miller said. "As a food maker on the front lines of the supply chain, Chobani wants to give those with technical expertise access to our knowledge, network and resources to build better innovative solutions that can make an impact on food systems at scale."
The addition of food tech companies will not change the size of the upcoming fourth brand class, Miller said. Chobani's most recent incubator class consists of: 88 Acres, Fresh Bellies, Masienda, Noka, Nona Lim, Puffworks, Remedy Organics, TeaRIOT and Wildway.
Walmart (Officially) Launches Concierge Shopping Service Jetblack
Walmart customers will soon have a personal shopper via their smartphones. The retail giant officially announced this week that it's rolling out a new personal shopping service called Jetblack that will allow users to order items over the phone via text message. The startup is being led by Rent the Runway co-founder Jenny Fleiss, who joined Walmart last year.
The platform has quietly been in beta mode in the New York area since December, but this is the first time the company has officially acknowledged its release. Jetblack expanded to more New York users before moving into other U.S. markets, according to Walmart. The company will also be working with third-party delivery services such as Deliv and Uber to boost its supply chain.
Membership costs $50 per month and includes perks such as gift recommendations, free wrapping, speedy delivery and easy returns.
Packaged, shelf-stable snack and food items are included in this service, though Fleiss told CNBC that it won't be able to handle fresh groceries to start. The addition comes at a time when Walmart has been trying to invest in e-commerce to compete in today's changing retail environment. So far, the retailer has also invested in e-commerce by growing its online grocery sales and refreshing its website as of April.
"Our e-commerce strategy has been focused on three elements: nailing the fundamentals, leveraging our unique strengths to play offense and innovating for the future," Marc Lore, Walmart's head of e-commerce, said via a statement. "Powered by conversational commerce, the future of retail will bring convenience and high-touch personalization to the forefront for consumers everywhere."
Food Industry Has Higher Turnover Rate for CEOs Than Ever Before
The food industry is burning through its top level leaders, according to The Wall Street Journal.
Over the past two years, at least 16 major packaged-food and beverage chief executives have stepped down, according to an analysis conducted by The Journal. The deep dive was sparked by the departure of longtime Campbell's Soup Company CEO, Denise Morrison, who retired on May 18.
The leadership changes are a result of years of slumping sales as consumer tastes and preferences have shifted. The top 25 food and beverage companies in the U.S. have continued to lose market share, averaging annual sales growth of two percent from 2012 through 2016, compared with six percent for the rest of the industry, according to the Journal. Old-school food industry vets are also trained to focus on physical stores and not e-commerce, Hershey's Chief Digital Commerce Officer Doug Straton told the Journal.
"It's really hard to burst out of that mindset, including for the CEOs," he said, adding that sometimes a new face at the top can help, as it did with Conagra Brands when the company brought on Sean Connolly as chief in 2015. He has revamped the brand portfolio, moved the company's headquarters and utilized M&A to bring shares up 26 percent.
Whole Foods Expands Amazon Prime Deals
Earlier this week, Amazon announced that it is expanding its Prime Benefit discount program at natural food retailer Whole Foods Market to 12 more states and all Whole Foods 365 Store locations.
Prime members receive an additional 10 percent off sale items,and exclusive weekly discounts on select popular items. Prior to the expansion, Prime member savings and Prime Now grocery delivery was only available in Austin, Dallas, Denver, Sacramento and San Francisco.
Sweets and Snacks Ends in Candy Heist
Last week, a thief got away with over $18,000 worth of candy on the last day of the Sweets and Snacks Expo in Chicago.
While being loaded into trucks around 8:30 p.m. after the event, boxes of Kidsmania, CandyRific and Squire Boone Village were placed in a parking garage, according to The Chicago Tribune. Police said the boxes were unattended when the person stole it. No arrests have been made.