The Checkout: ALDI Focuses on Fresh with Remodel and Expansion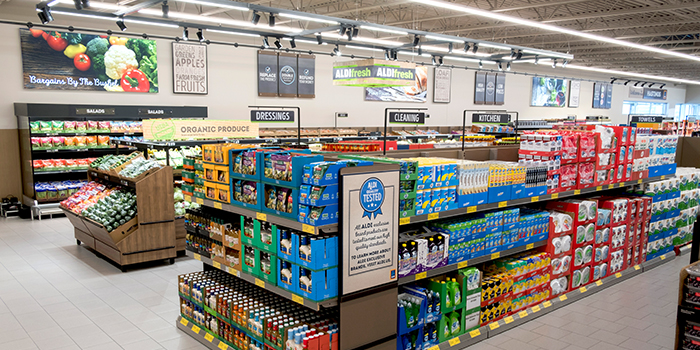 Welcome to The Checkout: an express lane for weekly news you need to know, always 10 items or less.
In the battle to win over new consumers, retailers made some big moves this week. From new strategies with product assortment, to efforts to improve the customer experience, here are some of the top stories you need to know.
Aldi Focuses on Fresh with Remodel and Product Expansion
The retailer best known for its private label brands and low prices is giving itself a facelift.
ALDI announced this week that it plans to spend more than $5 billion to remodel its existing 1,800-plus stores and open 800 new ones. To compliment its new look, the retailer will also put an emphasis on fresh and organic products in order to better meet the needs of today's consumers. The goal of this strategic shift is to become the third-largest grocer in the U.S., with over 2,500 stores by 2022, ALDI said via a release.
As part of this strategy, ALDI will expand its fresh food offerings by 40 percent, with an added focus on convenience.
"The continued success of our store expansion and remodel initiatives has given us the opportunity to carefully select and introduce new products that satisfy our customers' increasing preferences for fresh items, including organic meats, salad bowls, sliced fruits and gourmet cheeses," Jason Hart, CEO of ALDI U.S., said in a release. "We know people lead busy lives, so we're making it even easier for them to purchase everything on their shopping list at ALDI, while still saving money."
The retailer will also add new products throughout the store — particularly its own private label products. By early 2019, every ALDI store will see a 20 percent increase in new items.
The move is an effort to attract a wider range of shoppers beyond the retailer's traditional price-conscious customer. By promoting its specialty and better-for-you brands such as Specially Selected, Livegfree, Never Any!, and Earth Grown, ALDI casts a wider net and becomes a stronger competitor against retailers like Trader Joe's, whose foodie-centric customers appreciate both quality and value.
Kroger Considers Sale of Turkey Hill
Kroger is making a move to cut ties with one of its portfolio brands.
The retailer announced that it will explore a potential sale of its dairy brand Turkey Hill. Based in Pennsylvania, Turkey Hill has nearly 800 employees and is nationally known for its ice cream, iced teas, fruit drinks, and natural frozen dairy treats.
"Turkey Hill's successful and recognizable ice cream and beverage products have the potential for greater growth outside of our company," Erin Sharp, group vice president for Kroger Manufacturing, said via a press release.
The announcement comes soon after the $2.15 billion sale of its convenience store business earlier this year. The company is also reorganizing its priorities toward growing its e-commerce grocery business with the acquisition of meal kit company Home Chef and launch of grocery delivery service Kroger Ship.
Kroger owns 38 food manufacturing plants, including 19 dairies that supply milk for the grocer's myriad of house brands. The namesake Kroger, Private Selection, Simple Truth, Psst… and other brands generate more than $20 billion in sales for the company, according to USA Today.
Walmart to Offer Gourmet Coffee Line
Watch out, Starbucks. Walmart is adding another high-end coffee brand to its shelves.
Walmart announced it will launch Mash-Up, a new private label brand of organic coffee. Produced by Colorado-based Boyer's Coffee, Mash Up blends together coffee beans from different growing regions. It will retail for about $7 a bag, roughly the same price as the Starbucks offerings sold at Walmart.
The addition is a sign that the retailer is responding to the ongoing "third wave of coffee," or rather the increased consumer demand for specialty brands beyond Starbucks. This movement has led even some of CPG's biggest players to plant a stake in the space. In the fall of 2017, Nestle acquired the majority of Blue Bottle Coffee and soon after acquired 7-year-old Chameleon Cold-Brew.
Amazon Brings Grocery Pick Up to Whole Foods
Whole Foods Market announced earlier this week that the Amazon-owned company has launched a grocery pickup program in Sacramento and Virginia Beach. The move is another attempt to integrate both Amazon and Whole Foods synergies, while giving busy customers a new choice in how they shop.
With the pilot program, Amazon's Prime members can order food from the Prime Now app and choose a pickup delivery option. Then, within an hour, shoppers can drive to the designated Whole Foods store, wait in a reserved parking spot and have the groceries brought to their car.
Though the program is only available in two cities for now, Amazon said it will be rolling the offering out to more locations throughout 2018. Amazon already offers grocery delivery of Whole Foods items through Instacart and Prime Now.
Kroger Looks to Entertain Customers with Wellness Your Way Festival
How do you win over a millennial shopper? Given them an experience that they can Instagram. While brands have tapped into this generation with pop-ups, food based "museums" and sampling tours, retailers like Kroger want to be in on the action, too.
Kroger announced this week that it will host the Wellness Your Way Festival in Cincinnati from October 4 to 7 at the Duke Energy Convention Center. The festival is a partnership between The Kroger Company, event and consulting company Inclusion Companies LLC, singer Jewel and beverage incubator L.A. Libations.
The three-and-a-half day event will include some industry-focused programming, but will be largely consumer facing with product demos, workshops, yoga, concerts and film screenings, according to BevNET.
The festival is a play by Kroger to stay relevant to valuable millennial and Gen-Z consumers as the competition among retailers thickens. Retailers like Kroger have been working to emphasise their differentiation with store design, merchandising and overall experience, both in and out of stores.
Kroger will not be the only one able to get valuable face time with consumers. The festival will also include an expo of brands with a positive score in Kroger's OptUp mobile app, which recommends better-for-you products to consumers.
"It's a great opportunity to showcase the emerging side of what these big CPGs are getting into," L.A. Libations CEO Danny Stepper told BevNET. "But it's also a great opportunity for a young brand to get on the radar at Kroger."