Cauliflower Claims Center Stage at Expo West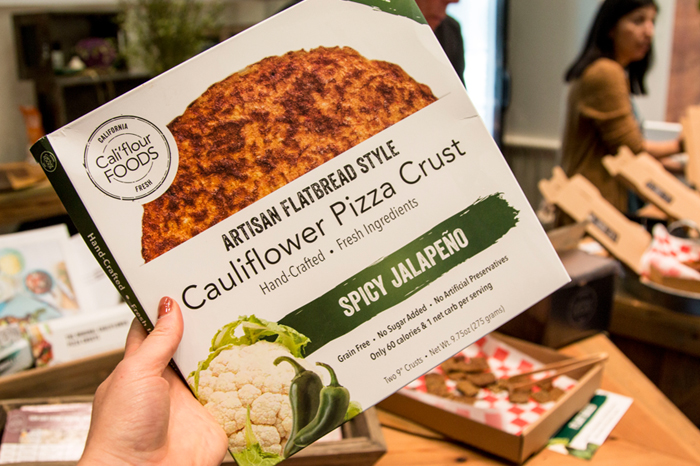 Last year, many Trader Joe's locations had to institute purchase limits on its hottest new product. No, we're not talking about "cookie butter." Customers caught a different kind of craze: cauliflower rice.
Yes, 2017 may have been the year of mashed and riced cauliflower and cauliflower pizza crusts, but for 2018 it seems the cruciferous vegetable hasn't gone away, instead sprouting into other categories. From baking mixes and cooking sauces to chips and crackers, producers at last week's Natural Products Expo West showcased how they are using cauliflower to make nutrient-dense, gluten-free options of some of consumers' favorite comfort foods.
Cauliflower has seen an overall rise in popularity over the last two years. In 2017 alone, the phrase "cauliflower rice" saw a 60 percent jump in U.S. search queries, according to Google Trends. And though data from a December Nielsen webinar found that the category of whole fresh cauliflower is growing steadily at 1.5 percent year-on-year growth — a substantial number– branded and value-added cauliflower grew five times as fast.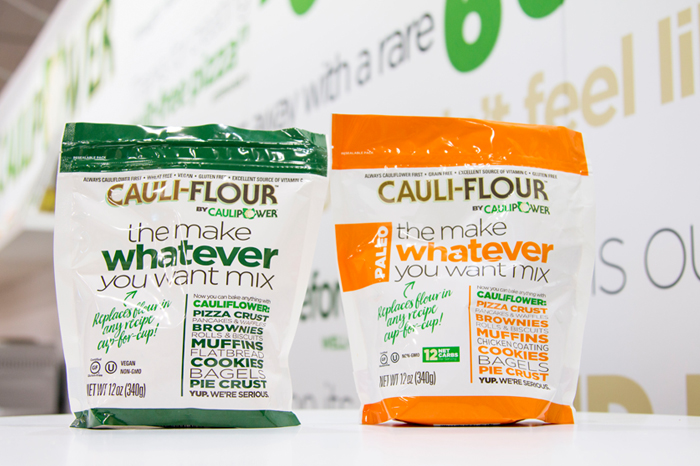 Frozen, gluten-free pizza maker Caulipower has grown from its launch at Expo West 2017. It's now sold in more than than 8,500 stores and raised a $2 million investment from Boulder Food Group (BFG). Riding on this wave of success, the company announced at Expo West its next product iteration: cauli-flour, a cauliflower-first, gluten-free, "do anything" baking mix line, in original and paleo offerings, that can be used to make anything from breads to cake.
"I think cauliflower has two things going for it. One is that it's very on trend," Caulipower founder and CEO Gail Becker said. "[Two], it's such a malleable vegetable from the way it tastes and looks all the way down to its color — white…. It can take the shape and morph into just about anything you want it to be while packing a wallop of nutrition."
The interest in value-added cauliflower products was first sparked online as tastemakers and dieters began to use the vegetable to make low-carb pizza crusts and as a rice alternative at home. But hand-making these products comes at a price: consumers' time. They also required laborious processes involving more pricey cooking tools such as food processors.
To capitalize on convenience, retailers began selling pre-"riced" cauliflower. While some are sold fresh in the produce department, in frozen, brands like Green Giant have also hopped on the trend. The line extension proved so successful that the company expanded the portfolio to other frozen riced veggie blends of cauliflower and other vegetables, along with frozen mashed cauliflower.
While cauliflower rice and pizza crusts originated as a solution for laborious at-home recipes, now brands are seeing consumers request cauliflower-packed items to solve for other needs and occasions, too. California-based cauliflower pizza crust maker Cali' Flour Foods, which has seen a majority of its growth from online sales, announced earlier this month its move into wraps. Cali' Flour Foods founder Amy Lacey said the cauliflower and collagen wrap is in response to consumer requests for a foldable and unseasoned version of its crust.
Even snacking isn't off limits. Some producers have chosen to keep the vegetable's natural look. Fruit and vegetable chip maker Iggy Chips started with watermelon chips, but soon looked to cauliflower because of its potential to parallel the success of other functional ingredients like kale, quinoa and kombucha. Cauliflower chips are now the company's best selling SKU.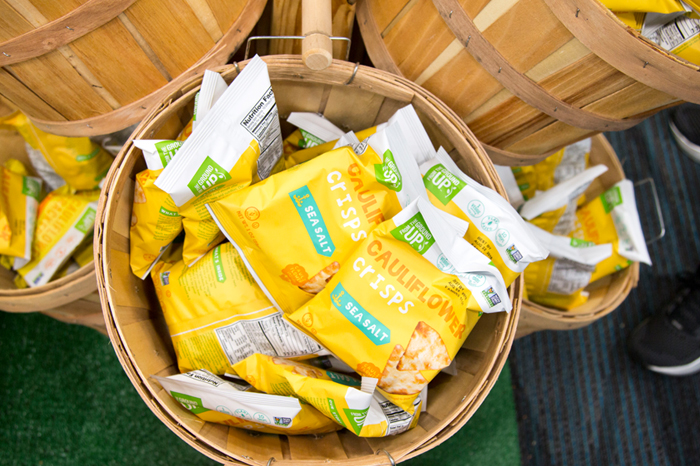 Other companies, like Halen Brands' newly launched brand From the Ground Up, which officially debuted its family-focused cauliflower cracker and pretzel lines during Expo West, are using cauliflower as a secret weapon for parents trying to get children to eat their vegetables.
"What we're going after is giving you that same type of look and feel [as conventional favorites] but giving you the ingredient deck you'd always hoped you'd get out of these snacks," Halen founder and co-CEO Jason Cohen previously told NOSH. "They haven't changed one thing about [pretzels] since the day they were created."
Aside from nutrition, cauliflower's versatility is also a major draw to brands as they look to create natural alternatives of conventional favorites — while still using simple, clean ingredients. Newly launched cooking sauce company Haven Row launched four lines of every-day, vegetable forward cooking sauces at Expo West, one of them being a cauliflower alfredo sauce. Monica Salhotra, Haven Row co-founder and CEO, said the brand decided to use cauliflower in one of its initial lines because the vegetable's naturally-occurring pectin creates a creaminess that proved particularly appealing.
"When you cook it down it gives you this incredible mouth feel that you almost can't get without cream so when we've been sampling this, people are shocked," Allie Shanholt, Haven Row co-founder, added. "That is the biggest benefit that we've noticed."
For being so on-trend and apparently easy to transform, you'd think there would be more cauliflower products popping up all over the market. But its presence is still small and that's because there are some challenges to working with cauliflower. First, the vegetable is limited in supply, making it expensive. This can be tricky for many of the brands choosing to innovate with cauliflower who told NOSH they hope to make products for all consumers, regardless of socioeconomic level, and hope to be competitive with more conventional options.
Cauliflower's brief history in CPG shows that brands that can clear these hurdles will be better positioned to see success. In the meantime, many companies innovating with cauliflower said they hope to see the pizza and rice categories continue to grow, even if its a competitor's product. The hope is that these categories will continue to normalize the use of cauliflower — and eventually all vegetables — in new, innovative formats.
"I think what riced cauliflower and pizza crusts has really done for us is help open the door," Shanholt said. "It's one of those concepts like a rising tide raises all ships. Consumer awareness and how amazing cauliflower is was proved out by those companies for us so I think our consumer had to make less of a leap to cauliflower alfredo sauce because they know cauliflower can be used in other unconventional ways."