Will HPP Birth Baby Food 3.0?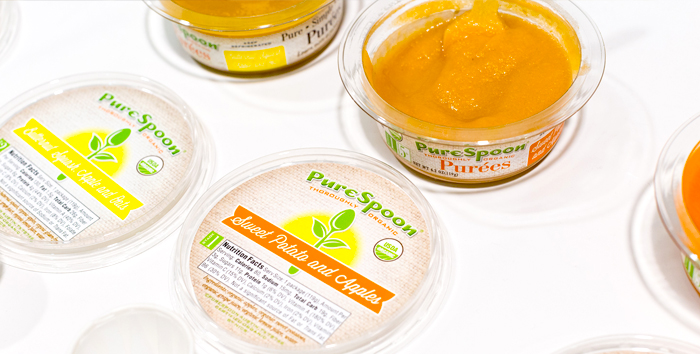 Baby food may be meant for those who crawl, but the category's pioneers are looking to take their first steps to success by embracing advancements in processing technology.
Adults are reaching for healthier options and cleaner labels for themselves, and they're also doing the same for their children. But as grocery continues to adapt to consumer demands for freshness, baby food has been a category more hesitant to embrace these trends — and some emerging companies think it's time for a growth spurt.
Refrigerated baby food brands like Pure Spoon, Once Upon A Farm (OUAF) and So Good Baby are looking to push the category into a "chillier" direction by using High Pressure Processing (HPP) to create extended shelf-life, refrigerated purees with increased nutritional value for consumers' children.
It's been three years since Pure Spoon pioneered the category with its launch into Whole Foods Market coolers, and, though refrigerated baby food is still a small segment, it's growing. Shelf stable baby food brought in over $5.8 billion in 2016 and still dominates natural, conventional and specialty outlet retailers, but it saw about a 1.3 percent decline in 2017, according to data from SPINS, a retail data and research provider. Refrigerated baby food, however, saw 431 percent growth with its launch into the market, going from $57,152 to $303,549 in sales during the same time frame.
The greatest uncertainty surrounding the category is what exactly it will take for HPP purees to become "baby food 3.0" — and if retailers will be willing to invest the time and money to find out.
Similar to refrigerated snack bars, the emerging chilled baby food market is facing some adult-sized challenges. The purees have no consistent home across retailers' limited refrigerated space and are notorious for slow starts in sales, according to brands. Consumers are also confused about what the product is, why it costs almost double than its center-aisle counterparts and how it fits into the convenience sector. Still, Pure Spoon Founder and CEO Alison Eberle told NOSH during Natural Expo West in Anaheim, Calif., in March that she thinks the market is ripe for innovation.
"The baby aisle is stale," Eberle said. "I call this baby food 3.0. The 1.0 was Gerber in the beginning in the 1930s. I think 2.0 was the pouch, but it was still in the baby aisle. This is 3.0 because parents are demanding, screaming for better options."
The Birth of a Category
Pre-made baby food was born in the 1920's with the launch of jarred baby foods from the Gerber Products Company. By the late 19th century the baby aisle was stacked with bins of jars from longstanding brands like Gerber and Beech-Nut. Then came the category's first major shift courtesy of the the early 2000s organic boom, which slowly made its way into baby food. It wasn't until 2008 that the category saw its next disruptor: baby food in pouches. The technology, created by executives at the then-privately held Plum Organics, instantly added a portability factor.
In 2008, the recession that tanked the housing industry and led to a peak 10 percent unemployment rate also took a toll on the baby food industry. A decline in birth rates and a boom in DIY-ers hoping to save funds by trying their hand at making their own baby food led to a more than nine percent sales decline across the industry, according to Mintel. Although the economy began to bounce back, consumers still avoided prepackaged baby foods, but now because of a desire for quality.
Noting this shift, some entrepreneurs saw an opportunity to merge consumers desire for freshness and quality with convenient packaging. Eberle was one such mother frustrated with this hole in the market.
"Consumers are just buying the fruits and vegetables and making it at home, but most people who are doing it, like me, [don't] want to do this all the time," she said. "So the question for me was, 'How do I do what I'm already doing at home and buy it at the store?'"
Eberle decided HPP was the answer. The cold pasteurization technique kills pathogens like salmonella, listeria and E. coli without the use of heat, giving refrigerated products an extended shelf life while maintaining their nutritional value. The on-the-go pouches and flexible tubs used for baby foods are also two of the most common packaging forms for HPP. It's also an easy leap from juices to baby food. So Good So You said its refrigerated baby food brand felt like a natural progression from its line of beverages.
The Market Takes Note
Pure Spoon may have pioneered the category but brands like So Good and OUAF have added to the set of HPP purees. To further this growth, brands have looked to investors to help them scale ahead of the competition.
OUAF, which originated as Mother's Garden before rebranding, has expanded rapidly since its 2015 launch, raising $3.1 million in a Series A round of funding led by Cambridge Companies, with participation from S2G Ventures and Harbinger Ventures. Pure Spoon counts Keen Growth Capital and Veritas Family Partners as investors.
Cambridge Companies COO Filipp Chebotarev said the firm wanted to invest in the emerging category because he thinks "the baby food section is cluttered" and "all of them offer an inferior product."
"HPP, cold pressed baby food like [OUAF] tastes great and does not have the same exposure as heat treated shelf stable brands," he said. "This category is brand new and addressing the lack of nutritional integrity in national shelf stable brands."
Retailers are picking up on the trend, as well. To broaden beyond mainstream brands, Target announced last year it would test coolers dedicated to these alternative HPP labels. Grocery chains like Krogers, Lazy Acres, Shop Right, Bristol Farms and Gelson's have also embraced these new products, incorporating them in various sections of its stores perimeters. Pure Spoon is currently in 300 stores, but this year plans for expand into 500 Walmart locations.
Fairway Markets, which is repositioning itself and evaluating its product assortment since filing for bankruptcy last year, took on the category two months ago. Ron Meinders, Fairway's Organics Senior Category Manager, called the expansion a "no-brainer."
"People are wanting to have really creative flavors and fresh products, but not really wanting to or not having the time to shop for all the individual ingredients," Meinders said. "I've found that the customers here at Fairway are open to new products and are willing to pay more so this category in particular seemed to fit our stores."
Getting Fussy
Though the category is seeing plenty of interest from investors and retailers alike, it's still too early to tell if refrigerated baby food will get beyond its first steps without tumbling. Broker John Maggiore told NOSH he thinks refrigerated baby food still has some obstacles to overcome.
"Ten to 15 years ago, frozen baby food didn't go anywhere for brands like Plum Organic, who pulled the line," Maggiore said. "Before, if you said '"shelf stable,'" people thought it was filled with preservatives, but now those shelf stable brands are all natural and organic, so you can stock up and the quality is the same. So why buy refrigerated when [consumers] can buy that?"
There's also a concern about the HPP technology, which — although used in the food and beverage industry for decades and FDA approved — leaves some customers wary about its safety and ability to fully kill pathogens. So Good Baby Founder Rita Katona and COO Eric Hall said they are working to educate consumers about the safety of their products. The company sends samples of both its ingredients and final products to a third party to test for 45 different contaminants.
"We have a zero tolerance policy, which allows us to say we have the cleanest, safest and most nutritious baby food out there," Hall said.
Consumers also question if they are losing the convenience factor of premade baby food. OUAF CEO Cassandra Curtis says refrigerated baby food is portable regardless of its perception. "It actually can be left out of refrigeration for four hours; we've done stress tests on that," she said. "It can be easily taken on-the-go just like you would take other baby food or your own yogurt."
There's also the issue of clarifying to retailers and consumers where the purees live in stores. Fairway's Meiners said he placed them in the dairy set along with kid's yogurts because children were front-of-mind for the consumers visiting that area of the store. Still, there is some concern among brands that the product's naturally higher pricing creates sticker shock when in a section surrounded by products half its price.
Other retailers are partnering with brands to place coolers into the baby aisle itself. Curtis said OUAF is currently in about 20 coolers, mainly in Kroger locations, but is expected to double that in the coming months. Given that many brands are still in the startup phase, the funds to purchase coolers — a traditional tactic for other refrigerated products looking to scale — just aren't there.
"We are also now seeing stores take the initiative themselves, especially since there are multiple brands out there now trying to do the same thing… With having coolers in the baby food section, it is all automatically disruptive," Curtis said.
Before retailers create a destination for refrigerated baby food, the category's sales will need to improve and those sales are proven to have a longer ramp-up period, numerous brands told NOSH.
"I tell every retailer, 'For the first 30 days, close your eyes,'" Eberle said. "Because not only do the retailers have horrible store execution typically, but also no amount of social media and press is going to be as helpful as that consumer looking at it, taking one or two home and checking it out. If they like it, they come back and start making that switch. But that's a slow process that requires patience."
Baby Steps
To increase retailers' faith in the category, brands are working to build a loyal consumer base both inside and outside of stores.
OUAF is hoping its new refrigerated applesauce line will help expand its customer base and products sold within the category. Curtis, as well as other brand leaders, are also looking to their online sales to introduce customers to their products.
Both OUAF and Pure Spoon offer subscription packages where bulk variety packs are shipped directly to customers' homes. "Moms online are already looking for this kind of product so it is really a low hanging fruit," Curtis said. "They already want it, they already understand it and they can order it one time and not have to think about it anymore because it is delivered to their doors."
The model is sparking some startup brands to solely embrace the door-to-door model and bypass retailers all together. Organic baby food company Yumi launched this year with the premise of delivering healthy, freshly made baby food right to a customer's doorstep — and it's already raised several millions of dollars from investors, according to Fortune.
Regardless of the varying business strategies, Eberle said she is glad to have competitors to add to the set.
"I was being proactive; they are being responsive," she said. "However we get there, we are allowing parents to be able to learn."