Whole Foods Tackles Sustainability With New Sourcing Policy For Canned Tuna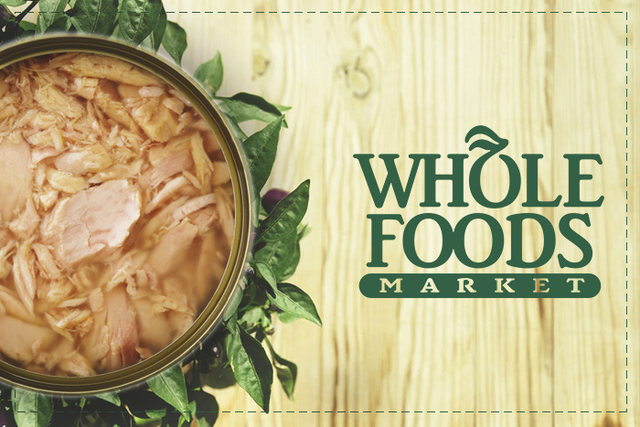 By 2018, brands sourcing their tuna from fisheries using anything other than one-by-one methods will no longer be sold at Whole Foods Market.
Under the new policy, which will be fully enforced by January 2018, all canned tuna sold at Whole Foods must come from fisheries using only pole-and-line, troll, or handline catch methods, all of which take fish one by one. Fisheries must also attain sustainability certification from the Marine Stewardship Council or be rated green or yellow by the Monterey Bay Aquarium and The Safina Center.
"We created this new policy for canned tuna because we want to lead by example in sourcing only the highest quality, sustainably-caught tuna," Carrie Brownstein, Whole Foods's global seafood quality standards coordinator, said in a statement. "Combined with better international fishery management, overfishing and bycatch can be greatly reduced when tuna is caught by these low-impact fishing methods. We are honored to be working with suppliers and partners who are driving positive change."
But the retailer knows a policy is only as strong as its enforcement. As part of the policy, suppliers must also use a traceability software, Trace Register, which tracks each lot of tuna at every point from vessel to can. The data system is intended to help verify the sourcing of Whole Foods' tuna and preventing illegally-caught or unauthorized fish from hitting shelves or its deli offerings. According to Whole Foods, this makes the company the first national retailer to create storewide requirements that span both grocery and prepared foods items. The announcement of the new policy comes less than two weeks after David Pilat, who headed the retailer's global seafood segment, left the company.
Whole Foods said the goal of the standard is to reduce overfishing and bycatch, and to support fishing communities. It's a mission many brands, including Wild Planet, have been working toward for years, already sourcing its tuna from one-by-one fisheries. Founder Bill Carvalho told NOSH that Wild Planet is already fully compliant with the store's new requirements, but that he is pleased to see the retailer raising its sourcing standards.
"Through brand and retail banner consensus, consumers will be aided to understand more clearly what sustainable tuna really is. This alignment combats efforts of those promoting much lower standards, which hijack the sustainable message," Carvalho said in an email. "[Whole Foods] has drawn a clear line allowing no middle ground between pole, troll and hand-line, and FAD purse seining. That is good for clarity."
Fish stock decimation from overfishing is an issue that's been felt globally over the past decade despite calls to allow the affected species to recover. In some areas, bluefin tuna is harvested at triple the levels considered to be sustainable and its population has declined by roughly 97 percent, according to a 2016 report.
Still, it's unclear how increased production costs could affect the retail price of what has always been considered an economical, budget-friendly canned fish option for consumers. On Walmart.com as of 2015, a four-pack of BumbleBee's solid-white albacore cost about $1.50 a can and StarKist's chunk-light tuna about 82 cents, whereas Wild Planet's Wild Albacore reels in about $4 per can. WFM's 365 brand tuna currently retails for just under $2.
Carvalho said he thinks the benefits of sustainable fishing methods are worth the price tag jump.
"Tuna cannot continue to be viewed as budget-friendly and at the same time be ocean-friendly," he said. "We must choose one or the other. It will cost more to catch tuna properly without destructive effects on the ecosystem. But if treating ocean life with respect and sustainable practice means a can of tuna must be increased from 79 cents a can to 99 cents a can, it is well worth the spend in order to leave a viable, healthy ocean for future generations to come."