Tuna
Safe Catch is revolutionizing tuna with the highest end spices from around the world and recipes that satisfy the most selective palates, and cater to its Paleo, Non-GMO and Whole 30 health conscious customers.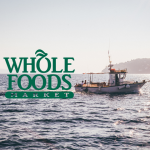 Under the new policy, which will be fully enforced by January 2018, all canned tuna sold at Whole Foods must come from fisheries using only pole-and-line, troll, or handline catch methods, all of which take fish one by one. Fisheries must also attain sustainability certification from the Marine Stewardship Council or be rated green or yellow by the Monterey Bay Aquarium and The Safina Center. Suppliers must also use a traceability software, Trace Register, which tracks each lot of tuna at every point from vessel to can.
StarKist Co., a food company focused on healthy, shelf-stable seafood products in the United States, is proud to announce the launch of five new product innovations that build on their successful StarKist Creations® line of pouch products.