Utz Acquisition Helps Snikiddy Find Its Inner Child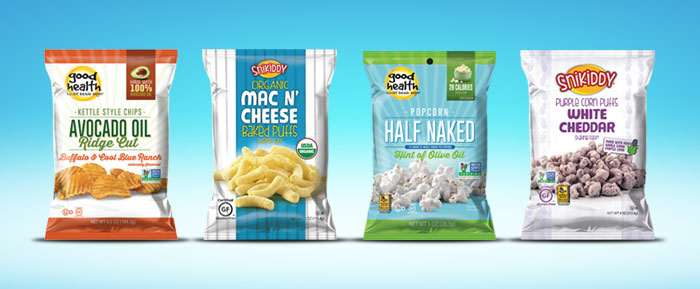 Now under new ownership, but back to the same old purpose: Snikiddy, an 11-year-old healthy snacking brand for kids, sported a new look, new products, and a new focus on organic that have all come to fruition under Utz Quality Foods.
The brand, started by Mary Schulman in 2006, was scooped up by longtime salty snack maker Utz in 2015 and rolled into a specialty division with 2014 acquisition Good Health Snacks.
Schulman has remained a key advocate and voice of the consumer in her new role as VP of Consumer Strategy for Utz, focusing particularly on Good Health and Snikiddy. It's a welcome focus, Schulman told NOSH, as she felt the brand had lost sight of its original goals.
"I founded Snikiddy with the purpose of providing healthier snacks, particularly for the youngest members of the household," Schulman said. "What we did when we came into the Utz corporation was to say 'we're really going to return to this mission.'"
So, for example, the brand's "Eat Your Vegetable" chips, which were aimed at parents, were shifted to be under the Good Health brand two months ago, letting Utz and Schulman instead focus on what matters most to parents: having high quality, premium ingredients and then conveying that message to parents.
At Natural Products Expo West, the brand rolled out two flavors of a new non-GMO purple corn puff, a switch to 70 percent organic ingredients in their baked fries and a total revamp of their cheese puffs to be USDA certified organic.
While the new packaging was designed to relay these changes, it also was just part of what Schulman sees as a constant evolution to stay relevant in the salty snack aisle.
"You'll see in the grocery aisle that all of a sudden all the chips are in white bags. And then all of a sudden everyone goes to black bags. And so on. It's really important to stay on top of what's going to make you stand out as a brand and what represents your brand," Schulman told NOSH. "I think there's always a point in time where you have to think about are you communicating properly?"
Schulman believes that all of the changes were made possible thanks to the brand's acquisition. From R&D access to supply chain assistance to ingredient sourcing, Schulman says Utz's team has been vital to the new products and look.
While Snikiddy may have shown off a facelift at Expo West, one thing Schulman says will always stay constant. "Here's a fact: Everyone snacks."