Taza Dark Bark To Offer 'Indulgence with Benefits'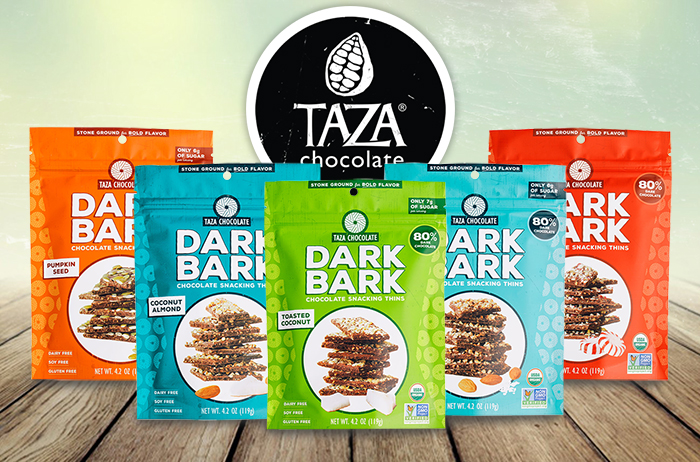 This month chocolate brand Taza Chocolate launched its first snacking product, Dark Bark, in Whole Foods Markets nationwide. The brand will highlight the bark at this week's Sweets and Snacks Expo.
Taza will launch five flavors of the bark (coconut almond, peppermint, pumpkin seed, sea salt and almond, and toasted coconut) in 4.2 ounce bags. While the MSRP of the bark is $5.59, Taza founder and CEO Alex Whitmore says most retailers will have the product on shelves for $4.99.
It's a move into snacking for a brand that has long stuck to other formats. Founded in 2005, the Somerville, Massachusetts-based company has, until now, largely produced chocolate bars and disks, aside from a few runs of chocolate covered almonds. Unlike many other chocolate products on the market, Taza maintains direct relationships with cacao farmers and manufactures all of its products, including the bark, with a unique "stone ground" process.
Whitmore told NOSH that the bark has three unique features: organic certification, inclusions that are layered on top of the bark rather then mixed in and, most importantly, less sugar. Taza's bark only contains 6 to 7 grams of sugar per serving, while Whitmore said many mainstream brands clock in at twice that amount.
"It's made with 80 percent dark chocolate. Our stone ground texture, that unique process of manufacturing that we have, allows us to make darker chocolate that tastes sweeter than it actually is in terms of grams of sugar," Whitmore noted. "Because the sugar crystals are larger, you wind up with a sweeter impact when you eat the product."
Whitmore said Taza chose to use a dark chocolate base and focus on lowering sugar because of learnings from the chocolate bar category. Namely, he said, that while the bar category as a whole has been flat in terms of sales, products that emphasized health "halos" — such as low sugar, or dark chocolate — were still seeing some growth.
The bark is also Fair Trade certified and free from gluten, dairy and soy. To add to the bark's crunch factor, Taza also blending quinoa into the product.
Even with additional certifications and higher end ingredients, Whitmore says Taza is able to keep the price tag comparable to other barks on the market because of the company's relationships with farmers and investment into self-manufacturing rather than relying on a copacker.
While the proof is in the bark's taste, Whitmore also believes that the bark's packaging will be key to any future success.
"At the end of the day, the package has to really sell the product. So we've been investing a lot into developing the package and the artwork on the package and… really conveying that stone ground for bold flavor messaging," Whitmore said.
With the "snackfection" product launch, Taza hopes to attract new customers to its brand. Currently its bars are sold in roughly 3,000 doors and Whitmore believes the bark will hit 2,000 doors by year end. After Whole Foods, the brand plans to roll out the line in other natural, independent and specialty retailers, as well as natural sets in conventional grocery stores.
"I think we're going to be able to be successful in a broader set of the market in terms of maybe household income and I think the reason for purchasing is different because of the form factor," Whitmore told NOSH. "It's that indulgence, but with benefits."