Tastemaker Capital Launches with Biena Investment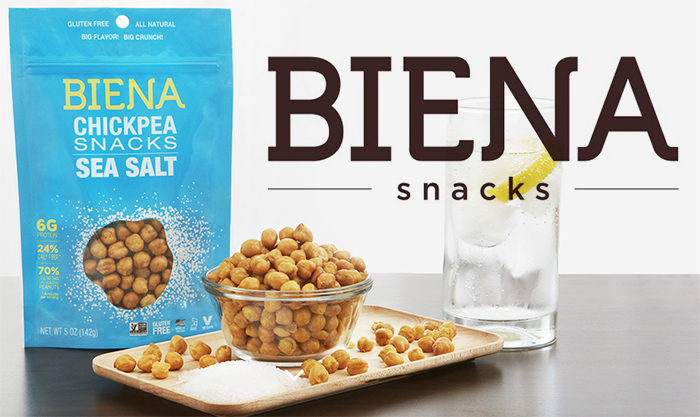 Capital can come in many forms. At some stages, cold hard cash has its role, but some, entrepreneurs are looking to investors who can also bring social capital and strategic advice to their companies.
Darren Rovell, a sports business reporter at ESPN, sought to meet that need when he brought together a group of 25 high net worth investors and family offices to make up his new investment group, Tastemaker Capital Partners. "We're trying to create the greatest value-added investors group that exists," Rovell told NOSH.
The group's first deal, involved a financing round for chickpea snack brand Biena Foods. Like Rovell, many of these investors don't come from the food world, but they are passionate about healthy living, he said. "There are so many people who want to be in food that are on the outside, and we gave them an entry."
Not all of them are, however. While the exact roster of investors has been kept under wraps, power spouses Sara Blakely and Jesse Itzler, the founder of Spanx and the co-founder of Marquis Jets, respectively, are on board. Itzler was an early investor in Zico Coconut Water and several other food and beverage brands. The other investors, according to Rovell, include entrepreneurs, members of boards of directors, athletes, marketers, sports team owners and more.
Rovell, whose beat is the intersection of sports and business, has long been interested in the world of CPG products. In 2005 Rovell wrote First in Thirst: How Gatorade Turned the Science of Sweat Into a Cultural Phenomenon.
"I happen to be a business reporter who covers sports, not a sports reporter who covers business. So the business reporter in me would walk into a store and ask people what was selling," Rovell said. "I'm always looking around."
Although Rovell may be keeping an eye on shelves, he doesn't expect Tastemaker to invest in another company just yet. The plan is to "make Biena great" with each investor providing advice in their area of expertise. Ideally, he said, the group would like to next invest in a beverage. For that round, the pool of investors may grow or shrink depending on each investor's interest in the product and category.
For Biena's founder, Poorvi Patodia, there were plenty of options for investment partners. The company previously had only raised funding from friends and family and over its five years in business has grown from being sold in a single Whole Foods Market to about 9,000 retailers — as well as 6,000 Weight Watchers locations.
An SEC Form D indicated that the round was $3.75 million. Also participating, according to the company, were Blueberry Ventures, Centerman Capital, and New Ground Ventures.
"One of my big realizations going through this fundraise was that there's a lot of excitement in the food space and specifically a lot of investment happening in natural food and beverage," Patodia said. "It's nice that we had significant interest in this round from different parties, but it was just this realization for me that different investors can bring different things to the table.