Report: Small Brands Beat Big CPGs in Innovation
For smaller brands, the food industry is much more welcoming than it was a few years ago: cheaper, electronic marketing avenues, lower distribution costs, startup-friendly retailers and a growing demand for authentic products have all combined to lower the barriers to entry. As a result, smaller, nimbler food and beverage companies are "winning" in innovation– and it's coming at the expense of the established, large CPG firms, according to a report from early-stage investor group CircleUp.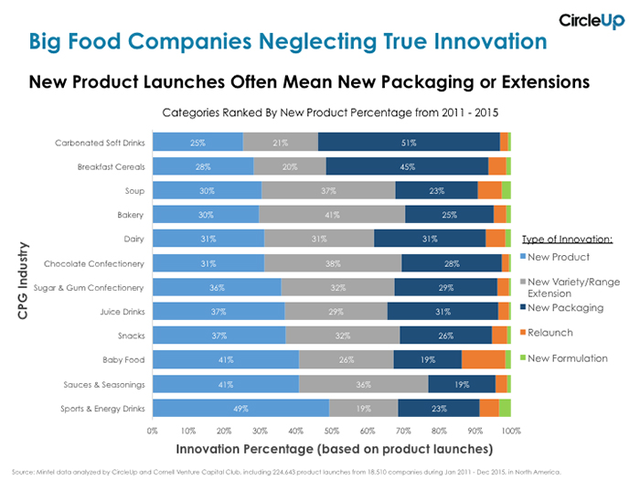 The company found that some of the industry's biggest CPGs spend up to six times more on marketing and advertising of old products than they do on innovation of new products. Of that innovation, only 39 percent of products are actual new products, while the other 61 percent are incremental changes to existing products like new packaging, line extensions, or new recipes.
Ryan Caldbeck, Founder and CEO of CircleUp, told NOSH this old-school way of business is now costing large companies market share. At the same time, however, the industry's smaller brands are able to leverage innovation due to several factors, such as consumers' gravitation toward personalization, a transition from variable costs to fixed costs of goods, and an increased access to capital.
"Consumers want innovative, small brands. That is translating into retailers [and investors] wanting those brands as well," he said. "We are even seeing companies now that are getting to $50 million in revenue in only a couple of years without having to pay a dime in slotting fees. If you talk to any kind of entrepreneur, that wasn't possible ten years ago."
This small business-friendly environment has aided in the rise of companies like KIND Snacks, Caldbeck said. When the brand launched its first fruit and nut bar, the category was considered a crowded place, but KIND was able to identify the holes in product assortment and positioning.
"When KIND bar first came out, they put clear packaging around their product, which, to be frank, was really innovative because it showed [consumers] that this is what real food actually looks like," Caldbeck told NOSH. "You can see the nuts and they're whole. You can see the granola and it's whole, and not nearly as processed as what [consumers had] been eating for the past 20 years. That was the kind of change consumers wanted and now it is a $750 million or billion dollar company."
Now KIND is utilizing both types of innovation, launching completely new products like fruit bites, as well as trendy global flavor extensions like sesame seaweed wasabi and pistachio cardamom fig. The company is also utilizing social media marketing and media, such as The Onion, in new ways, including its "Raise the Bar" contest to select new flavors.
Learning from recent smaller business success stories, such as KIND's, CPG giants are defaulting to either cutting costs or focusing on innovation in an attempt to win back their market share. While the former is cheaper in the short term, it's a "race to the bottom," according to Caldbeck.
"You can only cut costs so much until there's nothing left to cut and you're still left with the same products that consumers aren't gravitating toward," he said.
To solve this dilemma, some strategics are turning to M&A to acquire new brands rather than developing them in-house. Recent years have seen General Mills bring on both Annie's and Epic, Hormel acquire Justin's, and Unilever purchase Sir Kensington's.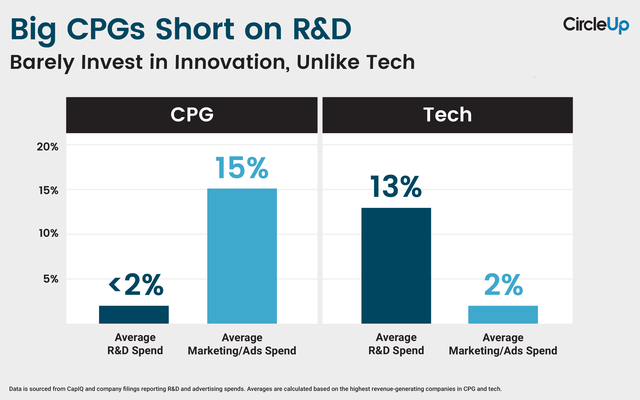 Caldbeck said that while M&A can be one path to success, he thinks food should also take a page from tech companies' innovation notebooks and seek consumer feedback frequently.
"[The tech world] is famous for A/B testing. When they put a product in front of the consumer, and they get feedback on that every single day," Caldbeck said. "In food, you often see someone launch a product, then do a giant consumer survey 12 months later, and then do another 12 months after that. The iteration cycles are so much longer now and that makes it hard to learn."
Caldbeck added that innovation is vital for progress, as well as long term business and industry survival.
"Imagine if Apple was still selling the same computer 20 years later. It's ridiculous, but that's exactly what's been happening in food," Caldbeck said. "Let's look at what innovation actually is right now. We're going to add cranberry to our granola… that's the equivalent of changing the color of your case for your iPhone."