Report: Conventional Outpaces Natural In Specialty Growth
Convenience is king in the food industry for more than just product lines and packaging.
Retailers like Ahold, Kroger, Walmart and Target have been increasingly filling their shelves with more trendy natural and specialty options for consumers seeking the convenience of a one-stop shop. The retail giants are trying to keep pace with today's flourishing food culture — and it's working, based on the specialty food industry's 2016 sales.
Specialty represents nearly 15 percent of all food sales at retail, and, for the first time, this sector's sales in multi-unit grocery and mass merchants outpaced the growth of sales in natural and specialty chains, according to the Specialty Food Association's annual State of the Industry report released Wednesday.
"Consumer preferences for specialty food products are growing at double digits, outpacing mainstream food staples," Phil Kafarakis, president of the Specialty Food Association, said in a statement. "The products our members create appeal to consumers looking for authentic tastes and foods with fewer and cleaner ingredients."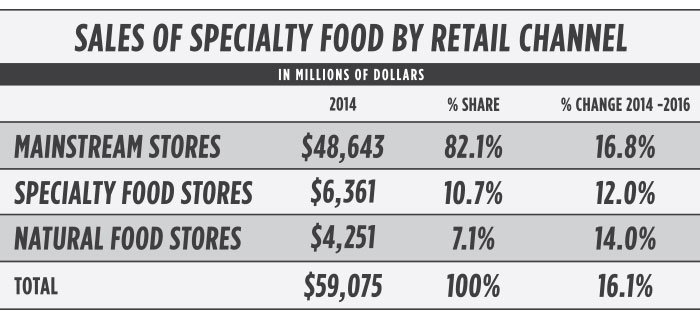 Millennials are thought to be driving this trend, buying specialty foods wherever they tend to shop out of convenience. To meet this demand in new markets, the report found that 70 percent of distributors plan to expand their specialty-food product count in 2017.
Specialty food companies also took a step into the snacking market in 2016. Snacks now account for about 28 percent of the total specialty food market's $127 billion in sales in 2016, the report found. That's a 15 percent jump over a two-year period.
Of the 13 snack segments represented in the report, about half experienced growth of more than 20 percent, with jerky and meat snacks as the leading category. During Wednesday's presentation, Sally Lyons Wyatt, Executive Vice President and Practice Leader at Client Insights, said snacks that embrace the balance between better-for-you and indulgence are also seeing a positive response from consumers.
"They aren't mutually exclusive anymore, they can overlap a little," Wyatt said. "There's a lot of tailwind especially for full fat dairy."
Generation Y seems to be the driving force behind this growth, too. A new national study by Amplify Snack Brands and the Center for Generational Kinetics found that better-for-you snacks are becoming more widely available across the country because of their appeal to millennial consumers. The study suggests that as brands continue to break release products with more affordable price tags and meet the universal taste appeal as conventional products, the market will only continue to grow in its appeal to conventional retailers with nationwide presences.