Rampolla to "Work For Free," Joins Beanfields as CEO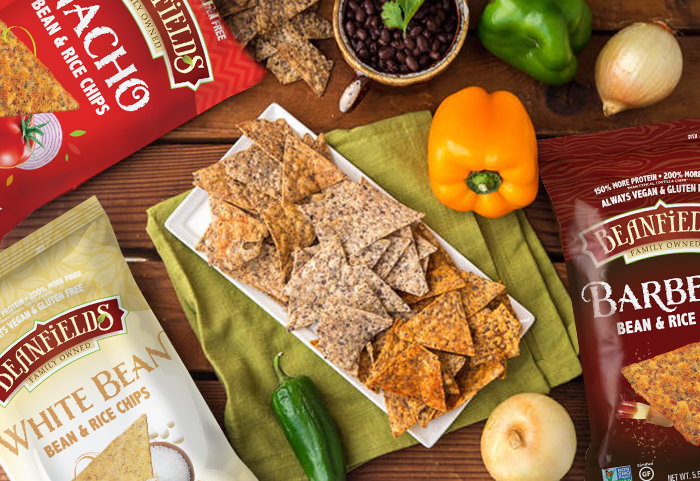 What do you do once you've sold your beverage brand to Coca-Cola for millions, written a book about the experience, started a new plant-based investment fund and helped reinvigorate a trendy brand? If you're Mark Rampolla, the answer is you take a job for free.
Today Beanfields Snacks announced Rampolla — already an investor in the company — will be joining the company as CEO but draw no salary in the role.
The move represents a career shift for Rampolla, who has spent the last several years as a managing director of PowerPlant Ventures, the plant-focused fund that owns roughly 20 percent of the pulse-based snack brand. While Rampolla still will hold this title at the venture group, PowerPlant's Fund One is fully deployed — leaving him with time to focus on Beanfields.
"[The PowerPlant founders] decided as a team, before we dive in and assume we want to or have the right to do further follow-on funds, we're diving in to help our companies," Rampolla told NOSH "At least for some indefinite period of time, [we're] not looking at any new deals."
Beanfields executives, including its current COO and chief commercial officer, will remain in place at the company. When PowerPlant first announced its relationship with Beanfields and a relationship with nonprofit Homeboy Industries, the initial plan was to have a co-executive team in place of a CEO.
But, said Rampolla, his own excitement for the brand motivated a change in strategy.
"I'm in the very fortunate position where I can do this," he said. "I looked at this opportunity and in addition to building a really fantastic brand and believing in the business, I really do want to see this work for Homeboy. It was just one of these moments where it's like 'I think this thing could be huge and I want to make sure it works.'"
By not drawing a salary, Rampolla said any benefit or success he brings to the company is more of a bonus and he has more freedom in the role both in terms of company direction and maintaining work/life balance. He plans to stay in the role until at least the end of 2018 but more likely for at least two years.
Rampolla previously served as CEO of another portfolio company, Hail Merry, but that role was simply as interim CEO and lasted for only roughly six months. He said that experience taught him that plant-based foods are mainstream and there's no need to stay small and narrow with retailers and distribution.
Rampolla has been personally and financially invested in Beanfields for some time. He originally had invested on his own in the brand, but sold those shares once PowerPlant invested in order to avoid any potential conflicts of interest.
His personal shares went towards a round last month consisting of top food and beverage veterans including: Aaron Enrico, co-founder and Principal of Black Bear Partners, Chris Hunter, co-founder and CEO of Koia, James Brennan, co-founder of Suja Juice and Enlightened Brand Ventures, Jesse Itzler, co-founder of Marquis Jet, Mike Kirbin and Ira Liran, co-founders of Vita Coco, Seth Goldman, co-founder of Honest Tea, and the founders of Thrive Market, Gunnar Lovelace, Nick Green and Sasha Siddhartha. Also taking part in the round were distributor Big Geyser and investment firm Range Light.
The latest pool of investors has committed at least 10 percent and up to 50 percent of their potential future gains from the investment to non-profit Homeboy Industries, which provides training and support to formerly gang-involved or incarcerated men and women.
Rampolla said he's deeply motivated by the investment structure, and he sees Beanfields as a way to leave a legacy in shaping conscious investing.
"Part of this is that I'm never going to compete with becoming a multibillionaire," Rampolla said. "I'm not going to compete on starting seven beverage businesses like Lance Collins. But this is an area where I think I can contribute something unique and perhaps do something that's special. I'm a competitive guy and this is just competing in a different way."
The company's focus on social justice and conscious capitalism doesn't mean Rampolla isn't thinking about investors' bottom lines. He said he knows investors expect to make a return on their investments and eventually that means Beanfields either needs to be profitable or will have to explore a sale to a strategic partner.
Rampolla said that making Beanfields monetarily successful would prove out a model of conscious capital and investing. "I want to deliver such great returns on investors that the next time we do this it's a no brainer," Rampolla said. "So people are like, 'Oh so I can make four or five times my investment and give away 10 percent? I'll do that all day long.'"