Processing Leaders Launch New HPP Council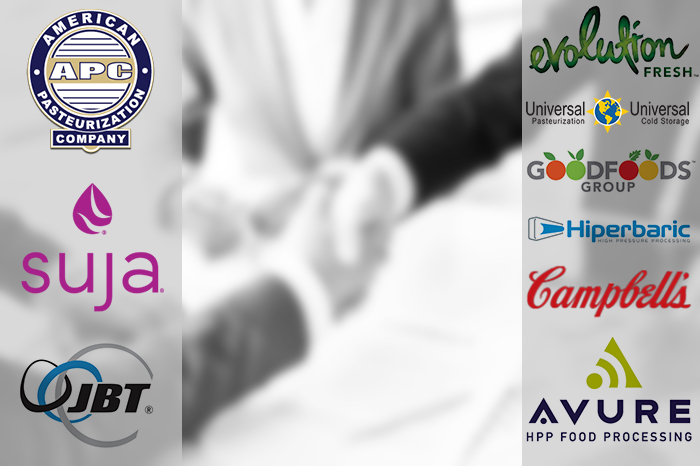 High Pressure Processing (HPP) has long been the hero of deli meats and, as of late, has become the innovation engine for a variety of beverage types. But a newly established trade group wants to push the technology beyond your turkey sandwich and green juice.
The HPP council, known as the Cold Pressure Council (CPP), will hold their first meeting Wednesday at the annual Pro Food Tech trade show in Chicago, Illinois. The group's mission is to advocate for the advancement of HPP as a critical technology in the food and beverage world for processors, brands and consumers.
The Association for Packaging and Processing Technologies (PMMI) announced the formation of the industry group earlier this month. The council is comprised of eight founding members, including processing and HPP leaders like Avure Technologies, Suja, Campbell's, Evolution Fresh and Good Foods.
HPP is a cold pasteurization technique that submits food to 87,000 pounds of pressure per square inch to kill pathogens like salmonella, listeria and E. coli without the use of heat, allowing food manufacturers to extend the shelf-life of refrigerated products without reducing its nutritional value or wavering on their commitment to safety.
Jeff Williams, President of Avure Technologies and a founding council member, told NOSH that the technology has been around for decades, but investments in science and efficiency have now made HPP available for companies of all sizes, spanning categories like juice, salsa, hummus, dressing, prepared entrees and even baby food.
"We don't view it as new or novel anymore," Williams said. "This has been used in commercial production for over 20 years, but now certainly the awareness level of it is improving. One of the challenges HPP faces is that there are huge consumer brands that have been using this technology for a long time, but they don't actively promote or market that. They don't discuss whether they've HPP'd a product any more than they'd discuss whether it was irradiated or heat processed."
As more players enter the space, Williams said the council is dedicated to making sure the technology adheres to safety standards by educating processors and brands about advancements and best practices in HPP.
"Obviously, when it comes to food safety and plant safety, none of us want anyone taking any short cuts, but for this technology first, selecting for the right application is important," Williams said. "Take hummus. For your basic most common form of hummus, it is a fantastic process. It is widely used. But there's other types of hummus with toppings, etc. that [HPP] is not as good or safe a process [for] because of what happens with packaging and the intermixing of contents within that package."
To aid industry leaders needing to understand the idiosyncrasies of HPP, the group is first working to formalize a guide of industry best practices. Once released, the council will also launch an HPP verification system, in which HPP products will receive a packaging seal after being certified as safe by an independent third party. Williams added that once the group gets past its formative goals, they also plan to work on consumer education messaging and global scaling initiatives.
Many companies have been hesitant to embrace HPP in years past due to the expense, as the equipment, which can be about the size of a minivan, costs millions of dollars. Using the machine adds to the expense because the food must first be sealed in the flexible plastic tub or bottle that goes to the consumer because HPP is a batch, rather than continual flow, process. But Williams said recent advancements have made the technology accessible to more than the CPG giants.
"As with all things, technology over time improves so lots of people invested a lot of money into machine developments and on the science side," Williams said. "The machines used today have a much higher capacity than they ever have in the past and that has radically changed in the last three years so that is enabling the HPP process to keep up with production lines better and better. And as the machines become faster and have more throughput that is helping to bring down the operating costs on it as well."
Williams said the council needs to focus on building a North American membership where HPP advocates can openly discuss both the successes and challenges of the technology. The group has yet to define membership categories and fees, but is scheduled to do so during this week's first meeting at ProFood Tech, which will draw 6,000 of the industry's processing professionals.
"We encourage show attendees to take the time to learn more about the benefits of HPP and get involved in this new Council," Mark Duffy, CEO of Universal Pasteurization Company LLC and Universal Cold Storage, and founding member of the council, said in a statement. "We look forward to an open exchange of ideas and best practices among industry professionals interested in this technology."
Council membership registration is expected to open shortly after the trade show — and Williams thinks the group will see plenty of interest. Refrigerated products have seen about 15 percent growth each year, with beverage and protein liked sliced deli meats being two of the largest sectors. Other categories that may be a fit for HPP like seafood, dips and spreads, and ready meals and meal kits are also seeing a steady growth in popularity. Still Market projects the HPP technology market to reach $600 million and the market for high pressure processed foods to reach $12 billion by 2018.
"We feel fortunate to be in the market that we are and with all the consumer trends driving toward healthy, clean label, organic, etc. HPP is just a fantastic enabler to allow companies to achieve those consumer desired traits," Williams said.