Premama Raises $3.25M to Birth Maternity Wellness Category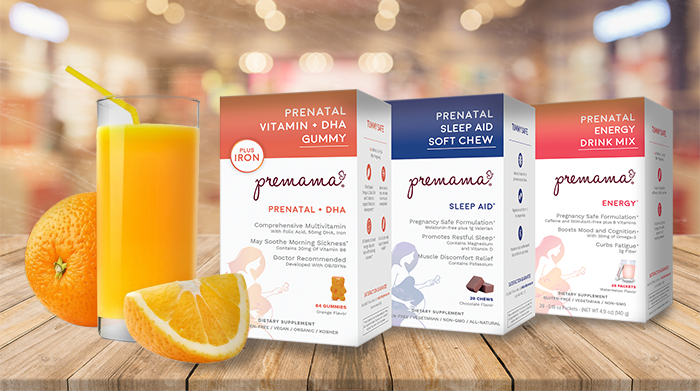 Just as parenting is a capital and labor intensive endeavor, so too is raising a brand — especially one experiencing a growth spurt.
Last week prenatal nutrition company Premama announced the official close of a $3.25 million Series B round in March of 2017. In total, the brand has raised $4.65 million over the last 18 months. The Series B round was led River Hollow Partners, while Series A lead investor Cherrystone Angel Group also took part.
"The more we looked at the market and how Premama was seeking to disrupt an existing category in prenatal vitamins, and evolve into a new, broader category of Maternity wellness, we knew we wanted to be a part of it," Charlie Baynes-Reid, Partner at River Hollow told NOSH.
Premama products a line of fertility, prenatal and lactation supplements designed for mothers. The company was founded in 2011 and has grown to include eight SKUs, including drink mixes, gummy vitamins and vitamin chews.
President and founder Dan Aziz told NOSH that the need for another round of capital less than two years after its Series A was prompted by the brand's recent retail growth. Premama raised their Series A in September 2015 in order to help support its launch into 2500 CVS locations. Yet the company soon expanded to be in 8000 retailers, including 1,500 Target locations as of April 2017.
"The funding needs for marketing correspond to the increase in points of retail distributions and also in terms of increase in total number of SKUs we're selling and also the need to grow the team to support all of that," Aziz said. "As we're adding more products, as we're adding more retailers, there's obviously a lot more to stay on top of."
Over the past year, Premama also expanded their product line beyond prenatal care to lactation and fertility support. The company, Aziz said, hopes to be with women for every step of the maternity journey, from trying to conceive, to pregnancy, and on to breastfeeding. He added that these these additions have strategically increased the value of each customer without increasing marketing cost.
"When we were just in powdered prenatal… we just had the customer for just seven months," Aziz said. "So the first SKU's we expanded to in 2015 [targeted] fertility and lactation, which expanded our customer lifetime value from seven month period to a 24 month period and drastically increased the actual dollar value because they could be buying multiple products at once."
Adding products also is a way to continue to grow sales at retailers, such as GNC, where the line is already chain-wide.
Going forward, Aziz says the company plans to continue to focus on growing in grocery and mass chains, as well as increase sell through with existing consumers. The majority of the funding, roughly two thirds, will go towards marketing while the rest will be used for inventory and growing the brand's five-person team.