People Moves: Blue Apron Adds Hirshberg, barkTHINS Staffs Up
Some of the food industry's most influential leaders are switching up their rosters. Here are the latest players to slide into new roles.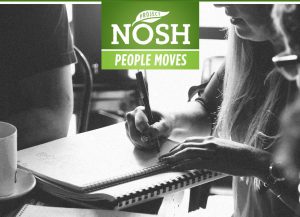 SmashMallow Hires Stephanie McGregor
The former Director of Marketing at barkTHINS will be snacking on a different kind of sweet treat at her newest gig. Stephanie McGregor joined SmashMallow, a snackable marshmallow brand, as the Vice President of Marketing earlier this year. Her hire marks SmashMallow's first brand specific hire, and not an addition to its incubator, Sonoma Brands.
While at barkTHINS, McGregor led brand strategy, field marketing architecture and execution, public relations and digital strategy, and optimization and development of the brand's first integrated marketing campaign. A statement from SmashMallow noted it was her work that helped better position the brand for acquisition by the Hershey Company last April.
McGregor is not new to the startup space. Prior to her position at barkTHINS, McGregor worked as the customer marketing director for Krave Pure Foods and the Regional Marketing Manager for Popchips, and under SmashMellow CEO Jon Sebastiani as Customer Marketing Director for Krave Pure Foods.
Hirshberg Joins Blue Apron's Board of Directors
Meal-kit delivery giant Blue Apron announced today it has appointed Gary Hirshberg, chairman and co-founder of yogurt brand Stonyfield Farm, to its board of directors.
Hirshberg co-founded Stonyfield in 1983, serving as the company's CEO for 28 years. Under his leadership, the yogurt producer grew from a seven-cow organic farming school to a category leader with $370 million in annual sales, according to the company.
Matt Salzberg, co-founder and CEO of Blue Apron, said in a statement it was Hirshberg's commitment to sustainability that made Blue Apron excited to offer him the role. Salzberg hopes his addition will "provide critical strategic guidance" to develop the company's farm sourcing and to reduce its environmental footprint.
For Hirshberg, the decision to join was based on a desire to help "close the gap between consumers and the source of their food."
"I've been a Blue Apron customer for some time and have been deeply impressed," he said in a statement. "Because of the company's direct relationships with customers, I truly believe that Blue Apron has a unique opportunity to engage and educate people about the importance of how their food is grown and have a meaningful impact on today's food system."
Hirshberg will be joined by Tracy Britt Cool, CEO of Pampered Chef, who was also added to Blue Apron's board of directors.
Highland Consumer Partners Signs on FAGE's Former Head of Marketing
Highland Consumer Partners announced last week that its firm has brought on FAGE's Russell Evans as an Operating Partner.
The private investment firm, which provides equity capital to lower middle-market companies in the North American retail, consumer, and services space, said it was looking for a "brand builder and champion" with the "ability to build long term consumer relevant brands that are in a class of their own" — and that Russell fits this need.
"The addition of Russell emphasizes the Highland Consumer Partners model of marrying operating and investing expertise to help scale growth-stage companies," Peter Cornetta, Managing General Partner with Highland Consumer, said in a statement. "We believe it is an excellent time to consider further investments in the consumer products and food sectors and Russell will be instrumental in advising us in this pursuit."
Evans is considered a brand marketing expert in the industry for having worked as a consumer products executive at Gillette, Duracell and Dole. As Director of Marketing for FAGE USA, Russell oversaw and lead the brand's marketing programs, including the "Some People" TV campaign and the FAGE Total Plain Kitchen. While at Dole, he served as the Senior Marketing Manager for North America for the company's packaged salad division, leading major segmentation and rebranding of the line.
Equity Investor TSG Recognizes Leadership With Recent Promotions
TSG Consumer Partners invested in two of its team members last month. The strategic equity investment group that has worked with high-growth consumer brands like thinkThin, popchips and Muscle Milk promoted both Dan Costello and Michael Layman to Managing Directors.
Costello joined TSG in 2007 and has worked with brands like Yard House and Stumptown Coffee. Layman's portfolio skews more toward retail, working with partner companies like Planet Fitness and e.l.f. Cosmetics.
happy egg co. Hatches U.S.-Based Management Team
Free-range egg company happy egg announced earlier this month that it is transitioning its executive management team to help the company tackle its U.S. market expansion and industry growth plans.
Neil Turpin, General Manager; and Kristin Herzog, Chief Marketing Officer, were both named to the executive team. Former team leaders David Wagstaff, Jen Danby and Jon Hayman will stay on for a period of time to ensure a seamless transition, according to the company.
"Since the beginning, the happy egg co. leadership team has been committed to hen welfare and implementing an industry model that supports higher farm animal welfare practices, sustainable farming methods and supply chain transparency. Following five years driving this fast paced launch into the US and delivering strong brand growth, it is now the right time for a new team to continue driving the business forward," Wagstaff noted in a press statement. "The new leadership team is poised to achieve success through the next phase of growth."
With this change in leadership the company hopes to focus on on a strategic direction for future investments, as well as a marketing strategy that better educates consumers on what it means to be free-range.
Healthy Food Ingredients Creates New Position For Joni Huffman
Healthy Food Ingredients (HFI) added a seasoned ingredient supplier veteran to its team earlier this month with its hire of Joni Huffman for the newly created role of Vice President of Domestic Business Development.
Huffman's 20-plus years of experience is grounded in the development of ingredient sales. Before HFI, Huffman served as the Director of Specialty Sales for Ardent Mills and Director of Business Development at ConAgra Mills.
"We are excited to have Joni join our team with her expertise and knowledge of the specialty ingredient industry," Jay Johnson, HFI Senior VP of Sales, said in a statement. HFI is best known for its non-GMO, organic, certified transitional, gluten-free, and identity preserved pulses, soybeans, grains, seeds, flax and expeller oils. Its signature products includes Suntava Purple Corn and AncientGrisps.