NOSH Voices: Why Small Deals Are a Big Deal
About the Author: Jake Cabala is the Head of Institutional Business at CircleUp, an investment marketplace providing capital to innovative, early-stage consumer brands. Before joining CircleUp, Jake spent 12 years in the financial services and private equity industry. He was a Managing Director at Park Hill Group, a former advisory division of Blackstone. Prior to Park Hill Group, Jake spent 3 years at Lehman Brothers covering institutional clients.
If you can't beat 'em, buy 'em. That is the emerging mantra for big consumer and retail players.
It's no surprise the 2016 M&A results reveal interesting trends, not the least of which is the inclination of big players to buy much, much smaller competitors.
When you glance at the numbers, it appears the consumer M&A market took a dive last year. The total dollar value of consumer deals plunged in 2016 by almost 50% from 2015 after several years of steady growth, according to PWC's annual consumer and retail M&A review.
But a closer look shows that's just a lull in mega deals. Perhaps more importantly, we see the total number of individual deals in 2016 shot up by almost 50%. This beg the question of what's happening in consumer markets for investors and businesses?
Small Scale Business = Big Scale Threat
One thing is abundantly clear: there is a buying craze of early-stage, innovative consumer brands. In 2016, there were 229 very small M&A deals average of five per week. The number of sub-$50 million deals increased 42%, and the number of deals in the $50-100 million range jumped 53% from the previous year.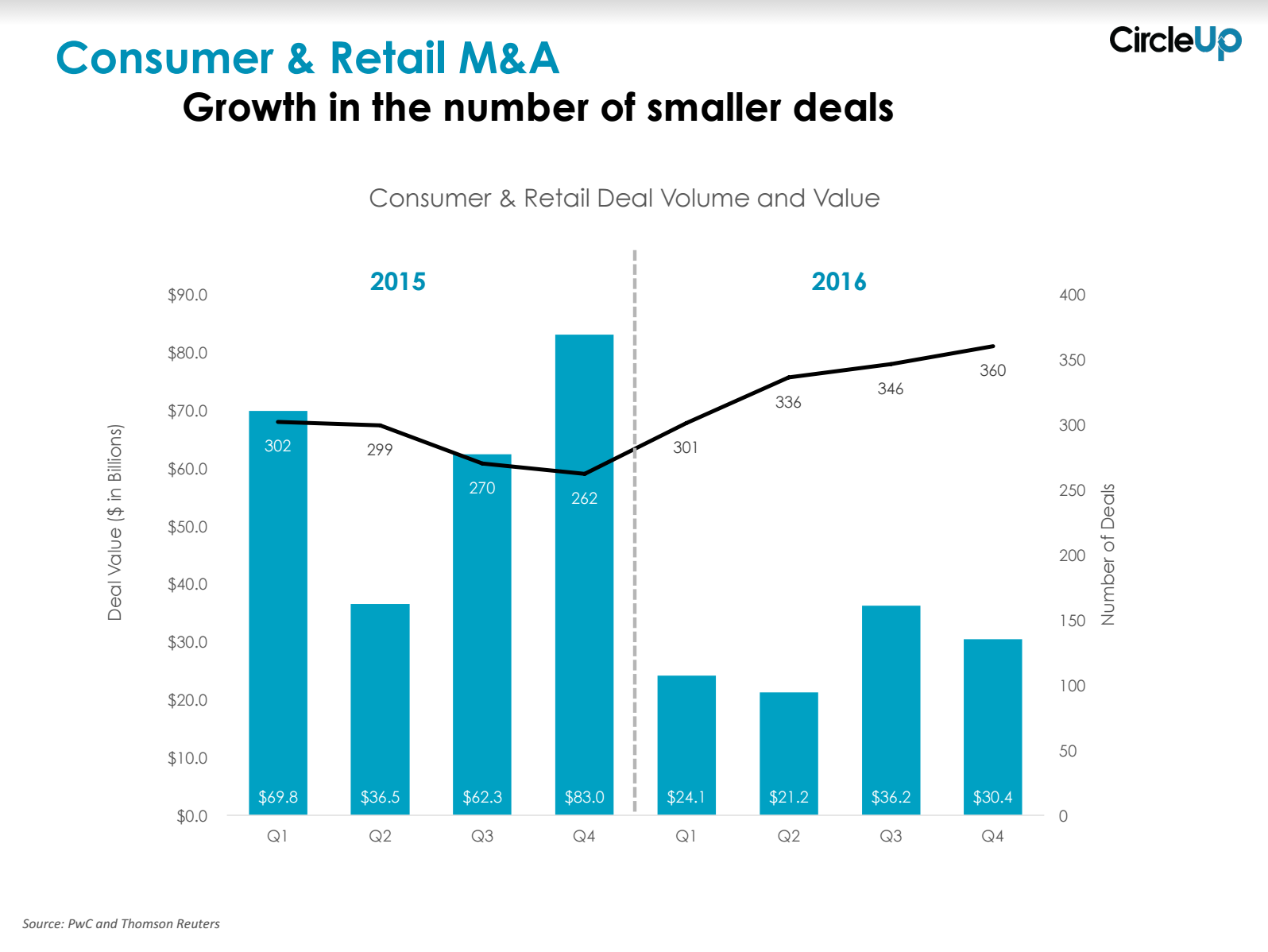 Indeed, small business is shaking up the CPG industry in a big way.
Small brands are flourishing, and posing a threat to giant consumer and retail conglomerates, who have sluggishly evolved over the decades. In fact, since 2011, the top 25 food and beverage companies have lost $18 billion worth of market share.
This is because new market dynamics have emerged to favor small businesses. Marketing costs dropped, thanks to new social and online channels. Distribution costs dropped, due to small business friendly retailers like Amazon and Whole Foods and direct-to-consumer models. And, there's now a widespread demand for higher quality, personalized products, which emerging brands are delivering on—and big brands simply are not.
For Big CPGs, M&A is the new R&D
These shifts wouldn't be so catastrophic for giant CPGs if they were innovating to keep up. But that's just the problem—innovation and R&D is not in their DNA. CircleUp data shows on average, the largest CPG companies spend less than 2% of revenue on R&D, but close to 15% on marketing and advertising. By comparison, the biggest companies in tech – an industry where innovation is front and center – spend nearly the opposite.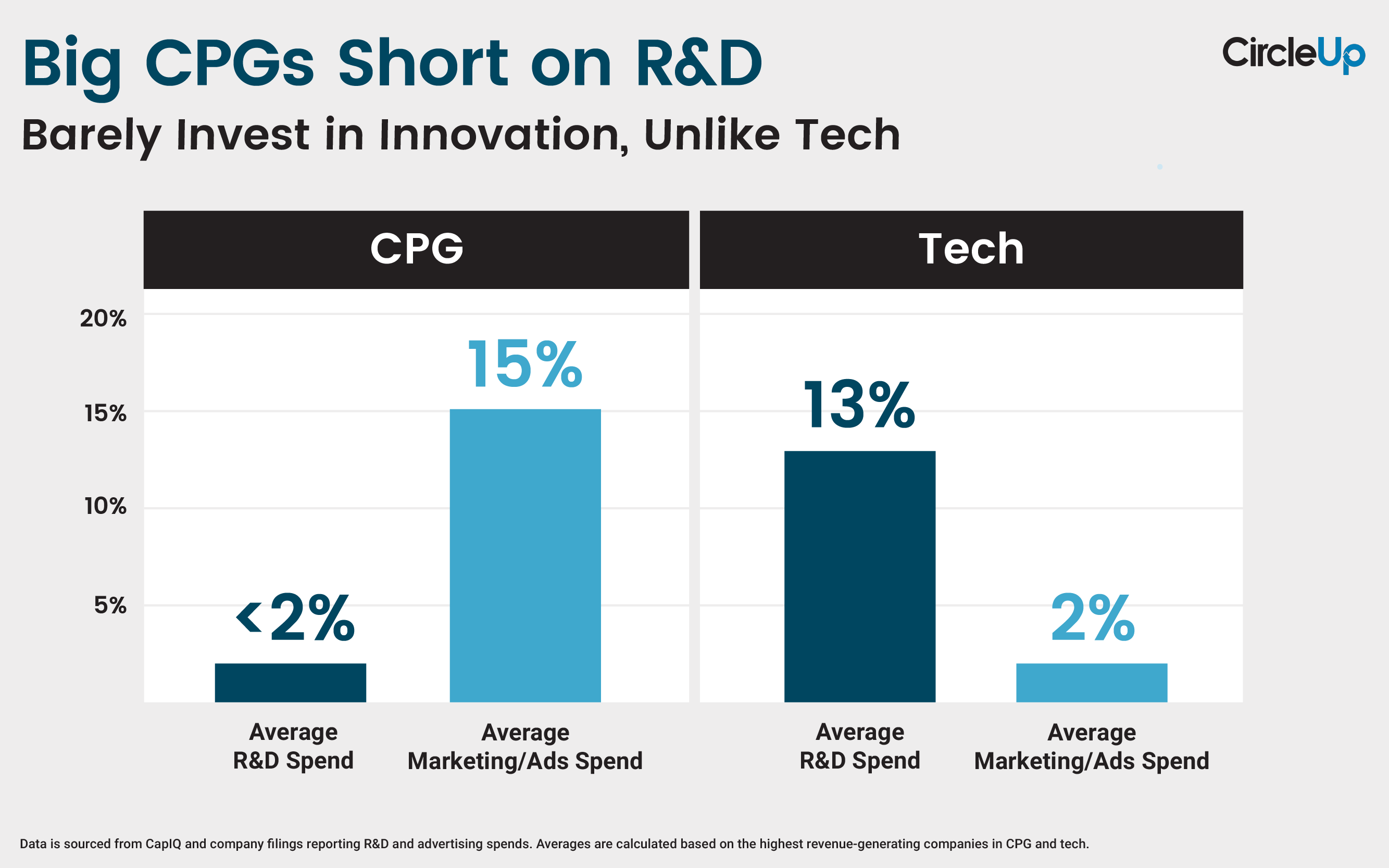 For big CPGs, who find themselves unable to hold onto customers (particularly millennials), it seems the solution is to buy smaller, fast-growing brands.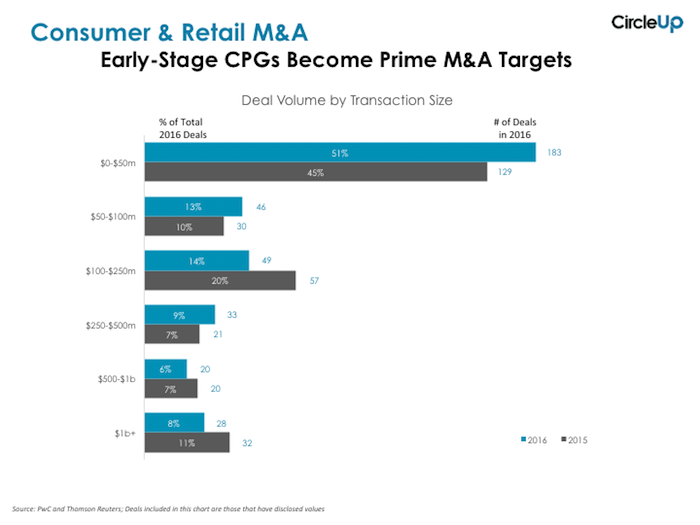 Cost-Cutting Nears its Dead End?
Alongside the growth of small M&A deals last year, mega deals plummeted. Mega deals are frequently about cost-cutting, providing near-term value by pleasing shareholders. But those mergers don't tackle the heart of the problem: consumers are walking away from mass-produced products. The recently failed Kraft Heinz takeover of Unilever is just the latest example of a potential mega deal fueled by cost-cutting ambitions.
One popular hypothesis for the drop in mega deals is big brands have proactively trimmed down in recent years, a cause dubbed "The 3G Effect" so there is less upside potential from mega deals. What's left to cut is bone.
For Big CPGs, M&A is the New R&D
What we saw last year is just the tip of the iceberg. Benefits from mega deals are limited and they don't spur growth, and big brands still can't innovate fast enough. They're now buying up emerging products to fill their pipeline with the innovation they're not producing internally.
In the long term, we see consumer and retail segment evolving to resemble big pharma, where the big brands are simply operational umbrellas handling distribution and regulatory matters, with fresh new products and brands slotted almost entirely through small M&A deals.
The future of big CPGs may be murky, but one thing is clear: there has never been a better time to be an early-stage CPG entrepreneur—or an investor behind one.
At Project NOSH and BevNET, we pride ourselves on having a robust network of food and beverage entrepreneurs, industry insiders and advisers. NOSH Voices is a series of columns penned by respected experts to provide a spectrum of views from within the food community. Interested in contributing to NOSH Voices? Contact the Editors.