Luvo Responds to Misbranding Recall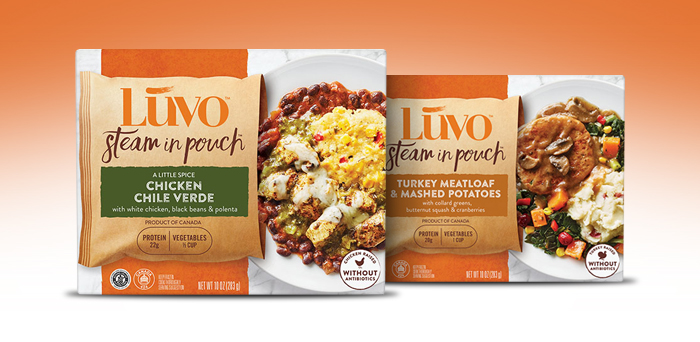 Washington-based frozen meal company Luvo Inc. recalled approximately 4,805 pounds of its due to packing issues. The U.S. Department of Agriculture's Food Safety and Inspection Service announced late last week that products labeled as Chicken Chile Verde actually contained the company's Turkey Meatloaf dinner, which has additional allergens, like eggs and fish, that were not declared on the others' package. Ultimately, 1,203 cases of product were affected.
"We take all issues with product accuracy and food safety seriously," Luvo CEO Christine Day, told NOSH.
Luvo, which uses a co-packer to produce its frozen meals, learned of the product mix-up after receiving a customer complaint on August 5. Lawrence Scotland, Luvo's VP of digital and brand marketing, told NOSH the company immediately notified retailers about the recall, and expects the removal of product from the market to take four to five weeks. As of now, no consumer health issues have been reported.
"Our first priority was to ensure that our consumers and customers were aware of the issue. We are in the process of investigating the root cause for the reason of the mix up, and will put additional measures in place to prevent any future occurrence," Scotland said. "This could include better production scheduling, using a more robust labeling system during production and additional checks during packaging."
The recall comes as the Luvo is trying to increase its production and distribution. Retailers such as Kroger, Ralphs and ShopRite have all added Luvo products, meanwhile the brand recently launched an online store. The company also said it is working to refresh its onboard menu with Delta Airlines this September.
Recalls have been a topic of interest across the industry with the quickly approaching Food Safety Modernization Act (FSMA) guidelines, which will be going into full effect this year. In 2016 alone, there was more than 750 food recalls reported, 20 percent more than the year before. Of those, undeclared allergens and listeria contamination were two of the most common reasons for issuing a recall.
For Luvo's full recall notice, read below:
Luvo Inc. (USA) Recalls Poultry Products Due To Misbranding and Undeclared Allergens
WASHINGTON, Aug. 12, 2017 – Luvo Inc. (USA), a Blaine, Wash. establishment, is recalling approximately 4,805 pounds of poultry products due to misbranding and undeclared allergens, the U.S. Department of Agriculture's Food Safety and Inspection Service (FSIS) announced today. The products are mislabeled as Chicken Chile Verde that contain milk and soy, but contain Turkey Meatloaf, which has additional allergens, eggs and fish (anchovies), that are not declared on the product label.
The products were produced on June 13, 2017. The following product is subject to recall: [View Label (PDF Only)]
10 oz. retail cartons containing "LUVO Steam in Pouch A LITTLE SPICE CHICKEN CHILE VERDE with white chicken, black beans, and polenta" and lot code: 2018JUN13A, with a best before date of June 13, 2018.
The products subject to recall bear establishment number "424" inside the Canadian Food Inspection Agency (CFIA) mark of inspection. These items were shipped to distributors in California, Florida, Indiana, Iowa, Missouri, North Carolina, Ohio, Pennsylvania, Texas, Virginia and Wisconsin for further distribution.
The problem was discovered after the firm received consumer complaints of the wrong meal inside the retail boxes.
There have been no confirmed reports of adverse reactions due to consumption of these products. Anyone concerned about an injury or illness should contact a healthcare provider.
Consumers who have purchased these products are urged not to consume them. These products should be thrown away or returned to the place of purchase.
FSIS routinely conducts recall effectiveness checks to verify recalling firms notify their customers of the recall and that steps are taken to make certain that the product is no longer available to consumers. When available, the retail distribution list will be posted on the FSIS website at www.fsis.usda.gov/recalls.
Consumers with questions about the recall can contact the Digital Community Manager Oli Maughan, Luvo, Inc., at (844) 880-5866. Media with questions about the recall can contact Oli Maughan, Luvo, Inc. by phone at (604) 340-1166 or e-mail omaughan@luvoinc.com.
Consumers with food safety questions can "Ask Karen," the FSIS virtual representative available 24 hours a day at AskKaren.gov or via smartphone at m.askkaren.gov. The toll-free USDA Meat and Poultry Hotline 1-888-MPHotline (1-888-674-6854) is available in English and Spanish and can be reached from 10 a.m. to 6 p.m. (Eastern Time) Monday through Friday. Recorded food safety messages are available 24 hours a day. The online Electronic Consumer Complaint Monitoring System can be accessed 24 hours a day at: http://www.fsis.usda.gov/reportproblem.