A Look Inside the Good Food Mercantile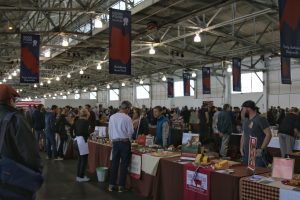 This past weekend The Good Food Awards and Mercantile took over the Fort Mason Center in San Francisco, California. The awards and show highlight "food crafters" from around the country who are dedicated to their craft and to producing sustainable foods. The mercantile show is open exclusively to past Good Food Award winners and finalists as well as members of the Good Food Guild. "It is an opportunity for thoughtful, responsible American food crafters to connect with the growing community of retailers that value quality, care and craftsmanship," says the association.
Now in its seventh year, The Good Food Awards were awarded to winners in 14 categories: beer, cider, charcuterie, cheese, chocolate, coffee, confections, honey, pantry, pickles, preserves, spirits, oil and preserved fish.
Click through to see some of the brands highlighting their products at the show.